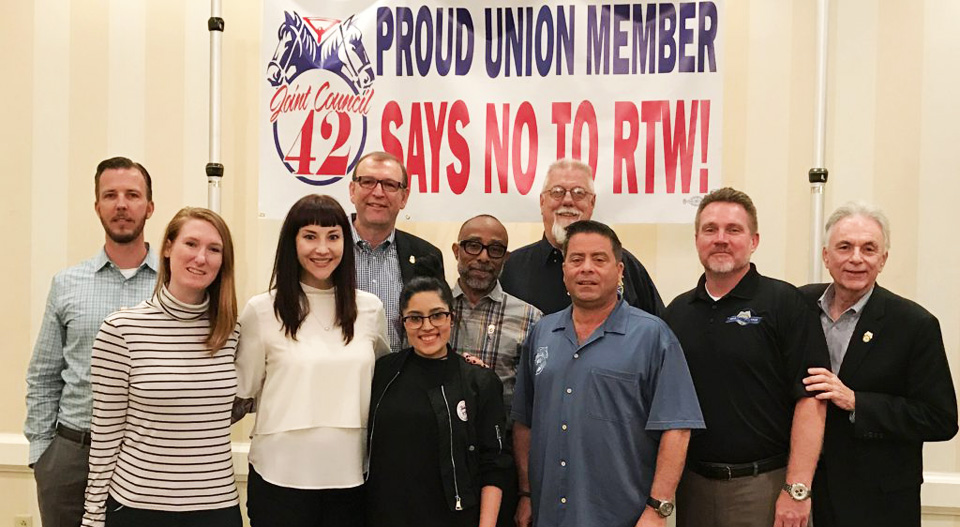 SACRAMENTO, Calif. (PAI) — Top California Democratic politicians, including the current mayors of Los Angeles and Sacramento, lined up behind unions' drive to defeat national so-called right-to-work legislation pushed by right wing congressional Republicans.
Sacramento Mayor Darrell Steinberg, Los Angeles Mayor Gil Garcetti and former L.A. Mayor Anthony Villaraigosa – a national Democratic heavyweight and state gubernatorial contender – were among the officeholders taking the anti-RTW pledge at the state Democratic convention in Sacramento, May 19-21, said Randy Cammack, President of Teamsters Joint Council 42. The Los Angeles County Federation of Labor, AFL-CIO, of which Cammack's union is a member, is helping lead the national anti-RTW drive.
Right to work, which workers and their allies call "right to work for less," lets non-members in union-represented shops use union services, including contract bargaining and grievances, without paying one red cent for them. RTW thus deprives unions of money to represent and defend everyone, weakening the unions.
In states that have passed these laws, life is worse for working people. Economic Policy Institute analyses show an average worker in a RTW state not only suffers from lack of union protection, but earns thousands of dollars less per year and faces a higher probability of injury and illness on the job.
Two Republican-run states – Missouri and Kentucky – passed RTW laws earlier this year, raising the total of RTW states to 28. But unionists in Missouri are circulating petitions to put the law on the referendum ballot next year, delaying its implementation.
RTW lost in two other GOP-run states, Arizona and New Hampshire. And a RTW bill went down the drain in the California Assembly's Labor Committee on April 17. The vote was 5-1. The New York State Senate Labor Committee may hold hearings on an anti-RTW, pro-worker bill that its Democratic chairwoman introduced on May Day.
That still doesn't stop the national GOP, which also put RTW in its 2016 platform. Their efforts led Cammack's council and other unions to start the anti-RTW pledge drive. The pledge states the signer will "stand with the working families of the United States of America and oppose any attempts to weaken our lawful right to organize or advocate for the rights of workers. As such, (name) oppose any attempts to advance so called 'right to work' legislation in Congress or otherwise." The pledge, open to all, is at weareonebigunion.com.
"We are happy that this fight will include some of California's most distinguished leaders, including Mayors Villaraigosa, Garcetti and Steinberg and Secretary of State (Alex) Padilla," said Cammack. "We have to build an army to protect all American workers and we will need respected voices like theirs to join in with the thousands of working Americans we have already assembled.
"We are encouraged not only that our own membership is taking the pledge and is stepping up to fight this destructive scheme, but also by all the non-union support we are getting. People understand that so much of the progress that has occurred in this country, whether it be (on) child labor laws, minimum wage, the eight-hour work day and basic workplace safety, only happened because organized labor was at the policy table fighting for all Americans."