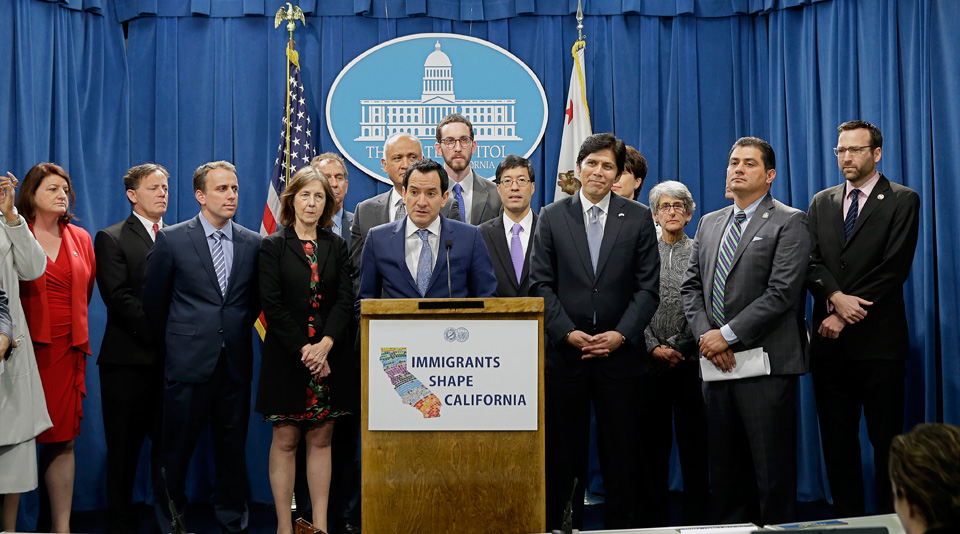 OAKLAND, Calif. – As their new two-year legislative session opened Dec. 5, members of California's state Senate and Assembly moved quickly to build on post-election initiatives to protect and uphold the rights of the state's undocumented immigrants.
A 2015 study by the Public Policy Institute of California estimated California's undocumented population at 2.67 million, or nearly a quarter of undocumented immigrants in the U.S., and said they make up just over 6 percent of the state's population. Other estimates put the figure at around 2.3 million.
Both legislative houses passed identical resolutions urging President-elect Donald Trump to form humane immigration policies, avoid mass deportations, and keep President Obama's Deferred Action for Childhood Arrivals, or DACA, policy intact.
Both resolutions sharply condemned "bigoted, racist or misinformed descriptions of the immigrant community that serve only to foment hatred and violence," and called for a "comprehensive and workable approach to solving our nation's historically broken immigration system."
The resolutions noted the vital role immigrants play in the state's industries, including technology, health care, agriculture, construction, hospitality, and domestic services, and pointed out that immigrants also make up a large percentage of small business owners, helping to create economic prosperity and jobs.
They also said undocumented immigrants make up about one-tenth of California's workforce, account for $130 billion of the state's gross domestic product, and pay billions in state and local taxes.
Both legislative chambers now have Democratic supermajorities. The vote in the 40-member Senate was 27-13 along party lines, with three Republicans opposing and 10 abstaining. In the 80-member Assembly, two Republicans – Brian Maienschein of San Diego and Catharine Baker of San Ramon – joined Democrats in a 57 to 14 vote.
Speaker of the Assembly Anthony Rendon, D-Paramount, called immigrants "a part of California's history, our culture, our society." He noted that "they pay taxes, sometimes more than billionaires," and are helping to make the state the world's sixth largest economy.
"With this package of legislation we are telling the next Administration and Congress: If you want to get to them, you have to go through us," Rendon said.
Senate President pro Tempore Kevin De Leόn, D-Los Angeles, recalled Trump's positive comments about "Operation Wetback," the mass deportation program of the 1950s, and warned that California will not return to such inhumane policies.
De Leόn added, "It is neither humane nor wise to ignore the many contributions of this community to our economy and culture. California celebrates diversity. We don't deport it."
From resolution to practical policy
Wasting no time, legislators in both Senate and Assembly introduced several bills to carry out the resolutions in practical terms.
State Senator Ben Hueso, D-San Diego, chair of the Latino Legislative Caucus, introduced a bill to create a state program to fund legal representation for noncitizens facing deportation. His office has issued a fact sheet noting that 68 percent of people in immigrant detention facilities lack legal representation, and those who are represented are over five times more successful in challenging deportation.
Hueso's bill includes provision of a yet-unspecified amount of state funds, and would also create a fund that could accept donations.
Assemblyman Rob Bonta, D-Oakland, who chairs the Asian Pacific Islander Legislative Caucus, introduced a bill to create state-funded regional centers to train defense attorneys and public defender's offices on immigration law and the consequences of criminal proceedings.
Both bills were marked for urgency status, meaning they require a two-thirds majority to pass and become effective as soon as they are passed.
State Senator Ricardo Lara, D-Bell Gardens, introduced three measures under the overall title, Fight for California.
One would require approval by California voters if Trump proposes to build a wall on the California-Mexico border costing more than $1 billion. Another would bar state agencies from sharing information on a person's religious affiliation with federal agencies, if the information would be used to compile a database solely on religious affiliation. The third would bar local governments from hiring private for-profit companies to detain immigrants and would require detention facilities to meet basic health and safety requirements.
Lara's parents came from Mexico, and were undocumented before they became citizens.
And De Leόn introduced a measure to bar all state and local law enforcement from investigating, detaining, or reporting individuals for immigration enforcement, and from helping federal authorities to require individuals to register on the basis of race, gender, sexual orientation, religion, national or ethnic origin. De Leόn said local law enforcement could still honor warrants to transfer violent offenders to federal authorities.
Immigrant rights groups signal support
Organizations engaged in immigrant rights work around the state are signaling their support for the legislature's actions.
The San Diego Immigrant Rights Consortium said it applauds the state's elected officials "for taking proactive measures to protect immigrants and refugees against potentially harsh immigration and enforcement policies from the incoming Trump administration." SDIRC said "the best way to protect the wellbeing of our entire community is ensuring that people feel they can move freely in their communities without fear."
Stewart Kwoh, who heads Asian Americans Advancing Justice, Los Angeles, said California is "sending a message to President-elect Trump that we vigorously oppose his xenophobic and bigoted anti-immigrant agenda" and will do everything possible to defend and protect immigrants.
Yannina Casillas, legislative and government relations coordinator for the Council on American Islamic Relations (CAIR), called the proposed measures "concrete steps to ensure that the rights of undocumented immigrants and vulnerable immigrant communities are protected."
Jennie Pasquarella, immigrant rights director at the American Civil Liberties Union of California, said "now more than ever, California must stand by its values of fairness and due process, and the many immigrants that call California their home."