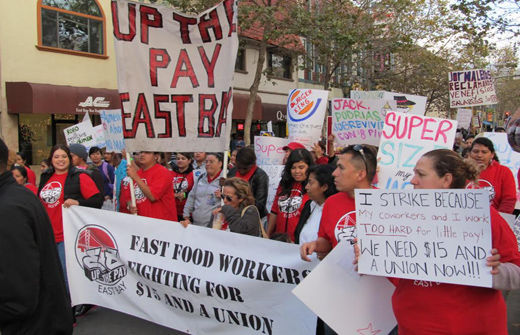 OAKLAND, Calif. – Day laborers, home care workers, convenience store workers, fast food workers – their tee-shirts and signs, many in Spanish, told their stories. "Raise our wages now, not tomorrow!" "We demand fair pay and no abuses!" "Up the pay, East Bay!" "Supersize my wages!" "We stand up for each other!"
Some 200 workers, labor and community supporters gathered in the heart of the largely Latino Fruitvale neighborhood Dec. 4, joining many thousands in 190 cities across the country in a nationwide walkout and demonstration demanding a minimum wage of $15 an hour and the right to organize.
Speaking in Spanish, Blanca, a 12-year Taco Bell worker, told the crowd how she experienced repeated robberies at one store, including some severe personal attacks. "Now I'm fighting for the safety of my co-workers, because I don't want anyone else dealing with what I had to deal with," she said. "I want everyone to be safe so they can go back to their homes and have a better life, better pay. I know we can do it – let's speak up!"
The crowd then marched up International Boulevard, a main Oakland thoroughfare, before taking over and temporarily shutting down a McDonald's outlet.
The day laborers of the Oakland Workers Collective were joined by unions including SEIU's United Service Workers West and Communications Workers of America, and community groups including the East Bay Alliance for a Sustainable Economy (EBASE) and the Alliance of Californians for Community Empowerment (ACCE).
Similar actions took place in a number of cities around California.
In Sacramento, highlighting the movement's expansion from its origin among fast food workers, demonstrators started their day at a Dollar Tree store manager before visiting two McDonald's outlets.
In Los Angeles, fast food workers were joined by home care workers and low-wage airport workers as they visited a McDonald's and City Hall.
In San Diego, protesters held "rolling strikes" at fast food outlets, starting with a McDonald's.
The actions took place as several California cities have moved to raise minimum wages. In Oakland, voters last month approved an increase to $12.25. San Francisco's minimum is to reach $15 by July 2018.
In Los Angeles, the minimum wage will rise to $15 an hour for all LA Unified School District workers by 2016, and Mayor Eric Garcetti wants to see a citywide minimum of $13.25 by the following year.
But highlighting the severity of the problem, California's statewide minimum, at $9, is the nation's fourth highest. State Senator Mark Leno, D-San Francisco, has just introduced a measure in the state legislature that would raise it to $13 in 2017.
Photo: Marilyn Bechtel/PW