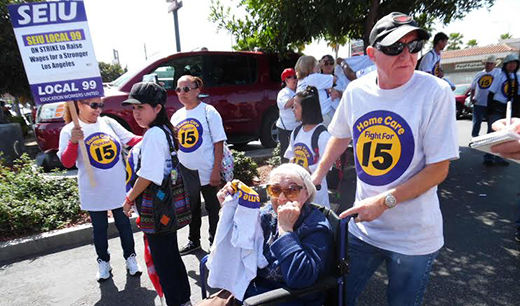 OAKLAND, Calif. – The country's largest state is poised to become the state with the highest minimum wage, if the compromise proposal agreed March 26 between California Governor Jerry Brown, labor unions and legislative leaders becomes law.
Under its terms, California's $10/hour minimum – already the highest of any state – would rise gradually to $15 in 2022 for businesses with 26 or more workers, while those with fewer workers would have an additional year to comply. Starting in 2024, wages would be linked to inflation. During the lead-in period, the governor could delay a scheduled increase for a year if negative economic growth occurs or state budget deficits are projected. Once $15 is reached no further delays can occur. In-home health workers will have three paid sick days by 2022.
"I'm hoping what happens in California will not stay in California, but spread all across the country," Brown told a March 28 news conference where he was joined by union leaders and leaders of the Democratic-led state legislature. "It's a matter of economic justice. It makes sense."
The legislation is to be considered March 30 in the state assembly's Appropriations Committee. Final legislative action could come as early as this week.
Saying "Californians need a raise," Art Pulaski, head of the state's Labor Federation www.californialabor.org, called the measure "historic," and said it would help lift millions out of poverty. "With this bill, yet again, California is on the leading edge of providing all working people with the rights and dignity they deserve."
The Labor Federation called the measure "the culmination of years of work by thousands of workers across California," and noted that it couldn't have happened without unions fighting for all workers, not just their members.
The new measure is rooted in the Fight for $15 movement that started in New York City over three years ago. Fightfor15.org called California's decision "our biggest victory to date," and said some 6.5 million workers would get raises because of the campaign's work.
Senate Bill 3, first introduced in the California legislature last year by Sen. Mark Leno, D-San Francisco, will be the vehicle for the new legislation. Calling the agreement "a monumental breakthrough in tackling poverty in the Golden State," Leno said it will "lift up poor Californians and give hardworking employees the resources they need to put food on the table for their families."
Two of the state's major labor unions – SEIU's California State Council seiuca.org and SEIU's United Health Care Workers West www.seiu-uhw – had already launched signature campaigns to place initiatives with even speedier increases on the November ballot. SEIU-UHW's measure qualified last week with over 400,000 signatures, while the State Council continued gathering signatures on its initiative.
SEIU-UHW called the compromise "a major step forward," and said that if it passes and is signed into law, the union's executive board would consider withdrawing its initiative. But union leaders cautioned that "it's a long way from a proposal to a final measure that becomes law," and expressed concern about the legislation's "pause button" provisions.
SEIU California President Laphonza Butler said the measure delivers "hope to millions of families struggling to get by on wages too low to live on and without basic benefits such as sick days." SEIU California will also wait until the legislation becomes law before deciding on the future of its effort.
SEIU-UHW noted that women make up more than half the state's minimum wage workers. The union said over 90 percent of workers affected by the increase are adults 20 years and older, with half over 30, and more than 30 percent have children.
According to official poverty statistics, nearly 23 percent of California children are living in poverty.
Business leaders complained that they were not included in the discussions, and warned that higher wages would result in higher prices and fewer jobs. The California Consumers against Higher Prices coalition, already formed by the California Retailers Association, the California Restaurant Association and others, called the new measure "overreaching," while others cited economic differences between more affluent coastal cities like Los Angeles and San Francisco, and poorer inland areas.
Polls have found a substantial majority of likely California voters support increasing the minimum wage. But while both houses of the state legislature have Democratic majorities, a number of Democratic legislators, particularly in the Assembly, have strong business ties.
Nonetheless, Assembly Speaker Anthony Rendon (D-Paramount) said it appears the compromise has significant support.
Unions and other supporters are gathering petition signatures http://raisewageca.org/join-the-fight-to-raise-californias-wage/.
The National Employment Law Project says 14 cities, counties and states approved some form of $15 minimum last year through local laws, executive orders and other means http://nelp.org/news-releases/14-cities-states-approved-15-minimum-wage-in-2015/.
Among them were the City and County of Los Angeles, and the cities of Emeryville peoplesworld.org/in-terms-of-minimum-wage-california-city-races-to-the-top and Mountain View. San Francisco will reach $15 by 2018. Emeryville, across the bay from San Francisco, is to exceed $15 by 2018, while other California cities are making smaller increases.
Seattle and other major cities have also passed increases, and New York Governor Andrew Cuomo is proposing $15/hour minimums for New York City and then for the state as a whole.
By contrast, the U.S. minimum remains $7.25/hour, and Republicans block any increase.
Raising the minimum is playing a big part in the national elections, with the Democratic Party including a $15 minimum in its platform. Bernie Sanders supports it, while Hillary Clinton backs a $12 minimum.
Photo: Blake Deppe/PW