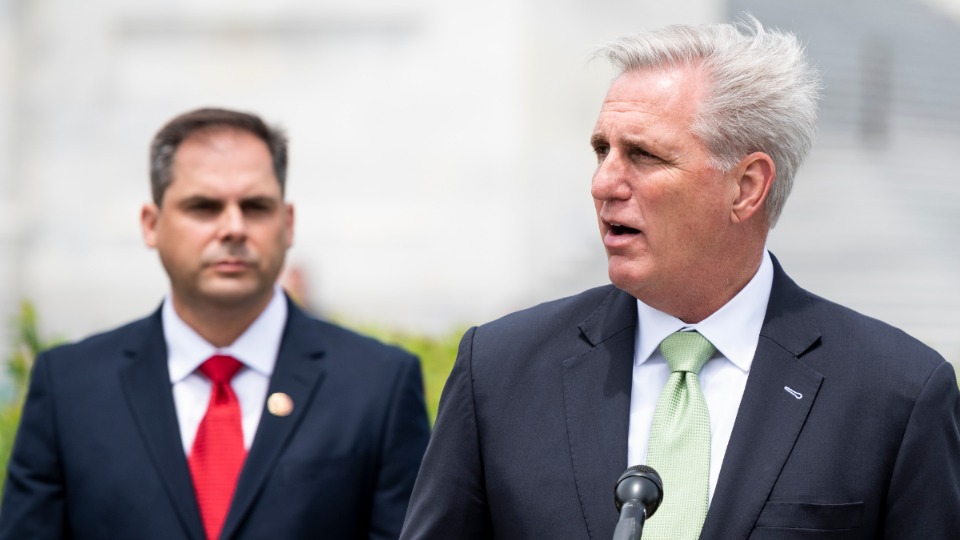 SANTA CLARITA, Calif.—From the 'burbs of Los Angeles County to the sandy hills of Antelope Valley to Bakersfield, the fightback against the Congressional Republican leader Kevin McCarthy of the 23rd Congressional District and his colleague Mike Garcia, Representative from California's 25th C.D., continues to escalate.
Fed by the refusal of McCarthy and Garcia to meet with grassroots residents of both of these congressional districts and exacerbated by their refusal to denounce former President Donald J. Trump's seditious efforts to conduct a violent coup against the government, involving attempts at murdering both Speaker Nancy Pelosi and lynching former Indiana Governor and now former Vice President Mike Pence, residents are now mobilizing demonstrations and caravans demanding that the two Congressmen meet with them to discuss those issues and others that affect their districts.
They are also demanding that they meet to discuss such issues as police violence against people of color, pervasive homelessness, and matters related to the COVID-19 pandemic. The latter include the poor federal (and state) response to Black and brown residents by providers of the COVID-19 vaccines to turn around the astronomical levels of deaths due to the virus. Another matter is the alarming, but the inevitable level of dependency on free food programs that are aiming to stave off widespread starvation.
The demonstrations are sparked by activists associated with the ACLU, the Dolores Huerta Foundation, and other groups, and coordinated by the youthful organization of Our Revolution. The tri-cities call was issued by Wade Alexander, an Our Revolution leader from Antelope Valley. Local activities in all three areas are being led by a former Bakersfield candidate to the California Assembly Julie Solis and Santa Clarita actor/activist Shawnee Badger, who works with Our Revolution in the City of Santa Clarita. Joining them is Lancaster/Palmdale ACLU activist Ruth Sanches, a pioneer organizer to stop the Lancaster Sheriff's Department's illegal citations of poor people and people of color, in particular, that has currently culminated in a suit by the ACLU against the Sheriff's Department. Sanches also contributes to efforts to combat homelessness and to promote a successful free food program in Lancaster/Palmdale.
Both Solis and Badger have protested the seditious pro-Trump behavior of Kevin McCarthy and Mike Garcia.
Solis, for example, initially organized a protest against Republican House Minority Leader Kevin McCarthy at his office denouncing his support for Trump's bogus campaign against the results of the Nov. 3 elections, and McCarthy's refusal to forthrightly condemn the attack on the Capitol Building by far-right terrorists. For the exercise of her free speech rights, Solis faces charges leveled by the Kern County district attorney. The charges were leveled at a hearing held on Feb. 6. The hearing has been continued until Feb. 23. Solis is currently meeting with her lawyers and has vowed to fight the allegations with a vigorous defense, calling for support for the planned Bakersfield demonstration on Feb. 26, and for calls to the Kern County district attorney (661 868-2340) asking that the charges against her be dismissed.
Shawnee Badger has also been subjected to Santa Clarita Sheriff's Department harassment. At a previous caravan demonstration in January, Badger was harassed by the department officers. The Santa Clarita Sheriff's Department is generously funded in large part by city funds that are renewed yearly by the city's solidly Republican City Council thanks to former City Councilman Bob "I'm a proud racist" Kellar. The Sheriff's Department has also been roundly criticized by African-American residents and the city's Santa Clarita Anti-Racist Committee.
Three simultaneous demonstrations have been set for 4:00 p.m., Fri., Feb. 26. Organizing efforts continue throughout the preceding period. In Santa Clarita, the protest caravan will gather at the Valencia Heritage Park free parking area located off Fairview Drive and McBean Parkway and travel to Garcia's office at 23734 Valencia Blvd.
The Antelope Valley demonstration/caravan will gather the same day and time at the Lancaster location of the Sgt. Steve Owen Memorial Park, 43063 10th St. W (off Hwy 14 and Avenue L), and drive to Rep. Garcia's office, where they will gather to demand that Garcia meet with community leaders.
The Bakersfield demonstration will gather at Rep. McCarthy's office in Bakersfield located at 4100 Empire Dr. #150, Bakersfield, Ca., 93309.