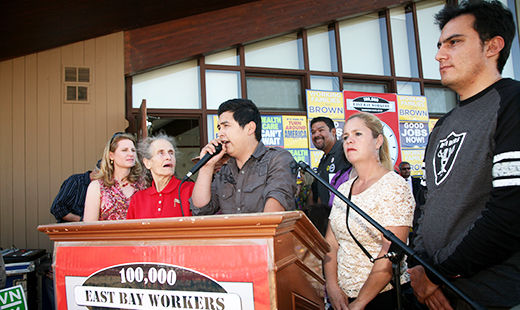 In California's most competitive congressional race, the differences between incumbent Democrat Jerry McNerney and contender Republican David Harmer could not be starker.
On one side of the contest for the 11th Congressional district is Harmer, who in August nonchalantly walked through a picket line of locked-out union workers at the Castlewood Country Club where a $2,000-a-plate campaign fundraising dinner was awaiting him.
On the other side is McNerney, who in September warmly introduced one of the locked-out workers at the Alameda Labor Council's Labor Day barbecue, where plates went for $20.
"He (McNerney) is not a person without a conscience," Angel, a locked-out Castlewood worker, told this reporter while canvassing a neighborhood for McNerney last Saturday with a dozen of his co-workers. "He cares about others," added Angel, who along with his wife is raising two children.
Angel is one of 60 union members locked out over seven months ago by Castlewood when the workers rejected a contract renewal that included doing away with the seniority system, outsourcing jobs and jacking up the health insurance premium from zero to $739 a month.
In a race considered a toss-up, McNerney, a small businessman and renewable energy engineer, faces off against Harmer, a corporate lawyer and darling of the tea party movement in the area.
Democratic and Republican registration is evenly divided at 39 percent each, but an additional 18,000 Republicans voted in the heated Republican primary this year.
In a major upset four years ago, McNerney won the race in what up to then had been considered a safe Republican seat. He was re-elected two years later in the Democratic electoral sweep.
This time around McNerney is counting on additional volunteers and resources from a wide crosssection of the district's constituency including veterans, labor unions, environmental groups, small business people, and local public officials including some Republicans.
A number of constituents expressed appreciation for McNerney's role in the district and others fear the consequences of a victory by an ultra-right Republican candidate.
According to the LodiWire, in August Harmer told a local gathering of Tea Party Patriots at Lodi's American Legion Hall, "Nowhere (in the Constitution) will you see the power to regulate carbon dioxide, what we all exhale."
After the laughs and giggles subsided, he went on to say he did not "believe" in global warming.
By contrast, McNerney, a member of the House Committee on Energy and Commerce, authored three clean energy bills that passed the House of Representatives – measures that will train workers for the new green economy, improve the efficiency of the electrical grid and invest in infrastructure for electric vehicles.
Of the new health care law that McNerney supported, Harmer said, "Pour salt on it, and curse it in God's holy name!"
Harmer says on his campaign's website that he was "appalled" when the government used taxpayer funds to bail out failing companies to subsidize "the imprudent risks taken by the executives, shareholders, and bondholders."
However, Harmer says nothing about his last stint as an executive at JP Morgan, a Wall Street bank that received billions of dollars from the bailout.
He fails to mention that he worked for Washington Mutual, reportedly "one of the nation's biggest predatory lenders," and for Providian Financial, a credit-card company and predatory lender fined millions of dollars.
Former Manteca Mayor and Councilmember Jack Snyder, a Republican, says McNerney "makes it a priority to participate in community events" and "always takes the time to listen to and address our local issues."
By contrast, the Castlewood workers suspect that Harmer is either out of touch with developments in the congressional district or less than candid in his dealings with his potential constituents.
As proof, the workers cite Harmer's explanation for crossing their picket line – that he was unaware of the union's boycott of the country club – when the labor-management dispute has repeatedly been in the news.
"Washington has moved so far left in its economic policies," Harmer says on his campaign's website, "that most observers would find it hard to distinguish the
current administration's policies from those of socialist European countries."
Currently, no European nation considers itself socialist.
Harmer reportedly greeted the crowd at a Tax Day tea party rally in Pleasanton this year as "fellow counterrevolutionaries," a strange reference for someone who champions the nation's Constitution which was crafted by revolutionary patriots in the war of independence against British colonialism more than two centuries ago.
Photo: David Bacon. Castlewood workers rally.