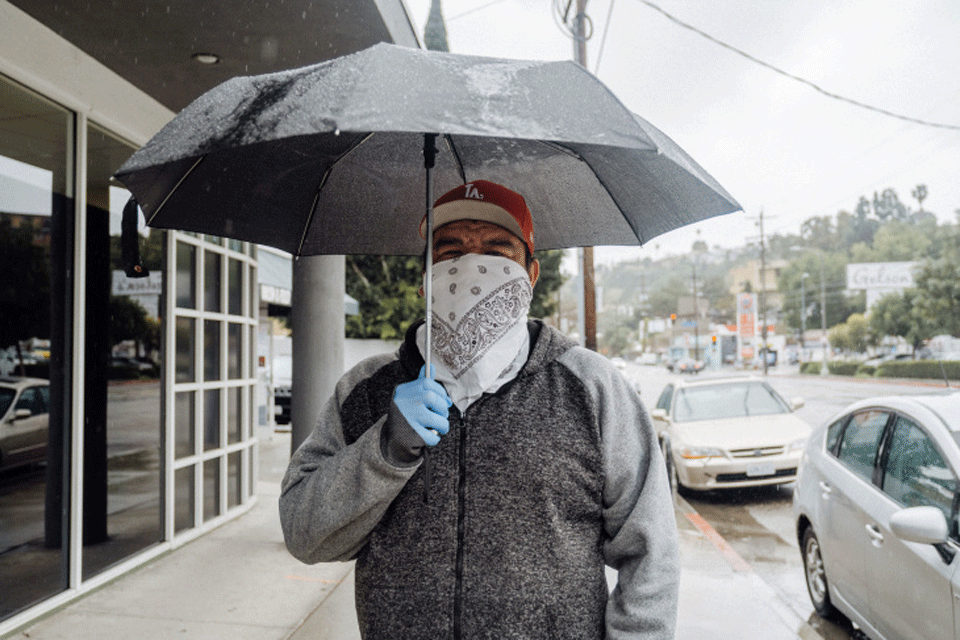 Among those feeling the sharpest impact from COVID-19 are undocumented immigrant workers facing partial or total unemployment because of the pandemic. Their plight is causing special concern among California elected officials at every level, from school board and city council members through Gov. Gavin Newsom.
These workers, who make up some 10% of California's workforce and who pay over $3 billion annually in local and state taxes, are a large share of those on the front lines performing essential labor in agriculture, food processing, health care, domestic work, sales and delivery, manufacturing, construction, and other vital enterprises – none of which can be done while sheltering at home. They are at special risk to acquire the virus.
Their immigration status makes them ineligible for unemployment compensation, or for the federal government's stimulus benefits. Even before the pandemic, over half were living at or below 150% of the poverty level.
On April 15, Gov. Newsom announced the nation's first disaster assistance program to support undocumented residents whose jobs are impacted by COVID-19. In announcing the program, he observed that the state's diverse population "makes us stronger and more resilient … We are all in this together."
Some 150,000 undocumented California adults will receive a one-time cash benefit of $500 per adult, with a $1,000 cap per household, to deal with specific needs. The State of California will provide most of the money for the $125 million program through a $75 million Disaster Relief Fund, while a network of foundations focused on immigration issues has pledged to raise $50 million for families of undocumented workers. Aid will be distributed through regional nonprofits with experience serving undocumented communities.
Establishing a Disaster Relief Fund was one of the asks in a letter 23 members of the California Latino Legislative Caucus who had sent the governor at the end of March. In an April 16 statement, Caucus Chair Assemblymember Lorena Gonzalez, D-San Diego, expressed the legislators' appreciation for Newsom's action, calling it a "first step" by "the most forward-thinking executive in the country." She declared, "We will continue to protect all Californians, together."
In its March 30 letter, the Latino Legislative Caucus also called on the governor to remove the present ban on undocumented immigrants filing for the California Earned Income Tax Credit (EITC), a program that provides a subsidy to low- and moderate-income working parents (and a much smaller subsidy to low and moderate income childless workers).
Calling the EITC "one of the most successful programs at alleviating poverty across the country," the caucus said up to 600,000 income-eligible Individual Taxpayer Identification Number (ITIN) holders and 200,000 children would benefit from the change in policy. "There is no rational basis to continue to exclude taxpaying residents from this program due to their immigration status and lack of a social security number."
The Latino Legislative Caucus also urged that Medi-Cal (California's Medicaid) coverage be extended to cover all low-income undocumented adults. Before the pandemic started, the caucus said, 92% of undocumented California adults were employed, but their lack of insurance contributed to lost productivity and health emergencies.
"Covering undocumented immigrants who are our parents, grandparents, and community members is critical to the continued strength of our economy and society," the caucus said.
On April 20 a group of more than 140 San Francisco Bay Area city and county elected officials – mayors, county supervisors, city council members and more – wrote to Gov. Newsom, calling for "urgent policy action" to assure that undocumented Californians, including some 500,000 in the Bay Area, "are supported to safely shelter in place and care for their families during the COVID-19 pandemic."
Even after shelter-in-place orders are lifted, the elected officials said, "families with undocumented workers will be at enormous risk of eviction, acquiring insurmountable debt or being pushed into homelessness."
The local officials joined their counterparts in the legislature "and advocates across the state" in calling for the Disaster Relief Fund, removing the ban on immigrant workers receiving the state's earned Income Tax Credit, and extending Medi-Cal benefits to all low-income undocumented adults.
In addition, they urged that a permanent income replacement program be established within the state's Employment Development Department, for individuals who don't otherwise qualify for unemployment benefits but who are out of work through no fault of their own. Though administered separately, this program would use the same criteria as Unemployment Insurance to determine the duration, amount, and timing of benefits.
"Our state government has already demonstrated strong leadership on issues affecting immigrant communities," the local officials wrote. "As we work to ensure a healthy California for all, we must act now so that our undocumented community is not left behind. Time is of the essence: as every week passes, undocumented residents are having increasing difficulty paying for basic necessities."
In a video presentation posted on Facebook April 20 by Working Partnerships USA, a community organization emphasizing grassroots organizing and public policy innovation for a just economy, several local officials told why they signed the letter, and a now-unemployed house cleaner gave her first-hand perspective on the issue.
San Jose City Councilmember Sylvia Arenas said the Bay Area's largest city is "proud to have thousands of immigrants as our friends, neighbors, and family." As the daughter of immigrants, she said, "I signed the letter in support of a safety net for all of us because I know first-hand that the undocumented community is a hard-working community."
While we shelter at home from the pandemic, she said, immigrants are experiencing the greatest risk as they pick, prepare and deliver food and perform other essential tasks that we rely on.
"Now is our chance to show the nation that long-term support for our undocumented community is not only possible but will strengthen our entire community, our public health, our economic wellbeing."
Speaking in Spanish, longtime house cleaner Socorro Diaz, a member of the California Domestic Workers Coalition and one of the Graton Day Labor Center's leaders, said that knowing Gov. Newsom "is going to provide some support to the immigrant community does provide me with some relief." But in reality, she said, the amount won't cover even half of her month's rent and is not enough to reach all the undocumented people statewide.
"I hope this is a first step toward greater support for everyone's needs," she said.
Diaz is herself an outstanding example of a worker who suffered serious environmental hazards when during California's severe 2017 wildfire season, she cleaned all the ash deposits from homes that survived the blazes in Sonoma County, north of San Francisco.
Addressing the governor directly, Diaz said, "We ask that you please take action on this, and we ask for your support."
Like free stuff? So do we. Here at People's World, we believe strongly in the mission of keeping the labor and democratic movements informed so they are prepared for the struggle. But we need your help. While our content is free for readers (something we are proud of) it takes money — a lot of it — to produce and cover the stories you see in our pages. Only you, our readers and supporters, can keep us going. Only you can make sure we keep the news that matters free of paywalls and advertisements. If you enjoy reading People's World and the stories we bring you, support our work by becoming a $5 monthly sustainer today.