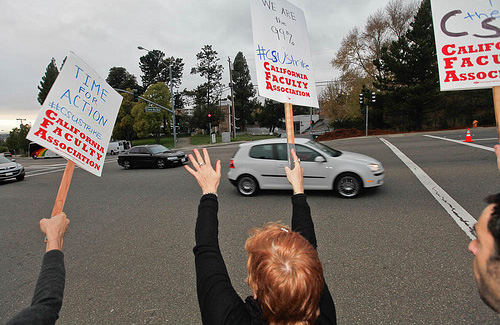 LOS ANGELES – The California Faculty Association (CFA) demonstrated in front of the California State University Board of Trustees headquarters at the board's annual meeting Nov. 17 in Long Beach, Calif. The CFA represents 23,000 professors, lecturers, librarians, counselors and coaches on 23 statewide campuses.
The union is currently in contract negotiations with the CSU Board of Trustees and the parties have agreed to move forward to fact finding.
Fact finding will move negotiations to a panel where both parties will present their cases in front of a neural fact finder. The panel is made up of one CFA representative, one CSU management representative and a fact finder.
As the union heads into fact finding a show of unity and determination to struggle for a fair wage increase resulted in an overwhelming vote to authorize a strike. According to a union spokesperson CFA is proposing a 5 percent salary increase for all faculty and 2.65 percent service salary increase for eligible faculty.
The union maintains that faculty salary increases are justified given the fact that the CSU Board of Trustees recently approved pay raises for campus presidents as well as considering removing a cap on pay salary for CSU presidents. The average pay salary for a CSU president is over $400,000. The State of California has also increased the education budget to include an increase in CSU funding.
CSU management has declared that CSU presidents are more important to the CSU statewide system that any number of faculty CFA members. This insult comes on top of the fact that CSU management refuses to consider additional salary increases other than the general across the board 2 percent increase. The union will not accept this offer by CSU management.
CFA members and supporters marched outside the Chancellor's office as students, labor organizations and other supporters spoke at the board meeting being held inside. CFA President Jennifer Eagan said "Fight for 5 percent is an important measure on how much the trustees respect our work. Out members have made it clear they have said I don't want to strike but I will!"
Demonstrations were held throughout the state on many of the 23 campuses represented by CFA in support of a five percent wage increase.
Photo: Golden Gate Xpress.org