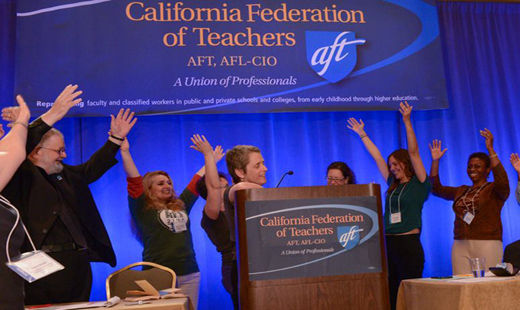 MANHATTAN BEACH, Calif. – Unionized California teachers are among the many categories of workers nationwide whose unions are under attack by anti-labor lawmakers and judges seeking to kill unions by draining them of their financial lifeblood. The teachers are saying, however, that they won't shrink from the fight to preserve their union's right to collect fees for the representation services it provides and that they will continue their ongoing fight for quality education for everyone.
Up front at the California Federation of Teacher's state convention here Mar. 20-22 was the threat to ending fair-pay (agency-fee) dues for public sector workers, in a case now before the Supreme Court, Frederich's vs. CTA, which could potentially create a national open shop for public sector labor. CFT would face a loss of at least 10 percent of its dues, around $2 million dollars, from inability to collect agency-fee dues.
In spite of this threat, the union is pressing its mission to restore economic health to the state's public education funding. Its a mission the teachers have been carrying out for quite a while.
Proposition 30, a law the union had a hand in crafting and helping to pass in 2010, has generated over $13 billion dollars in its duration. Before the passing of the bill, the $20 billion dollars in cuts resulting from deficits produced by the Great Recession had caused California to lose 30,000 teachers.
CFT President Josh Pechthalt, in his State of the Union address, said that despite predictions that the wealthy would flee the state in the wake of having their taxes raised via Prop 30, there are more millionaires in California now than before the recession. Although Gov. Brown is not considering extension of the bill, the CFT sees the state ranking at 46th in per-pupil spending to be insupportable, and will pursue renewal of the initiative.
The University of California system is still cutting classes, while raising tuition. Support staff and classified staff lost from the recession cuts have not been restored and need to be rehired.
Pechthalt also described other tasks CFT has been involved in, including collaborating with Brave New Films on a documentary about the union's frustrated efforts to divest their pension funds from the weapons industry in the wake of highly publicized school shootings and gun violence. Shining a light on the bad practices of for-profit colleges that inflate student debt will also proceed this year, with CFT working to regulate for-profit colleges.
CFT has also been instrumental in working to halt the disaccreditation of City College of San Francisco, by the ACCJC, which accredits community colleges and has been attempting to have the school shut down. Pechthalt said that CFT opposes the "narrow vision" of the accrediting agency, which uses "false metrics to gauge success." The union upholds a vision of community college that is not simply outcome (degree) oriented, but also is open to all, including non-traditional, trades, and ESL students.
The union's efforts to effect progressive reform for the state's education system are encompassed in a larger mission of providing the basis for a push for national progressive economic reform. "Even if we put dramatically more money into our schools and work harder and longer, public education won't be able to overcome the kind of wrenching poverty that grinds people down into despair," said Pechthalt
Some 1.3 million school-age children are homeless nationwide. Despite economic hardship and austerity, a populist uprising has not emerged to oppose the agenda of cuts by the Republicans. "Father Knows Best" propaganda succeeded in swaying the 2014 electorate, although people did vote for measures that raised the minimum wage. Democrats have failed to offer an alternative pro-union, populist program for people, he said. In addition, the right wing is using fear and outsized financial resources to attack labor where the labor movement was born, in states like Wisconsin, Michigan, and Indiana.
Labor faces a Supreme Court that could end both agency fee and collective bargaining for public sector workers with a ruling on Frederich's vs. CTA, said Pechthalt, "To paraphrase Sinclair Lewis' great novel of the 1930s, "It can happen here!"
In hand with an unfriendly Supreme Court, the right wing is pursuing an agenda to shrink public programs to weaken them, attacking them for not measuring up, often with coded racist language, and then working to replace them with privatized programs with non-union labor.
In the last election cycle of 2010, CFT joined with community partners to create the Millionaire's Tax that became Prop 30, and fighting for progressive tax reform has become a key part of CFT's mission. Next the union is looking at the inequities caused by California's Prop 13, a 1970's era anti-tax measure that kicked off the right-wing tax revolt of the era, and will be crafting an initiative for the ballot.
Tens of billions of dollars have been lost from public schools since corporations exploit a loophole that allows them to keep property in their hands from being reassessed at higher rates. Today, Disneyland pays proportionally less in property taxes than the modern California homeowner. Reform of Prop 13, along with a renewal of Prop 30, could raise a projected $15 billion dollars a year.
CFT, along with progressive California politicians and community partners, is training 1,000 speakers to travel in the state to help create a movement to bring success to these ballot initiative for the 2016 election.
Photo: California Federation of Teachers Facebook page