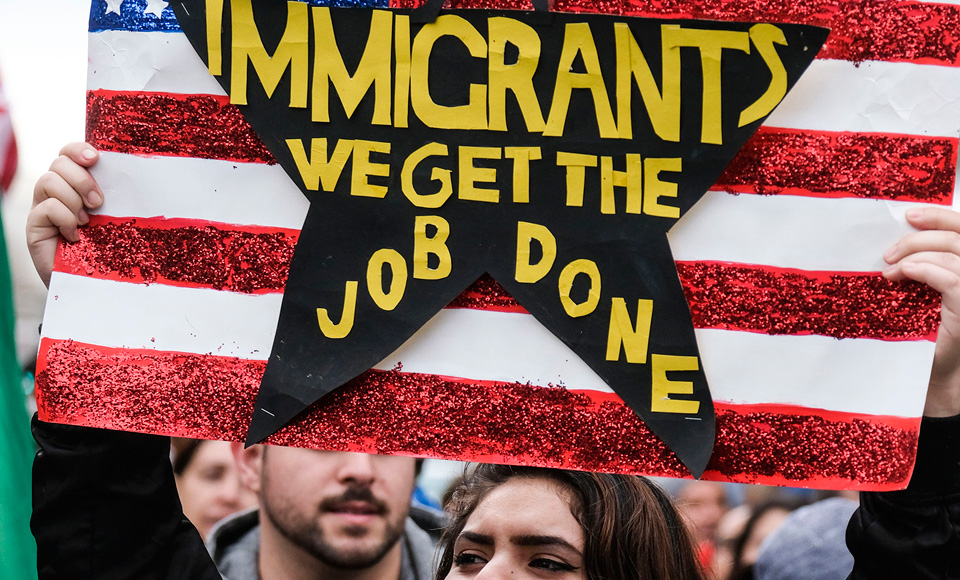 SACRAMENTO – California unions are moving to protect undocumented workers and immigrants against attacks from the Trump regime.
They are vigorously supporting AB450, a bill introduced by state Rep. David Chiu, D-San Francisco, which would, if passed, give undocumented immigrants "affirmative protections" against indiscriminate raids by agents from the Immigration and Customs Enforcement agency (ICE).
For example, the bill requires raiders to produce judicial warrants before entering homes, workplaces, or other buildings. If they don't have the proper papers, agents are liable for fines of $10,000 to $25,000 per violation.
And the ICE raiders can only demand confidential worker information if they have a subpoena for it. Worker representatives, such as union officials, must be notified as well.
The measure is supported by the state AFL-CIO, the Teamsters, the Los Angeles County Federation of Labor, the Service Employees International Union (SEIU) of California, SEIU-United Service Workers West (SEIU-USWW), and other pro-worker, civic, community, and civil rights groups.
"No one should live in fear for simply going to work," said California AFL-CIO Executive Secretary-Treasurer Art Pulaski at a rally March 24 at which Chiu's bill was first unveiled.
"Yet, for many immigrants, this is the harsh reality under President Trump's increasingly aggressive deportation actions, which threaten California immigrant workers, employers and our economy."
Pulaski continued, "Immigrant workers are living in a constant state of deep anxiety as the Trump administration continues its threats to tear their families apart. AB450 sends a clear message that California is committed to protecting immigrant workers on the job."
At the rally, SEIU-USWW President David Huerta said, "AB450 is California's latest and boldest challenge to the Trump deportation force that has mercilessly targeted immigrants despite their significant contributions to our communities and our economy. With this bill, our state can be proud to lead the nation with the strongest resistance efforts to protect workers not just in the community but in the workplace where hard-working people make California and our economy successful every day."
In a recent column, Teamsters Local 396 Secretary-Treasurer Ron Herrera, who represents UPS and other workers in Southern California, added his voice:
"In the last few weeks, we have seen an increase of attacks on our immigrant sisters and brothers in ICE raids at homes, job-sites, and schools," he wrote. "Our members, many of whom are immigrants, are standing strong. These raids harm our economy, destroy our communities, tear families apart, and do not embody values we hold as Teamsters.
"The workers I represent in the waste and recycling industry are overwhelmingly Latina/o immigrants. They are on the frontlines, keeping our streets clean and protecting our environment.
"Our immigrant sisters and brothers make us stronger.
Herrera concluded, "I encourage my Teamster brothers and sisters, regardless of your industry, status, or personal background, to stand with our sisters and brothers in the immigrant community as they face an unprecedented attack on their basic rights and their ability to provide for themselves and their families. Our strongest defense against injustice has always been each other, and as proud Teamsters, now is the time to show the world what we're made of.
"An attack on one Teamster is an attack on all Teamsters."
A big salvo will come on April 19 when the State Assembly Labor Committee will hold hearings on AB450.