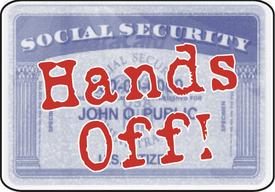 The California Alliance for Retired Americans (CARA) campaign to maximize strong opposition to the Bush administration's proposals of privatized Social Security accounts is picking up steam. The group, working with its 105 labor and community affiliates, is organizing 12 town hall meetings throughout the state during March and April focused on convincing congresspersons to sign the AFL-CIO pledge to defend the system.
Town hall meetings are "the best way to get mobilized to talk to Congress on this issue," Art Pulaski, California Labor Federation executive secretary-treasurer, told the World. The federation is co-sponsoring the events. Pulaski added, "We also need to take on [Gov. Arnold] Schwarzenegger whose attacks on state worker pensions is the advance troops for Bush's attacks on Social Security. It's two fronts of the same fight."
Rep. Loretta Sanchez (D) personally signed the pledge at the opening town hall in Orange at Teamster Local 952 hall on March 12. Congressman Joe Baca and Senator Barbara Boxer have also signed the pledge.
The pledge commits the representatives to oppose privatization proposals that cut benefits, divert money from the Social Security trust fund, increase the federal deficit and increase the retirement age.
Jodie Reed, director of CARA, told the World that group's campaign aims to educate the public that Social Security is not in crisis but has a $1.6 trillion surplus, that increasing or eliminating the cap on taxable earnings could strengthen the system, and that the Bush proposal would cost trillions of dollars and reduce benefits for young and old.
CARA has invited California's 53 representatives and two senators to attend the town hall meeting nearest their districts and to sign the pledge. At the town halls, they will be addressed by labor and community speakers and face questions from the audience. Afterwards the gatherings will make plans for local activities to convince local congresspersons to sign on.
Other representatives who will be publicly signing the pledge include Dianne Watson in Los Angeles, Dennis Cardoza in Fresno, Doris Matsui in Sacramento and Bob Filner and Susan Davis in San Diego. Barbara Lee will be signing in Oakland, Grace Napolitano and Linda Sanchez in Norwalk, Ann Eschoo, Michael Honda and Zoe Lofgren in San Jose, and Ellen Tauscher in Martinez.
This coming week town halls will be held March 29 in Oxnard, April 1 in Fresno, and on April 2 in Los Angeles, Sacramento and San Diego. For further information on the town halls call CARA at (415) 550-0828 (northern Calif.) or (760) 554-2356.