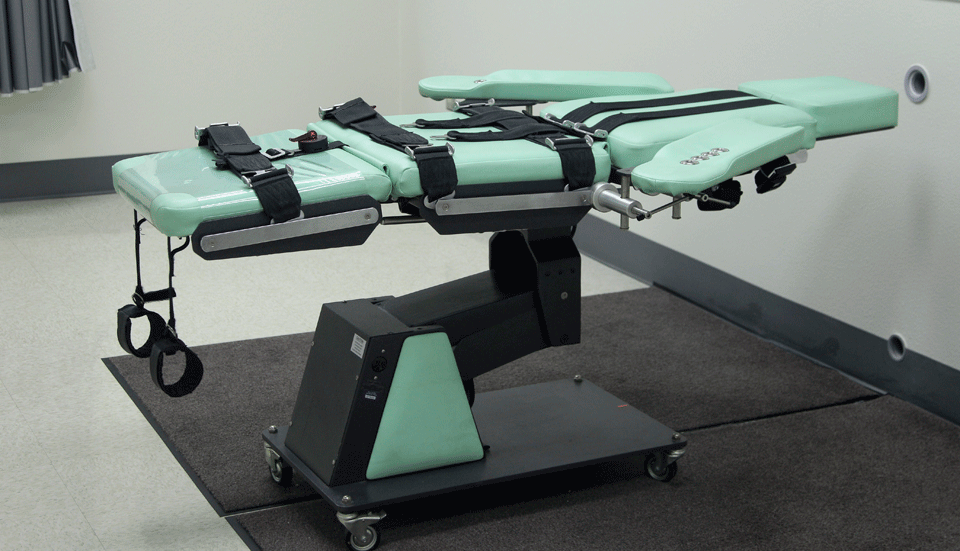 Governor Gavin Newsom was accompanied at the podium by over two dozen state legislative leaders as he held a news conference on March 13 to announce he had signed an executive order placing a moratorium on executions in California.
Pointing out the great racial disparities in application of the death penalty, the sentencing of five Californians later proved innocent, and that California's death row, with 737 inmates, is by far the largest in the U.S., Newsom declared, "What we are being tasked to do is to consider executing more people than any state in modern history…that's a choice we can make, or we can make, I think, a more enlightened choice: to advance justice in a different way."
Newsom also cited the high cost of maintaining the penalty, which he said had cost Californians some $5 billion in the period since the state restored it in 1978.
The governor, a long-time opponent of the death penalty, told how his opposition began when at age 11, his grandfather introduced him to a family friend, Pete Pianezzi, who years earlier had been wrongfully convicted of murder and escaped execution thanks to the objection of one juror.
Newsom also recalled his visits to San Quentin State Prison. "I got to understand the racial disparities," he said. "I've heard from experts…what I think is a fair assessment of our criminal justice system—that it's a lot better to be rich and guilty than poor and innocent."
With his executive order, Newsom joined governors of Colorado, Oregon, and Pennsylvania who earlier declared death penalty moratoriums in their states. Executions have been abolished in 20 states, Puerto Rico and the District of Columbia.
The governor's executive order doesn't end the death penalty in California, doesn't change any sentences or release any inmates, and it can be reversed by the next governor. Newsom also ordered the withdrawal of the state's lethal injection protocol and the closure of the execution chamber at San Quentin State Prison.
Leaders of the state legislature, where Democrats have a supermajority in both houses, strongly supported Newsom's action.
State Senate President Pro Tem Toni Atkins, D-San Diego, said in a statement that she is "ready to work with the governor to put an end to the death penalty once and for all." While "there is no way I can put myself in the shoes of every victim's family," she said, "from my own personal story of losing my older brother to murder a decade ago, I wouldn't—and couldn't—support the death penalty even in that situation."
Assembly Speaker Anthony Rendon, D-Lakewood, cited the danger of errors and noted that the death penalty "is irreversible. We have seen many cases of wrongful convictions reversed only after decades. The most convincing exonerating evidence will not bring back a person who has been executed."
Declaring that the governor "has done the right thing," state Senator Nancy Skinner, D-Berkeley, who chairs the Senate's Public Safety Committee, said that by its very nature, the death penalty undermines the constitutional principle of equal protection under the law "because it can put the life of an innocent person at risk." Skinner cited racial bias and gross disparities: "The fact is, a person of color is far more likely to be sentenced to death if they're convicted of killing a white person. That's unconscionable. It's also immoral."
Also on March 13, Assemblymember Marc Levine, D-Marin County, was joined by 23 other assemblymembers and state senators from around California in introducing Assembly Constitutional Amendment (ACA) 12, to abolish the death penalty in the state. ACA 12 would ban a criminal sentence of death and would require existing death penalty inmates to be resentenced to life imprisonment without the possibility of parole.
Calling the state's death penalty "a failed relic of a failed criminal justice system," Levine said it "does not deter serious crime, has been overly applied to minorities and has proven to be an expensive and flawed exercise in justice."
If passed by a two-thirds vote of the legislature, ACA 12 will appear on the 2020 ballot for voter approval.
Organizations opposing the death penalty praised Newsom's action.
Directors of the American Civil Liberties Union's three California affiliates said the executive order "marks a watershed moment in the fight for racial equity and equal justice for all. We commend Gov. Newsom for exercising leadership and acknowledging that California's death penalty is biased and broken beyond repair."
The three, Abdi Soltani (Northern California), Hector Villagra (Southern California) and Norma Chávez Peterson (San Diego and Imperial Counties), called attention to the exoneration of five inmates in recent years, including a man who had served 25 years on death row. They also cited a statewide study showing that when victims were white, defendants were three to four times as likely to be sentenced to death as when victims were black or Latinx.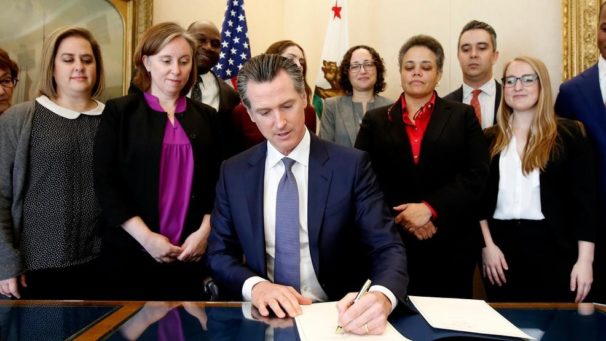 San Francisco-based Death Penalty Focus called Newsom's move "historic," and said that by "ensuring that no person is executed during his tenure, the governor has shown that he is a bold leader on criminal justice reform who is willing to tackle California's broken death penalty system head-on."
Republican legislators had a more negative response.
Senate Republican leader Shannon Grove, R-Bakersfield, said that while Newsom "is well within his authority to exert his executive power" establishing the moratorium, "we cannot ignore the pleas from crime victims and their families, and the more than 7.2 million voters who rejected overturning the death penalty" when they defeated a ballot measure in 2016. "With one stroke of the governor's pen, he has defied the will of the people."
The death penalty has a complicated history in California.
After hundreds of executions had taken place in the state's earlier years, the California Supreme Court in 1972 struck down the state's capital punishment statute. Shortly after that, voters passed Proposition 17, which established the death penalty as legal under the state constitution. Since that time only 13 inmates have been executed—the most recent in 2006—while hundreds have been sentenced to death, remaining on death row for decades.
A 2012 ballot proposition to end the death penalty in the state lost by 52 to 48 percent. In 2016 a similar measure lost by 53 to 47 percent, while a competing measure to streamline the appeals process won with 51 percent of the vote.