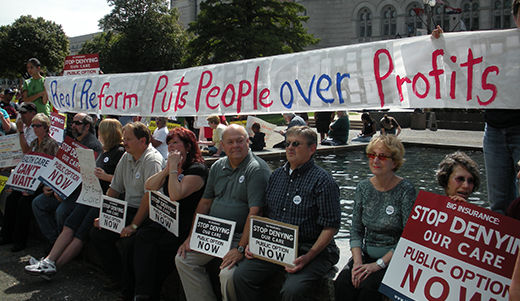 On Tuesday, October 20th, hundreds of events will take place across the country, in a "National Day of Action for Health Care."
Organized by community groups, unions, churches and others, these events will focus on urging voters to make calls to their Congressional representatives about health care reform.
Among the groups supporting the action is the Religious Action Center of Reform Judaism, which calls on its members to "join special events across the country designed to send a clear message that the faith community supports Congress passing affordable health insurance reform now."
In St. Louis, Jobs with Justice says that "dozens of organizations and hundreds of St. Louisans will be demonstrating in support of health care reform during rush hour to tell Congress, the media, and our neighbors that 'It's Time to Deliver on Health Care Reform!'"
Metro NY Health Care for All Campaign, which has worked for health care for more than a decade, said in an email message, "After nearly a century, Congress is FINALLY poised to act on comprehensive national health care reform legislation… what happens during this coming week will set the stage for the floor debates and votes, which are expected to 3-4 weeks."
In NYC there will be a town hall-style meeting with the newly elected Democratic Congressman from Staten Island, whose victory last November ended Republican representation in NYC. Other town hall type meetings are scheduled around the country. A "Rally for a Strong Public Option" is also planned for in Manhattan during the time that President Obama will be arriving to speak at an OFA meeting.
Organizing for America has asked local activists and grassroots groups to set up up phone banks for calling Congress; complete listings are available at their website (organizingforamerica.com or barackobama.com).