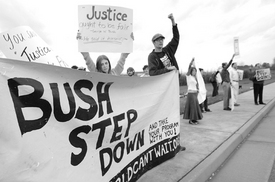 WASHINGTON — Despite Republican efforts to kill it, a grassroots movement demanding that Congress censure or impeach President George W. Bush and Vice President Dick Cheney for "high crimes" is spreading across the nation.
The Senate Judiciary Committee convened a hearing March 31 on a resolution by Sen. Russ Feingold (D-Wis.) to censure Bush for ordering the National Security Agency (NSA) to engage in warrantless wiretapping of thousands of citizens. Feingold warned that if Congress refuses to curb Bush's abuse of power, "all of the supposed protections for civil liberties contained in the reauthorization of the Patriot Act that we just passed are a cruel hoax." Refusal to curb Bush's spying would mean "we no longer have a constitutional system consisting of three coequal branches of government, we have a monarchy."
John Dean, legal counsel to Richard Nixon whose testimony helped topple the former president in 1974, told the Feingold hearing that Bush's domestic spying is "worse than Watergate." In the House, meanwhile, Rep. John Conyers (D-Mich.) has secured 32 co-sponsors for his House Concurrent Resolution 635 to establish a select committee to investigate whether grounds exist to impeach Bush.
"We applaud and support Sen. Feingold and Rep. Conyers in their efforts to hold Bush accountable for his abuses of power," said Tim Carpenter, executive director of Progressive Democrats of America, which is spearheading the impeachment movement. "We in the PDA find grassroots support growing all across the country to hold Bush accountable for his lies that led us into the Iraq war and his illegal wiretap campaign. Conyers and Feingold have taken a stand to reassert congressional oversight."
Many in the Democratic leadership are gun-shy, fearing that censure or impeachment may "rally the right" in support of Bush and Cheney in a hotly contested election year. "But we know, in fact, that the impeachment movement is mobilizing people all across the country to speak out and hold elected officials accountable," Carpenter said.
The political fortunes of the Republican right are plummeting, he said. Former House Majority Leader Tom DeLay announced he will resign. Bush's chief of staff, Andrew Card, has stepped down. Former top military officers are demanding that Defense Secretary Donald Rumsfeld step down. Bush himself is at records lows in the polls.
"We have them on the run and we want to keep them on the run," Carpenter said. "We want to bring the impeachment issue down to the local level."
Town hall meetings in five Vermont towns recently approved resolutions calling for impeachment of Bush and Cheney, and the San Francisco Board of Alderman also approved a resolution calling for impeachment. A Zogby International poll, released last November by AfterDowningStreet.org, showed that 53 percent of Americans favor impeachment "if President Bush did not tell the truth about his reasons for going to war in Iraq."
Carpenter cited a number of Democratic candidates who have announced their support for impeachment of Bush and Cheney. "We expect them to win in the primaries and take the impeachment issue on to the general election next November," he said.