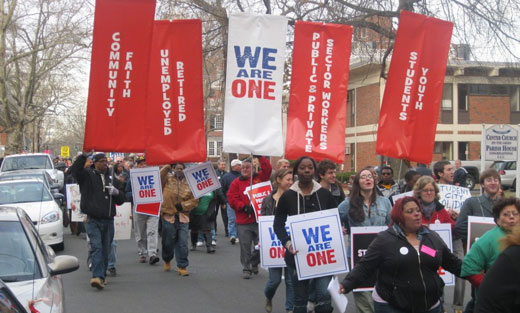 NEW HAVEN — Over 50 people gathered for a recent youth jobs forum at the New Haven Peoples' Center. High school students, leaders of student organizations, local politicians, community organizations and labor organizers put their heads together to launch a campaign for good youth jobs in New Haven.
Attendees enjoyed a delicious lunch prepared by the young people who were leading the meeting. When the introductions began, it became clear that an exciting array of community representatives had shown up. The President of the Black Law Students Association at Yale, Alderwoman Dolores Colon from New Haven's sixth Ward, a representative from Connecticut Students for a Dream, and labor leaders from AFSCME and the Teachers' Union were all in the room.
Perhaps even more inspiring than the presence of these organizations was the way young people stood up, confidently introduced themselves and declared that they were there to make change in their community. Half the participants were in middle school, high school or, early college years.
Nollysha Canteen and Sabir Abdussabur, both high school student leaders, MCed the event. Several youth, including Abdussabur, gave testimonies.
Joelle Fishman of the New Haven Peoples' Center gave the keynote speech, providing hope and a rallying cry to support Obama's American Jobs Act and Jan Schakowsky's Emergency Jobs to Restore the American Dream Act, pointing out that these bills could create over five thousand new jobs for youth in Connecticut.
For the discussion portion of the meeting, those present were asked to consider how youth unemployment has affected them, and what challenges they face when trying to address the issue of youth unemployment. The youth sat at their own "youth table" to discuss these questions.
Capria Marks, a student at Common Ground High School and community activist, presented the suggested plan of action for the group. She called on each person present at the meeting to collect signatures on a petition for the American Jobs Act and the Schakowsky Bill. "Don't fold up this piece of paper and put it in your pocket," said Marks, "Repeat after me: Please get this signed!". Also, Marks encouraged all those present to organize for a Youth Jobs March on November 2nd, at 5:30 p.m.
For more information on the Youth Jobs Campaign and how to get involved, visit www.yclusa.org.
Photo: A March 30 New Haven, Conn., rally included students, public and private sector workers, community residents, retirees, clergy and the jobless all marching to City Hall, chanting, "Whose streets? Our streets!" Art Perlo/PW