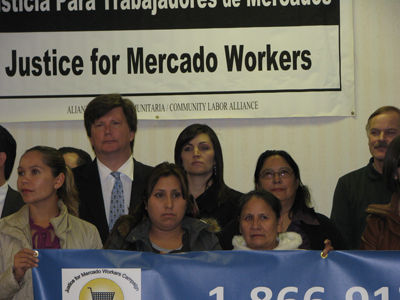 SAN JOSE, Calif. – A coalition of labor, community and faith-based organizations announced Dec. 2 that it is stepping up its campaign for owners of area ethnic grocery stores – often called "mercados" – to comply with state and federal laws for worker and consumer rights, and to give workers a "free and fair choice" to form a union.
Joining together in the Justice for Mercado Workers Campaign are Local 5 of the United Food and Commercial Workers union, the California League of United Latin American Citizens, Working Partnerships USA, ACORN, the California Healthy Communities Network, the East Bay Alliance for a Sustainable Economy and others. Backing them are several area state legislators.
"As a union, our focus is obviously on our members, but we have a broader mission in the labor movement and as a union," Local 5 President Ron Lind told a Dec. 2 press conference at the local's headquarters here. "That is, to advocate on behalf of all the workers in the industries we represent, including those in the mercados that we're hearing about today."
While some mercados are small, Lind said, others are large and becoming larger. "Groceries are groceries," he said. "There's no reason one sector of the industry should have wages and working conditions drastically lower than another sector solely because most of the workers and a good portion of the customers are immigrants."
The coalition estimates that about 30,000 Californians, many of them recent immigrants, work in Latino, Asian and other ethnic mercados throughout the state, with about 12,000 such workers in the Bay Area. The group says many mercado workers are paid poverty wages, lack proper meal and rest breaks, and suffer verbal and psychological abuse.
Even before workers have won union representation, they are gaining a voice at work through the Mercado Workers Association. Besides providing a way for workers to join together, the Association also offers a free membership card designed for identification purposes and a benefit card allowing members to conduct local and international banking transactions.
Former mercado worker Victor Blanco told the assembled reporters that many mercado workers have to work two and three jobs to make ends meet for their families. "By acting together, we can improve our lives and the lives of our families," he said.
In a later conversation, Blanco, who is now helping to build the Mercado Workers Association, said mercado workers often make several dollars an hour less than those doing the same jobs at unionized groceries, and union workers can't be fired arbitrarily. "We want to educate workers about their rights, and help them to organize," he said.
An important aspect of the campaign is the Mercado Code of Conduct, which the coalition is encouraging store owners to sign. Besides observance of basic labor laws, the code calls for at least two days of paid sick leave and five paid vacation days for workers employed for over a year, and employer pledges to recognize workers' legal rights to organize and not to use work authorization requirements in a retaliatory way. Employers also promise to maintain fair business, advertising and food safety standards.
California Assemblymember Paul Fong, D-Cupertino, said he "strongly urges" area Mercado owners to sign onto the Code of Conduct, and commended the Justice for Mercado Workers Campaign for its work so far to uphold workers' rights. He and three other state legislators have joined in a resolution citing the campaign's role as "a leading advocate of life across the San Francisco Bay Area region and beyond, and its positive impact on the state."
Also participating in the press conference was David Figueroa, Mexico's consul general in San Jose, who said one of his key responsibilities is making sure Mexican nationals' legal rights are respected. Emphasizing that the consulate "considers any abuse against the workers unacceptable," Figueroa pledged "necessary assistance and support" in cases where rights have been violated.
The union says mercado workers throughout the country face similar problems, and while the current campaign focuses on California, it hopes ultimately the campaign can become national.