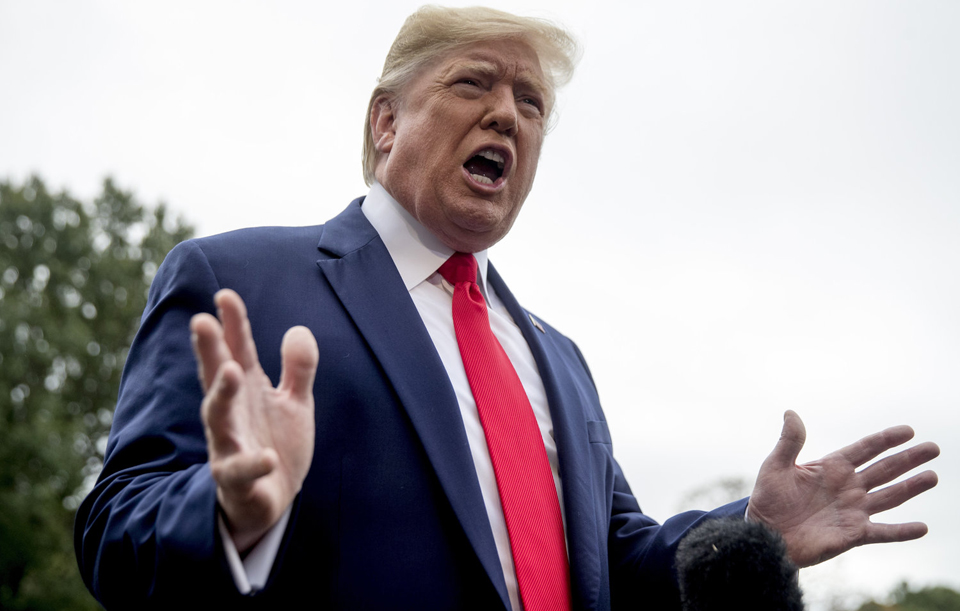 Behind closed doors and out in the streets, the campaign to get the U.S. House to officially impeach GOP President Donald Trump on national security grounds is accelerating, with one exception: Republicans, in polls, in the legislative houses, and in campaign cash.
New strides toward impeachment will come this week, when the House Intelligence Committee meets behind closed doors to hear from officials who disclosed – according to a White House transcript – that Trump conditioned U.S. military aid to the new Ukrainian president if that nation's government would dig up dirt for Trump on former Vice President Joseph Biden, a leading Democratic presidential hopeful.
Lawmakers will also meet with the independent inspectors general of both the State Department and intelligence agencies since those government bodies were sucked into Trump's deal.
Two other panels, Foreign Affairs and Oversight, are also probing Trump's illegal demands of other countries that they involve themselves in the 2020 election on his behalf. Among the disclosures they have to focus on is a phone call from Trump's special envoy for Ukraine, William Taylor, to U.S. ambassador to the European Union, Gordon Sondlund, where Taylor said: "I think it's crazy to withhold security assistance for help with a political campaign."
The whistleblowers, the IGs, Taylor – who has since quit – and Sondlund will meet with the committee members. So will Trump's former ambassador to Ukraine, who objected to the tradeoff.
Trump's quid pro quo with Ukraine on behalf of his own personal and political wishes led House Speaker Nancy Pelosi, D-Calif., under pressure even from Democrats, to formally launch the impeachment inquiry.
The second whistleblower, identified by attorneys only as a career employee at one U.S. intelligence agency, is important. Unlike the first whistleblower, this one actually listened in and took notes on Trump's phone conversation with Ukraine's president, Volodymyr Zelensky.
Meanwhile, in the streets and on social media, the campaign against Trump is rising. The top targets are lawmakers, of both parties: Those eight Democrats who so far refuse to take a stand and all the Republicans, who have been kowtowing to Trump. They fear political retribution, either from him or his right-wing base.
"The impeachment dam finally broke," MoveOn.org texted, in a typical call to arms. "After two years of making the case for impeachment – and the 2018 Blue Wave, last month's Impeachment August organizing, and thousands of calls from MoveOn members in just the last two weeks – dozens of members of Congress announced their support for impeaching Donald Trump."
Pelosi announced the impeachment inquiry, MoveOn added, "amid news about Trump's attempts to extort a foreign government for political favor and bury a whistleblower report."
"We cannot afford to lose momentum," MoveOn urged. "We're gearing up for a national week of action" during the current congressional Rosh Hashanah-Yom Kippur recess "in districts across the country to ensure impeachment moves forward without any delay."
Many Democratic presidential hopefuls, with the notable exception of Biden, are also calling for Trump's impeachment. Former Rep. Beto O'Rourke, D-Texas, became the latest, joining Sens. Elizabeth Warren, D-Mass., Bernie Sanders, Ind-Vt., and Kamala Harris, D-Calif.
"Since day one of his administration, Trump has made it clear there is nothing too immoral, too despicable, or too corrupt that he won't do to advance his own political agenda and personal interests," O'Rourke said in urging people to sign a pro-impeachment petition. "His shamelessness has hit rock bottom. We need to let him know that nothing about committing crimes in public makes them any less criminal."
Trump himself added fuel to the fire. In tweets over the weekend, he said he "would love running" against Biden next year – showing his demand on Ukraine was for political muck against the former veep and Biden's son, Hunter.
Trump also incited his followers with outright lies, including one declaring the Democrats would take away their guns and homes and threatening that an impeachment vote would start a civil war.
But – and this has gone little-noticed in the uproar – the big money men of the GOP, and the corporate class behind them, have so far said not a word against Trump in public. Instead, they're backing Trump, with their dollars.
While attention focused on the Democratic hopefuls' fundraising reports for the third quarter of 2019 – Biden lagged Warren and Sanders – Trump's trove of cash those three months, more than $100 million, lapped the field.
And opinion polls show the GOP rank-and-file, at least so far, is sticking with Trump, by an 86%-11% margin against impeachment. Overall, that same latest poll shows a 48%-46% margin for the impeachment inquiry.
Trump, of course, is stoking the fire in his voter base. He calls the impeachment inquiry a "coup" that will trigger civil war. He also ignores – as do congressional Republicans, corporate interests and the GOP rank-and-file – the other impeachable offenses he's committed.
Those range from urging the Russians to release the rest of Hillary Clinton's e-mails during the 2016 campaign, which they did, to ten instances, documented by Special Counsel Robert Mueller's report, of Trump attempts at obstruction of justice in the Russia probe.
He has other impeachable offenses, though he doesn't recognize them as such. And the Democrats – so far – haven't included them in their investigation. They include his stoking of white nationalist hatred, his concentration camps at the U.S.-Mexico and his numerous actions discriminating against people based on skin color.
Trump's even gone so far to urge the Border Patrol to shoot asylum seekers at the border – the same fate he implied he wanted to mete out to the first whistleblower.
A few Republicans have spoken out against Trump, but have yet to utter the word "impeachment." The catch is they — like former Sen. Jeff Flake, R-Ariz., and former Secretary of State Colin Powell — are out of office. Powell said GOP leaders and lawmakers "are holding out because they're terrified."
They have reason to be. Flake retired before losing last year's Arizona GOP primary to a Trumpite. And last week, the Oval Office occupant jumped all over Sen. Mitt Romney, R-Utah, the 2012 GOP nominee, who also raised questions.
Trump suggested Utahns back him, not Romney, even though Romney garnered a higher percentage of the vote in deep-red Utah last year than Trump did in 2016. Trump also called on Utah to impeach Romney and strip him of his Senate seat – once again showing Trump doesn't read or heed the U.S. Constitution. Under it, only the Senate can evict senators.
Democratic Sen. Chris Murphy of Connecticut has condemned the cowardice of Republican senators saying they "should not fear Trump. All they have to do is vote for his impeachment and they will have nothing to worry about."