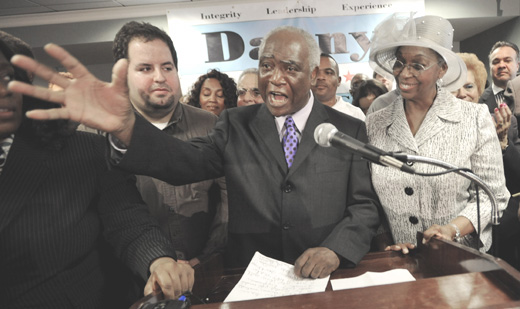 CHICAGO – Can anyone beat Rahm? That's the question on the minds of many Chicagoans as the Nov. 22 candidate petition-filing deadline for mayor of the nation's third largest city fast approaches.
Rahm Emanuel, former White House chief of staff to President Obama, officially announced his candidacy Nov. 13 He hopes to win the Feb. 22 mayoral primary outright and avoid a runoff. To do so he'll have to defeat a broad field of candidates.
In some ways the primary is Chicago's corporate elite vs. the people.
According to Crain's Chicago Business, Rahm is the pick of corporate Chicago. They write, "Members of the business community are lining up behind Mr. Emanuel because they think he most shares [outgoing mayor] Mr. Daley's strongest traits. They see the one-time investment banker as an economic centrist who will play hardball with municipal unions, someone who knows the labyrinth of Washington … "
Aside from an internal local Democratic Party machine power struggle that could block Emanuel from gaining ballot access, the only thing that can stop him is the emergence of a broad grassroots multi-racial people's coalition around one of the opposing candidates.
This is a tall order.
The Chicago electorate is 40% African American, 38% white, 17% Latino and 5% Asian American. Anyone hoping to win will have to build a coalition that unites communities.
While discussions are taking place among activists and in organized labor to formulate a people's agenda to both judge and push the candidates, the necessary unity hasn't yet begun to crystallize.
The crises facing Chicago are many-sided: the skyrocketing unemployment – especially in the African American and Latino neighborhoods, a budget deficit that could reach $1 billion, severely underfunded schools and mass transit, crumbling infrastructure, lack of affordable housing, and more. Confronting the deep crisis facing the city is the basis of a broad coalition.
Many are looking for a repeat of the Harold Washington election of 1983 when a multi-racial coalition helped elect the progressive, reform candidate as the city's first African American mayor. Such a development now is complicated by the presence of multiple candidates, including in the African American and Latino communities, that can end up splitting the primary election vote.
The two most progressive voices in the field capable of rallying a broad coalition are US Rep. Danny K. Davis and City Clerk Miguel del Valle.
Davis, from Chicago's west side African American community, made an appeal for a broad multi-racial grassroots coalition in announcing his candidacy Nov. 14.
"You don't have to be rich, you don't have to be wealthy, you don't have to be high in the penthouse, all that you have to be is highly motivated and involved to make a difference," said Davis, who has a long history of progressive politics.
"We the grassroots, everyday people, we the policemen, postmen, clerks, electricians, we the nurses, hotel workers, cooks, bartenders, teachers, taxi drivers, doctors, we the people can exercise our God-given rights to participate, be involved and make decisions about ourselves and our city." said Davis
Davis, former US Senator Carole Moseley Braun and Rev. James Meeks, a state senator and pastor of Salem Baptist Church, all have support in the African American community.
Braun is remembered from her days as a Senator. Meeks, whose reactionary views on school vouchers and gay rights have riled many, was introduced in his official announcement by the former head of the state Republican Party, Andy McKenna.
Miguel Del Valle has long been a leading independent voice since his days in Harold Washington's administration. He became the state senate's first Latino elected official. He is an advocate of equitable education funding and opponent of government corruption and patronage.
The candidacy of Gery Chico, President of the City College system and an advocate of expanding charter schools and vouchers, will impact Del Valle's ability to consolidate support in the Latino community.
The most promising possibilities for breakthroughs for labor and forces independent of the Democratic machine appear to be in the City Council races where a sizeable turnover of aldermen is expected. In 2007, the labor movement allocated immense resources to electing pro-labor candidates including several trade union members. It appears they and others may put similar resources in this election leading to a growth in independent voices in the council.
Photo: U.S. Rep Danny Davis, center, along with his wife Vera, announces his candidacy for Chicago mayor Nov. 14. Paul Beaty/AP