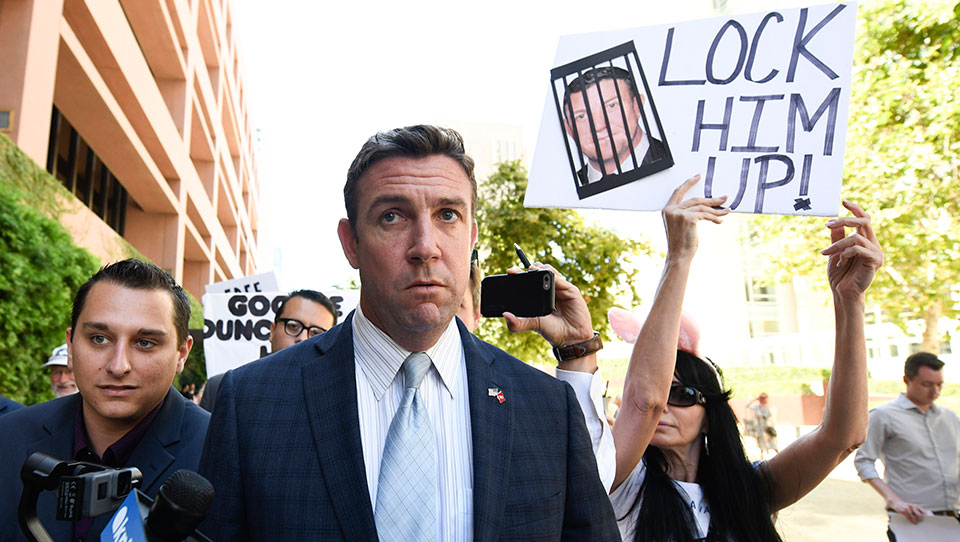 Can a Congressman who used $250 of his campaign funds to fly Eggburt cross country on a family vacation hope to retain his seat? For those who have not been following the news on Duncan D. Hunter, GOP U.S. Representative from California's C.D. 50 in San Diego County, Eggburt is the family's pet rabbit.
The unflinching Republican has been in office since first elected in 2008. He occupies a seat formerly held by his father, the reliably right-wing Duncan Lee Hunter, from 1981 to 2009.
Rep. Hunter was indicted on August 21, 2018, for campaign finance violations, in what he has called a politically motivated "dirty tricks" government attack. Voters went to the polls that November knowing that their Congressman was under investigation. His opponent, the young, attractive and accomplished Ammar Campa Najjar, whose first job was in church ministry and who later served in the Obama administration in the Labor Department, came very close to unseating Hunter. He came within 1.7 percent of flipping a ruby-red Republican district. California Democrats had a banner year that election cycle: Out of 14 Congressional seats held by Republicans in the state, Democratic candidates defeated seven.
But not Hunter. It wasn't just the voting habits in C.D. 50 that worked against a challenger: It was also Hunter's broad swipes at ACN for his mixed Latino and Palestinian background. Most damning, to Hunter and those who listened to him, was the fact that ACN's Palestinian grandfather was one of the terrorists involved in the assassinations of Israeli athletes at the Munich Olympics in 1972. Born in 1989, ACN never knew his grandfather, and was raised in a Christian household by a single mom.
Hunter's résumé includes three tours of service as a Marine in tough places such as Afghanistan and Iraq, which is a big plus in this district full of in-service military and many retired. However, by posing for photographs with dead enemy soldiers (that he killed?), he admits to having violated military code.
The charges against Duncan Hunter are that he illegally spent campaign funds on vacations complete with zip-lining, hotel stays in Las Vegas and other resorts, sports clothes, video games, the race track, and at least twice, Eggburt's airfare. In Nov. 2015 the family vacationed in Italy. Hunter tried to arrange a U.S. Navy base tour to claim the trip as official business, but to his annoyance the date requested was not available.
His wife Margaret served as his personal financial manager as well as campaign manager, and shared in the misappropriation of funds, despite repeated warnings of illegality by the campaign treasurer. Some of the expenditures they tried to disguise as contributions to wounded warriors and other charities, or as dinners thanking campaign volunteers and contributors. His initial defense was that he had left the money side of the campaign to her and didn't know what was going on. Some might call that throwing his wife under the bus.
There were other things Hunter was hiding from the public—and from his wife: Expensive hotel overnights and meals with not one, not two, but count 'em, five different mistresses he was courting on the side, identified to the court as "Individuals 14-18." Hunter's lawyers have now contrived an imaginative defense that he was legitimately "mixing business with pleasure," because three of his affairs were with lobbyists, another with a woman working for the Republican National Committee, and the fifth a member of his office staff.
The representative is still maintaining his innocence, but it's no wonder Margaret, forgoing her right not to testify against her husband, has pleaded guilty to conspiring with him to steal some $250,000 in campaign monies over a six-year timespan. She spent some of that money on personal and family expenses, too, such as her children's school lunches. For these crimes she could possibly get up to five years in prison. But that is not going to happen if she continues, as is likely, to cooperate with federal prosecutors. This is one romance on which the bloom appears to be off. It is not known in whose household Eggburt is currently residing.
With a guilty plea on record, Margaret Hunter will face a Sept. 16 sentencing in a San Diego courtroom. Duncan's criminal trial begins on Sept. 10. Hunter has plenty of time to devote to his defense these days because the GOP House leadership has removed him from all committee assignments.
Almost incredibly, he is still running for re-election, despite an avalanche of negative publicity. Outside the courtroom where his hearings have been held, demonstrators carried signs saying "Google Duncan Hunter ethics" and "Free Eggburt." The Los Angeles Times devoted its lead editorial on July 3 to the subject "Duncan Hunter has got to go."
"Between preparing a defense against the mountain of evidence amassed by prosecutors and sitting in a courtroom while his family's dirty laundry is aired, he can't possibly be an effective representative for his district. He should resign immediately and clear the way for a special election…. If he is cleared of the charges," the Times concludes, "he can run again."
In a recent incident, the Marine Corps came down on him with a cease and desist order to stop using trademarked Marine Corps emblems and slogans ("No Better Friend, No Worse Enemy") on his re-election campaign letterhead, out of concern that voters would interpret such insignia as a seal of political endorsement.
In a sign of desperation for his career, and to underline his loyalty to the ideology of Trumpism (for which he has a virtually perfect voting record), Hunter sent out a mailer including a photo of a 1972 Munich terrorist (though it was not clear whether that was specifically ACN's grandfather or someone else) and also images of ACN alongside Muslim Congresswomen Ilhan Omar and Rashida Tlaib.
"These three radical Democrats," Hunter screams on the mailing piece, "want you to forget their anti-semitism or family terrorist ties! But as a Marine I'll never forget the 1983 Beirut bombings and the 1972 Olympic murders." Criticisms of his Islamophobia appeared immediately in response.
Accusations against ACN as a security threat working to "infiltrate Congress" sit well with a hard-core Republican base that sent Duncan père and Duncan fils to Congress since 1981, but they are unsubstantiated. "He's invoking the same type of racial tropes and birtherism conspiracies used against President Obama," says ACN. "I wouldn't be the first skinny brown guy with a funny name to overcome hate with the help of a beloved community that reflects what's best about America.
"Because it turns out that my upbringing isn't a weakness. It's a strength! My working-class roots make me a better candidate, and a better person."
"As Congressman," he told the Times of San Diego, "I hope to focus America less on the wars we've waged abroad, and more on the wars we wage within…. From income inequality, debilitating healthcare costs, gun violence on the rise, veteran homelessness, the inevitable displacement of millions of workers due to automation, to the worst calamities of climate change, America must prevail over many challenges in the coming years."
Responding to the charge of guilt-by-association to his long-dead grandfather, he said, "I'm blessed to have been born in America, a country where regardless of your appearance, the sound of your name, or where your family came from, you can achieve your dreams if you work hard and believe enough." The Ammar Campa-Najjar website can be viewed here.
Will Duncan Hunter resign? Will he take a plea bargain? Will he be re-elected? As in many other elections around the country, a massive voter turnout will pronounce the last word.