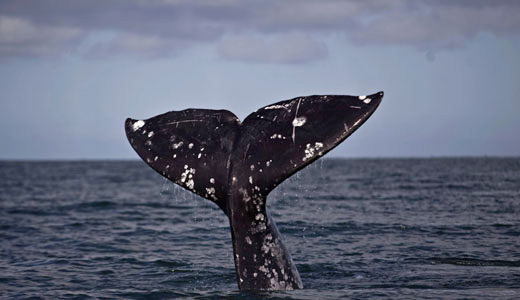 After massive layoffs at Canada's Department of Fisheries and Oceans, leading ocean scientists – and the environment itself – will suffer the consequences.
Scientists believe this is a profit-driven attempt by the government to eliminate environmental regulations to protect the oil and gas industry, at the expense of jobs and the health of marine life.
To add to the problem, the DFO's ocean contaminants program – which involves marine pollution research and the study of contaminants in fish – will be shut down effective Apr. 1, 2013. As a result, 75 jobs will be slashed, putting research scientists, chemists, and technicians out of work. This is all happening because the Canadian government is cutting $5.2 billion in spending over the next three years, during which 19,200 federal government jobs will be eliminated. 13,000 of those will be union jobs.
Among the scientists being laid off, many are the world's leading experts on marine mammals and contaminants. One such expert is Peter Ross, who noted that this seems like the first step in "the wholesale axing of pollution research," which will leave Canada – and much of the world – without the scientific knowledge to protect ocean life. It will also affect indigenous peoples who rely on ocean animals for traditional foods, according to Environmental Health News. And this is more, he remarked, than cost cutting – it's an attempt to act in the interests of the oil industry.
"Since being hired 13 years ago as a research scientist at [DFO]," said Ross, "I have been fortunate enough to conduct research on such magnificent creatures as killer whales, beluga whales, harbor seals, and sea otters. I have visited some of the wildest parts of British Columbia, Arctic Canada, and further afield." As a main part of his career, he said, he has "looked into the lives of fish and marine mammals, and the ways in which some of the 25,000 contaminants on the domestic market affect their health.
"Our knowledge has drawn on the combined expertise of dedicated technicians, biologists, vessel operators, and aboriginal colleagues. This is knowledge that informs policies, regulations, and practices that enable us to protect the ocean and its resources.
"It is with deep regret that I relay news of my termination of employment at Fisheries and Oceans Canada and the loss of my dream job. It is with even greater sadness that I learn of the demise of DFO's entire contaminants research program. It is with apprehension that I ponder a Canada without any research or monitoring capacity for pollution in our three oceans, or our ability to manage its impacts on commercial fish stocks," which are "traditional foods for over 300,000 aboriginal people and marine wildlife."
One of the more recent contamination problems that will grow much worse with the dismantling of contamination research involves killer whales, which ingest chemicals from Chinook salmon in the Vancouver Island area – particularly, in the polluted Puget Sound. This species of whale is the world's most contaminated animal, and scientists say situations like this need much more research.
The whales are specifically contaminated with polychlorinated biphenyls (PCBs), which have toxic effects, including the ability to negatively alter hormones in the body; they are also believed to cause cancer.
The Chinook salmon that the whales eat inhabit waters tainted by pulp mills, military bases, and urban runoff, Ross explained. And because the salmon in the Puget Sound have a lower fat content, the killer whales need to consume about 50 percent more of them.
"Salmon are telling us something about what is happening in the Pacific Ocean," said Ross. "They're going out to sea, and by the time they come back, they have accumulated contaminants over their entire time there."
Other issues that ocean scientists were addressing, noted Ross, included "the effects of flame retardants on beluga whales, hydrocarbons in sea otter habitat, use of pesticides on salmon, and risk-benefit evaluation of traditional sea foods of First Nations and Inuit peoples.
"Past scientific discoveries such as high levels of PCBs in Inuit foods and eggshell thinning in seabirds formed the basis for national regulations and an international treaty that have led to cleaner oceans and safer aquatic foods for fish, wildlife, and humans."
With the closing of the DFO's contaminants research program and the firing of thousands of workers, this all goes right out the window. And, scientists feel, it does not bode well for the environment's future.
"Canada's silence on these issues will be deafening this summer and beyond," Ross concluded.
Photo: The risk that killer whales face will be exacerbated by a recent decision to excise Canadian pollution research, and to fire leading ocean scientists. Guillermo Arias/AP