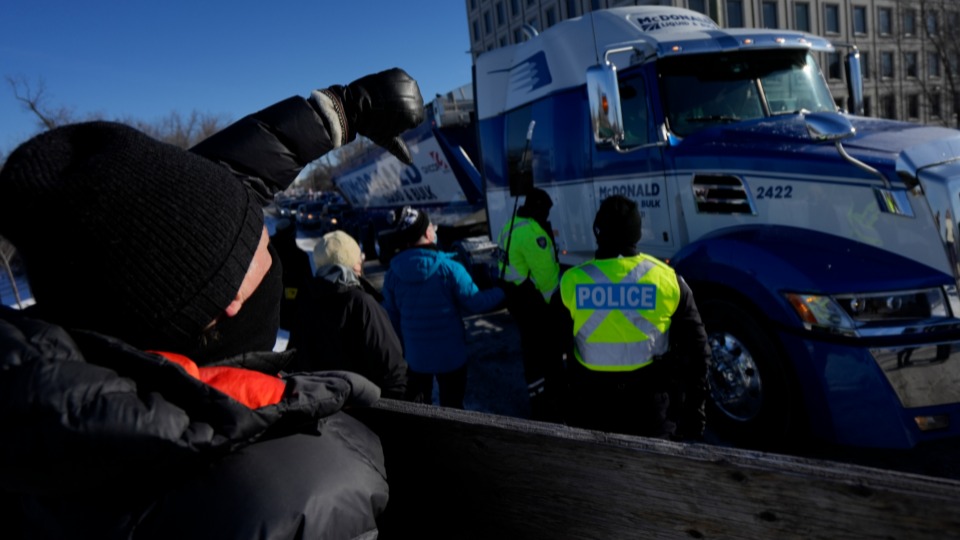 WINNIPEG, Manitoba—Canadians are increasingly fed up with the reactionary big rig trucker protests blockading U.S.-Canada trade routes and closing major streets in several cities. Factories are closing on both sides of the border, leaving tens of thousands of workers without a job.
By now it is clear that Justin Trudeau's Liberal minority government treats the insurrectionists with kid gloves and allows the extreme right leaders to break the law and work to overturn last fall's election.
The response so far is very different from how the federal and provincial governments in Canada deploy forces against Indigenous rights protesters and striking workers, who have been met at various times with mass arrests, snipers, landmines, tear gas, and chainsaws. Yet the trucker protests continue to drag on, with governments administering the gentlest of treatments.
Canada's Conservative and People's Parties, former U.S. President Donald Trump, right-wing media in both countries, and related unhinged elements are backing the protests—all of them tied to powerful big business interests.
The danger of right-wing insurrection is in the air. Over 320,000 people endorsed a document drawn up by leading protest organizers to demand the government rescind all vaccine requirements or "RESIGN their lawful positions of authority immediately." That figure is about half the votes received by the far-right People's Party, which made masking and other public health measures its main target in the October general election.
The Canadian labor movement and the left are coming out in force against the truck blockades and disputing their portrayal as working class protests.
The Canadian Labour Congress warns: "[T]he leaders of this occupation include people who espouse Islamophobic, anti-Semitic, and racist hate on social media, organizers of the notorious far-right yellow vest protests, and people spreading extreme conspiracy theories and calls for violence."
Representing over 55,000 professional drivers, approximately 15,000 of whom are long haul truck drivers, Teamsters Canada states: "The so-called 'freedom convoy' and the despicable display of hate led by the political Right and shamefully encouraged by elected conservative politicians does not reflect the values of Teamsters Canada, nor the vast majority of our members, and in fact has served to delegitimize the real concerns of most truck drivers today."
Unifor, Canada's largest industrial union but not a CLC affiliate, states: "Reports that this campaign maintains close association to known right-wing extremists, condones hate symbols, conspiracy theories, and utilizes former military and police operatives all paints the picture of an insurgency—harkening back to the attack on the U.S. Capitol last year.
"Unifor is urging all levels of government to take immediate and reasonable steps to ensure the resumption of goods and people moving across borders. We expect governments to treat this escalating situation as a national emergency.
"Further, and for too long, governments at all levels have ignored the threat posed by far-right organizations that seek to infiltrate legitimate workers' movements and advance messages of hate and division. They have allowed them to spread hateful messages, to raise funds, and to act with impunity at great cost for workers, communities of color, Indigenous people, members of the LGBTQ community, and many more.
"We cannot and will not allow hate and division to shape the future of this country. We must organize against these groups and work together to advocate for a progressive Canada, one where everyone is included, where economic and racial justice are achieved."
The Communist Party of Canada notes there are "clear links between the organizers of the convoy and far-right networks" and that "it will take mass political action by the labour and people's movements to…defeat the rise of the ultra-right."
Judging by the government's actions so far, the liberal capitalists and their political representatives are more scared of workers and Indigenous rights protesters than they are of the fascists who are the effective leaders of the trucker insurrection.
Rather than fight the fascists, Canada's imperialist class bows down to them by leaving the protests largely untouched, for two weeks so far.
Members of Parliament for the Conservative Party—the official opposition in the House of Commons—removed their leader, Erin O'Toole, at least partly for failing to support the truckers. He's been replaced by an interim leader, Candice Bergen, who's known to wear a "Make America Great Again" hat.
The Alberta, Saskatchewan, and Manitoba governments, meanwhile, all lifted important public health measures during the protests. In Ottawa, two Liberal MPs broke with their party over health measures, revealing the right faction within Trudeau's government.
Loaded with money and successful in their blockade tactic, the fascists are making gains in their fight (so far) to have capitalist governments of all stripes trash vaccines, masking, and science generally.
Lots of U.S. money may have flowed to Canada for these reactionary protests, similar to how the CIA financed trucker protests before Chile's fascist coup in 1973—secretly and significantly.
A significant portion of the $10.1 million raised through GoFundMe for the trucker protest originated in the U.S. The GoFundMe effort and another campaign on a U.S.-based platform (used to raise funds for the Proud Boys and Kyle Rittenhouse) were shut down, but the protests continue.
The threat to Canada's sovereignty is real. A solidarity statement by the labor movements of Canada and the U.S. against the common insurrectionist threat would provide some much needed leadership at this time for working people in both countries.
Far-right U.S. organizers are starting to plan a similar cross-country trucker convoy aimed at Washington, D.C. Copycat protests are already taking place in Australia, New Zealand, and several European countries.
The failure of Trudeau and the Liberals to curb the protest highlights the importance of building mass opposition to the extreme right forces behind the insurrection.
Further People's World coverage: