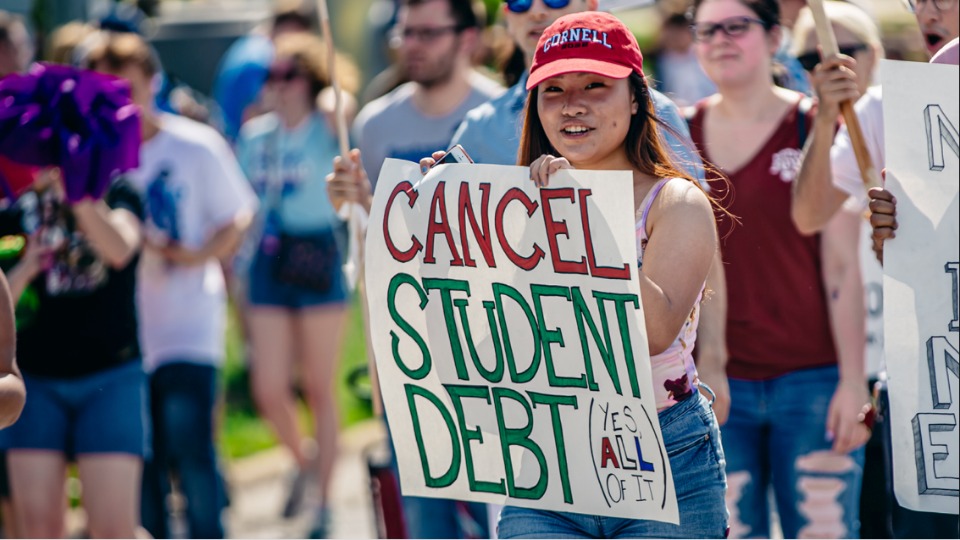 President Joe Biden is under mounting pressure to address the rapidly growing student debt crisis by canceling up to $50,000 in crushing individual student loans. A growing chorus of elected officials and advocates say Biden can cancel the debt through executive action.
Also, 415 community, civil rights, climate, health, consumer, labor, food and farm, and student advocacy organizations released a letter to Biden and Vice President Kamala Harris in support of canceling student debt.
The organizations say the debt crisis is an economic, racial, gender, and health issue. The administration could "boost the economy, tackle racial disparities, and provide a much-needed stimulus to help all Americans weather the pandemic and the associated recession by using executive authority to cancel federal student debt immediately."
The letter issued by organizations also argues that the cancellation of $50,000 in student debt relief would positively impact health outcomes. Many of those with debt suffer from higher stress levels, depression, high blood pressure, obesity, and even mortality.
Debt cancellation is popular among the public, supported by nearly 60% of voters. Biden campaigned on canceling up to $10,000 in student debt but wanted to achieve this legislatively. However, GOP obstruction is forcing the administration and Democratic-led Congress on a different path. Biden has asked Secretary of Education Miguel Cardona to determine whether he can do it legally through executive action.
On average, 42 million borrowers owe $39,000 each on student loans, totaling about $1.71 trillion. Total debt is ballooning at six times the economy's growth rate, and many say the sheer amount is impossible to ever pay back. Nine million borrowers are currently in default.
If Biden canceled $50,000 per person, 84% of borrowers would have their debt wholly eliminated. While the media and critics of cancellation focus on relief for higher earners, 40% of those with debt never received a diploma and often work minimum-wage jobs.
The Senate Banking Committee opened hearings into the student debt crisis on April 13. Sen. Elizabeth Warren, D-Mass., a leading advocate of cancellation, chairs the committee. Warren, along with Senate Majority Leader Chuck Schumer, D-N.Y., and Rep. Ayanna Pressley, D-Mass., in the House, have co-sponsored a resolution supported by 60 colleagues to cancel student debt by executive order.
"We're going to get this done. President Biden could basically cancel $50,000 in student loan debt with the stroke of a pen," Warren told Chris Hayes on MSNBC. "Student loan debt has been canceled by Pres. Obama, Pres. Trump, and already by Pres. Biden. He's been canceling about $5 billion every month in the accumulated interest."
Biden issued executive orders extending a moratorium on debt payments and canceled interest payments during the pandemic. Biden also reversed a Trump-era decision to cancel debt for students defrauded by for-profit colleges. The order cancels about $1 billion in debt held by 73,000 students.
The pandemic accelerated the student debt crisis. One in four borrowers defaults, and over 90% of borrowers have paused their repayments during the pandemic. At least 60% say it will be tough to resume making payments once the health emergency is over.
"America is facing a student loan time bomb that, when it explodes, could throw millions of families over a financial cliff," Warren said. "The average borrower will have to start paying nearly $400 a month to the government instead of spending that money out in the economy (once the moratorium is over)."
The cancellation of student debt is a huge civil rights issue and would be a big step toward racial and gender equity. The median African American borrower still owes 95% of the loans they borrowed 20 years ago, while the median white borrower owes 6%.
"One of the things we face in this nation is a Black-white wealth gap. By canceling $50,000 in student loan debt, the President would be able to close that Black-white wealth gap among borrowers by about 25 points," said Warren. "And for Latino borrowers, about 27 points. Talk about something transformative."
"The student debt crisis is a racial equity issue," said Russell Boyd II, national field organizer of the NAACP Youth and College Division. "Black borrowers and borrowers of color are most impacted by these issues and going through an education system rooted in historical racism."
Discrimination in hiring, promotion, and wages forces Black borrowers to repay debt from a weaker economic basis. Half of the Black borrowers and one-third of Latino borrowers default on their loans in the period twelve years after graduation and are more likely to be defrauded.
The median student loan payment is $222 a month, an enormous and unsustainable burden for most borrowers. "For much of American history, education, college, and graduate school has been a ladder up," Schumer told a teleconference hosted by Student Debt Crisis. "But for too many, it's an anchor weighing them down, making it harder to start a family, buy a home, and so much more. The pandemic made it worse."
Schumer, who wears a #CancelStudentDebt facemask on the U.S. Senate floor, insisted Biden could use the Higher Education Act to cancel debt as other presidents have done, and as he is already doing to suspend payments and freeze interest payments at zero.
"Pres. Biden is very much open to what we are doing," said Schumer. Warren, Pressley, and Schumer will meet again with Biden soon to press for action.
"We are dealing with a failed system that has put about 70% of college graduates into debt," said Justin Atkins, national political manager for NextGen America. "Americans have about 2 trillion in combined debt not going through our economy right now."
"Some students are still paying off debt while their children are entering college to take on new debt," said Atkins. "This is an economic and moral issue. This crisis is cross-sectional and multi-generational. We've got a wealth gap, a racial gap, and a gender gap. If you care about racial equity and gender equity, this is the solution. Cancelation of debt will jumpstart a solution."
Student loan debt is an issue for older Americans, too. Borrowers who are 50 years and older own 22% of the total debt, or $336 billion, a five-fold increase since 2004. Many took out Parent Plus loans for their children or assumed the debt when their children couldn't pay it.
Decades of stagnant wages and soaring college costs have intensified the crisis. "Over the past three decades, the cost of attending a four-year college has more than doubled, even after adjusting for inflation, as state and local funding for higher education per student has decreased," said AARP CEO Jo Ann Jenkins in 2019. "Family incomes haven't come close to matching that increase."
Debt cancellation is also about a more inclusive and equitable society. "While we are pushing for the cancellation of debt, we continue to push beyond that, to build a system that is debt-free, a system that is equitable, that works for everyone," said Boyd. "There is no compromise on this issue. The time for cancellation is now."