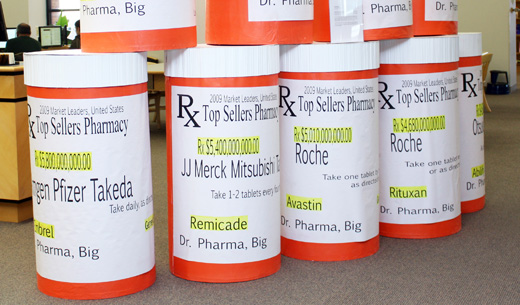 More than 100 leading cancer specialists from around the world have denounced the "astronomical" costs of cancer drugs, suggesting that drug companies are engaged in unethical profiteering.
The doctors, experts in chronic myelogenous leukemia (CML), a potentially deadly blood cancer, are from more than 15 countries on every continent, including about 30 from the U.S., led by Hagop Kantarjian, a prominent leukemia specialist at the prestigious MD Anderson Cancer Center in Houston. They presented their views April 25 in a stinging article in "Blood," the journal of the American Society of Hematology. It was publicized in a front-page New York Times article the same day, but seems to have dropped off the media radar since then.
"Of the 12 drugs approved by the FDA for various cancer indications in 2012, 11 were priced above $100,000 per year," the doctors wrote. "Cancer drug prices have almost doubled from a decade ago, from an average of $5,000 per month to more than $10,000 per month."
Pharmaceutical companies say they must charge the astronomical prices to pay for the necessary research. However the cancer specialists pointed out that drug companies recover the development costs of these high priced drugs in the first few years, then continue to take in enormous profits basically "for free" in subsequent years.
According to a study by Health Care for America Now, the annual profits of the 11 top pharmaceutical giants reached $83.9 billion in 2012, a 62 percent jump from 2003,
In the medical journal BMJ, Drs. Donald Wright and Joel Lexchin write, ""Companies exaggerate costs of development by focusing on their self reported increase in costs and by not mentioning [their] extraordinary revenue return." In fact, they say, "Pharmaceutical companies' net profits after taxes consistently remain substantially higher than profits for all other Fortune 500 companies.
Many of the doctors who signed the article have themselves had ties to the pharmaceutical industry. They don't dispute the companies' right to make a profit. One of them, Dr. Brian Druker, worked with Novartis, the Swiss pharmaceutical giant, on developing the highly profitable cancer drug Gleevec. But Druker, who now directs the Knight Cancer Institute at Oregon Health and Science University, told the Times, "If you are making $3 billion a year on Gleevec, could you get by with $2 billion? When do you cross the line from essential profits to profiteering?"
Novartis first-quarter profits this year were up 7 percent. Analysts predicted a profit of $3.12 billion. The company's incoming Chairman Joerg Reinhardt will receive annual compensation of $4 million.
Pfizer, which makes another CML drug, reported net income of $2.75 billion in the first quarter of this year, up 53 percent from $1.79 billion a year ago.
The cancer specialists focused on the price of drugs to treat CML. But they made it clear that their criticism of astronomical drug prices extends to the entire pharmaceutical industry, and to the U.S. health care system as a whole.
Kantarjian and his colleagues raised the question of what is a moral price for medicines. The doctrine of "just price" says, "by moral necessity, price should reflect worth," they wrote. "One could argue that when a commodity affects the lives or health of individuals, just price should prevail because of the moral implications."
"This doctrine may be different from the doctrine of free market economies where prices reflect 'what the market bears', or what one is willing to pay for a product.
"In Europe and many developed countries," they noted, "universal health coverage shields patients from the direct economic anxieties of illness. Not so in the United States where patients may pay an average of 20% of drug prices out-of-pocket (about $20-30,000 per year, a quarter to a third of an average household budget), and where medical illnesses and drug prices are the single most frequent cause of personal bankruptcies."
And many patients do not take vital prescribed drugs because of the cost.
Without directly stating it, the doctors made an implicit call for government intervention to lower drug prices, including using its purchasing power to negotiate lower prices for Medicare patients – a step supported by President Obama but blocked by congressional Republicans.
"Hopes that the fundamentals of a free market economy and market competition will settle cancer drug prices at lower levels have not been fulfilled," the doctors said.
"As physicians, we follow the Hippocratic Oath of 'Primum non nocere', first (or above all) do no harm. We believe the unsustainable drug prices in CML and cancer may be causing harm to patients. Advocating for lower drug prices is a necessity to save the lives of patients who cannot afford them."
Photo: "Using humor and research to make direct correlations between the pharmaceutical industry and monies being spent, these pill bottles reflect the enormity of Big Pharma." From Courtney Matthews' description of her art piece "Blockbuster." CC BY NC-SA 2.0