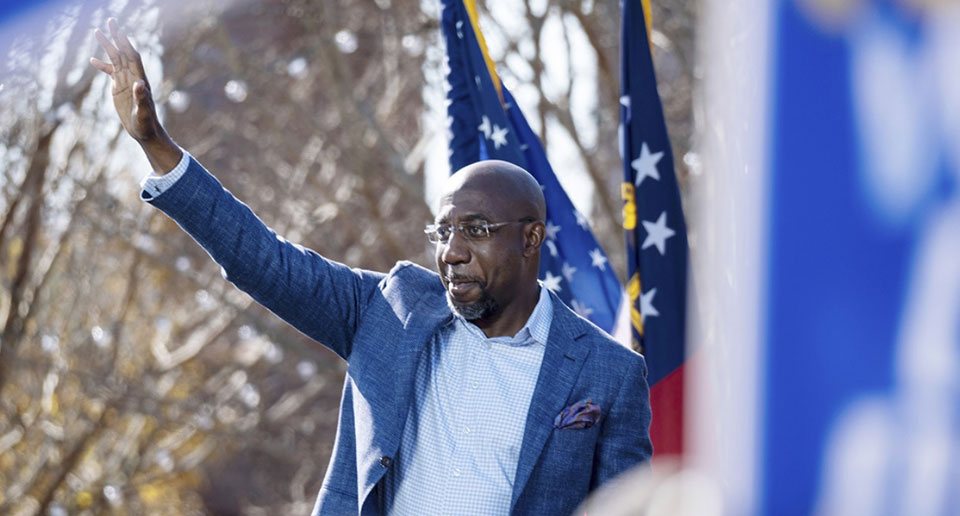 WASHINGTON—The Democratic-Republican runoff for Georgia's two U.S. Senate seats tomorrow, Jan. 5, is important to the chances of workers and their allies, notably Democratic President-elect Joe Biden, to enact a pro-worker agenda in the new Congress.
Labor and its allies pulled off an unprecedented early vote campaign and Georgians turned out to early vote in numbers that surpassed the turnout in the November general election. The get-out-the-vote effort tomorrow could well be the most massive one ever seen in a U.S. election.
Donald Trump's illegal phone call to pressure the Georgia Secretary of State, Brad Raffensperger, into doctoring election results have spilled over into the runoff campaign with Republican Sen. David Perdue defending Trump.
Sen. Perdue attacked Raffensperger on Monday for recording the call with Trump over the weekend, calling it "disgusting" to do so.
"I guess I was raised differently," Perdue, a Republican, said on Fox News. "To have a statewide elected official, regardless of party, tape without disclosing a conversation — private conversation — with the president of the United States, and then leaking it to the press is disgusting."
With wins by the two Democrats, investigative journalist Jon Ossoff and the Rev. Raphael Warnock, pastor of the historic Ebenezer Baptist Church in Atlanta—the Rev. Dr. Martin Luther King's church—the Senate would be a literal tie: 50 Republicans versus 48 Democrats and two Democratic-leaning independents. And incoming Democratic Vice President Kamala Harris would cast the tie-breaking vote.
And that Democratic control would let Biden push his pro-worker agenda.
High among his priorities: Passage of the Protect the Right to Organize (PRO) Act, the most comprehensive pro-worker labor law rewrite since the original 1935 National Labor Relations Act, and enacting a green jobs-centered infrastructure program with mandated worker protections while pushing union membership.
Those two goals come just behind yet another economic stimulus law to deal with the medical, physical, and economic chaos of the coronavirus pandemic. Biden's stimulus plan would be similar to the House-passed pro-worker Heroes Act, which Senate Majority Leader Mitch McConnell, R-Ky., junked. If McConnell retains the majority, he'll kill all three bills.
Which is why unions are running phone banks, e-mailing Georgian colleagues, even sending buses of volunteers down to go door-to-door, pandemic permitting, in Georgia. Unions are "running an aggressive ground campaign in Georgia and driving calls and sending postcards to the Peach State," AFL-CIO President Richard Trumka said on Dec. 28.
"The outcome of this election is about more than fixing the disastrous policies of the past four years. It's about rebuilding a broken nation with union labor and American steel over the next four years. It's about reforming our broken labor laws and passing the ProAct, which would allow millions to form a union fairly and freely."
What they're up against, however, is a monstrous Republican money machine, with hundreds of millions of dollars in "dark money" flowing in from out of state, painting Ossoff and Warnock—who grew up in public housing—as dangerous radicals.
Meanwhile, incumbent GOP multimillionaire Sens. David Perdue and Kelly Loeffler have to fend off charges of insider trading on stocks of firms impacted by the coronavirus pandemic —and their down-the-line support of defeated GOP Oval Office occupant Donald Trump.
If the GOP wins just one of the races, they keep U.S. Senate control, and worker-hater McConnell runs the show for two more years, at least.
The union drive apparently is working, at least so far. Early voting ended Dec. 31, and mail-in ballots for the special elections are running ahead of the record pace they set in November. Then, Georgians, marshaled by citizens groups and led particularly by 2018 Democratic gubernatorial nominee Stacey Abrams, narrowly voted for Biden. He was the first Democratic presidential nominee to win there in decades, among five million votes cast.
Victories for Ossoff and Warnock against Loeffler and Perdue "would create a pro-worker majority that will pass the urgent state and local aid we all need," said AFSCME President Lee Saunders. "This is an all-hands-on-deck situation." And the Communications Workers posted a collage of photos of members from around the U.S. with phones glued to their ears, calling Georgians. Abrams joined their phone banking.
"For months, the Republican Senate stood in the way of relief legislation that would support workers—among them the 75% of Unite Here members in Georgia who remain unemployed," Warnock told 1,000 of the union's members, gathered in Atlanta for a virtual "car rally" and food distribution on Dec. 29, followed by canvassing.
"I will change that and work to pass long-term comprehensive COVID [coronavirus] relief legislation that includes job and safety protections, economic relief, and health care.
"And, when we recover from this pandemic, I will continue standing with Unite Here and the broader labor movement to support workers' fundamental rights to organize and work safely. I am in this for the long haul, and I look forward to being a senator the people of Georgia deserve."
Teamsters in Georgia phoned, texted, e-mailed, and used social media to reach colleagues and other workers, Local 728 Vice President Chuck Stiles reported in a website posting. "Georgia Teamsters know that now is not the time to check out on politics. There are real benefits that could come from these two campaigns that will affect not only those in the state but millions of working Americans who are in need of assistance.
"We're confident they will come out and vote for those who back a pro-worker agenda."
"We are focusing on the Georgia runoffs, which will determine the balance of power in the Senate. The outcome will be crucial in getting further assistance for our members," Machinists President Bob Martinez told Local 709 members in Marietta, Ga., on Dec. 10.
Unions are also raising money outside the state to fund their Georgian troops and their phone banks. The Teamsters and Unite Here accompanied their reports with posted appeals for donations. Progressive groups, with Abrams again taking the lead, did so, too. And Rep. Alexandria Ocasio-Cortez, D-N.Y., sought $1.2 million from her supporters alone.
"To create change in America, we must put all our energy, enthusiasm—and yes, some money—into winning the Senate," she posted in a recent on-line appeal for the Senate Democrats' fundraising arm (italics hers).
"To make the big, structural change our country so desperately needs, we need to keep pushing our elected leaders to deliver for working people, and we need to elect even more leaders who will fight for a nation that works for everyone," the Working Families Party said in its own fundraising pitch.
"That starts with the Senate runoff election in Georgia…where WFP organizers have been working nonstop to turn out voters so we can flip the Senate and elect leaders who will put people first."