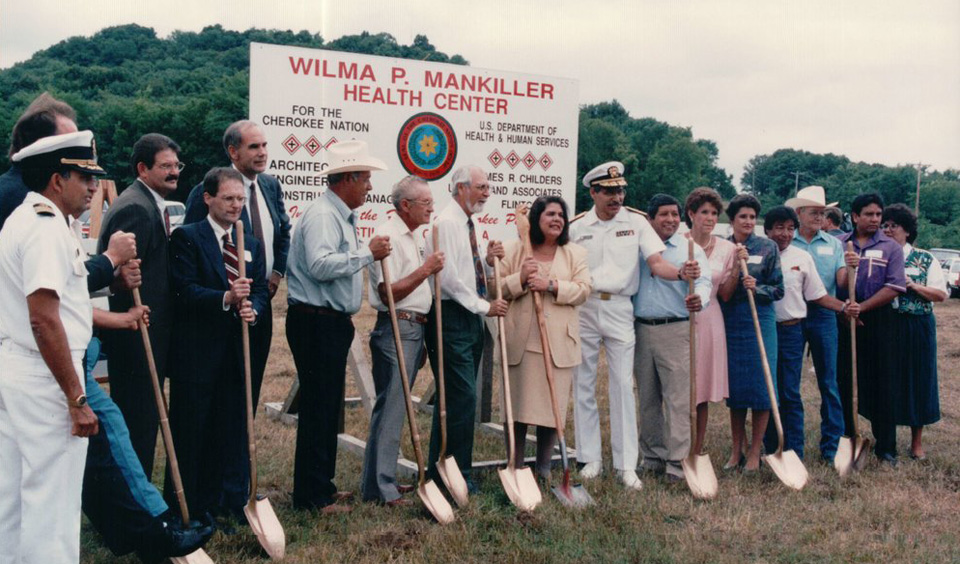 The Los Angeles Film Festival (LAFF), presented by Film Independent, emphasizes an indie sensibility, showcasing domestic and foreign features, documentaries, shorts, etc., made outside of the commercial, studio-dominated motion picture industry.
This year's 23rd LAFF stressed a multitude of voices with regard to ethnicity, gender, sexual orientation, etc. Onscreen Cherokees, Kalaallits, conquistadors, Pakistanis, East Asians and more, LAFF had screenings and panels too. Here are some of the highlights for me.
Mankiller: A heroine for the ages
Standing Rock has propelled American Indian issues to the forefront. Native director Valerie Red-Horse Mohl's well-made Mankiller was my favorite film at LAFF this year. It's a new documentary about the first female Principal Chief of the Cherokee Nation. The Oklahoma-born Wilma Mankiller cut her political teeth at the famous Alcatraz Occupation that began in 1969. As the Cherokees' elected leader Mankiller achieved many reforms, including spurring tribally-owned businesses, various self-development projects and indigenous self-government initiatives. The doc also considers the contentious casino issue. In 1998 Pres. Clinton awarded Mankiller the Medal of Freedom, and when she passed away in 2010 Pres. Obama issued a moving statement.
This 74-minute, cinematic biopic, clip and info here, not only deals with indigenous issues, but also sexism. Its co-creators are both women, including Mohl, who is also Cherokee. I enjoyed her 1998 feature Naturally Native, the first movie totally financed (with gaming money) by an Indian tribe, Connecticut's Mashantucket, which co-starred Mohl and Irene Bedard.
Feminist icon Gloria Steinem, who was specifically interviewed for Mankiller, appears throughout. Wilma Mankiller was MS. magazine's Woman of the Year and sat on the Ms. Foundation board.
Mankiller's executive producer, Gale Anne Hurd, an A-list Hollywood heavyweight known for sci fi productions, teamed up with Mohl to make indigenous-themed documentaries, including 2010's Choctaw Code Talkers and now this.
Many run-of-the-mill docs incorporating talking heads and narrators are dull and unoriginal, but through her editing and camerawork, Red-Horse Mohl's exceptional documentary is filmic, fluid and always absorbing to watch. This poignant biopic about one of the greats made me feel like weeping. Brava!
The Big Sick: Blondes still have more fun
The "Naughty Pakistani" Mona Shaikh isn't the only jocular immigrant from that Asian land who's making waves—and laughs—on America's comedy scene. Kumail Nanjiani (of HBO's Silicon Valley) co-stars in this autobiographical romcom which he co-wrote with his real-life sweetheart Emily Gordon. Despite its Raymond Chandler-like title, The Big Sick is a Chicago-set dramedy about the interracial romance of a Pakistan-born wannabe standup comedian also named Kumail with the blonde Caucasoid Emily (Zoe Kazan). Complications ensue because of Kumail's family and cultural constraints.
The Big Sick is frequently funny, with great zingers and one-liners, including a hilarious bit about 9/11 (too soon?). As the plot takes a turn toward the serious, there is also convincing drama. Extremely well acted, Sick's cast includes the preternaturally talented Holly Hunter, and as Hunter's husband—and Emily's father—Ray Romano has probably never been better.
Presumably putting her grandfather Elia Kazan's techniques as a co-founder of the Group Theatre to good effect, Zoe delivers a natural performance. The problem with Kazan is that she keeps getting cast in movies where she's supposed to be some sort of dream girl, but it just doesn't ring true.
Kumail's family members all acquit themselves well and with humor, especially India-born actor Anupam Kher as the sometimes befuddled father caught between two worlds. I enjoyed and was moved by this two-hour-long movie, which theatrically opens July 14. However, the flick's subtext is similar to movies like The Heartbreak Kid and its 2007 remake, where the Jewish male rejects his Jewish wife (at their honeymoon!) to obsessively pursue the blonde "shiksa goddess." Kumail similarly rejects all of the Pakistani women, some far more physically appealing than Emily, with whom his mom, drolly played by Zenobia Shroff, who is from Mumbai, tries to set up her boychik.
Given today's interracial dynamics and the so-called "clash of civilizations," some may regard this as a rejection of one's own culture—and religion, as Kumail admits he doesn't believe in Islam—in favor of the dominant culture's Caucasian women. This theme of rejecting one's own heritage goes at least as far back as Hollywood's first talkie, 1927's The Jazz Singer. Some may just regard Kumail's preference as a case of "to each their own." In any case, The Big Sick, trailer here, is an entertaining flick that also includes a behind-the-scenes peek at the standup comedy world, with SNL's Aidy Bryant adding to the laughs that abound in this engrossing cross-cultural comedy.
Stella Polaris Ulloriarsuaq: The big melt
Yatri Niehaus' shot-on-location documentary about climate change and colonialism's impact on Greenland features poetic, stunning cinematography. While some nonfiction works about global warming such as The Penguin Counters focus on how polar bears, walruses, seals and other majestic wildlife are being affected by extreme weather, Stella Polaris Ulloriarsuaq stresses how Greenland's indigenous people are striving to cope with these factors. Danish colonialism altered an age-old way of life. Niehaus' superb, cinematic film also visualizes the way Greenland's topography is shifting as the planet heats up. As Greenland's glacier and ice melt, so, alas, its culture seems to also.
According to press notes, "The Kalaallit people of Greenland have been inseparably connected to the eternal ice for millennia. As the foundation of their traditions is literally melting beneath their feet, a group of people seek to capture messages from a vanishing world.
"Under the guidance of the shaman Angaangaq Angakkorsuaq and with the aid of two photographers, people from all the social walks of Greenlandic life gather to illuminate glaciers and icebergs in star-lit nights."
Niehaus' 90-minute fantastic Arctic excursion may melt your heart. Shot beneath Greenland's starry, starry Northern Lights, Stella is simply stellar.
A panel on whitewashing: Celluloid stereotypes and hope for a brighter future
In keeping with its concern for cinema's and society's underdogs, LAFF presented a series of "Diversity Speaks" discussions to "shine the spotlight on underrepresented voices."
Sometimes panels can bore you to tears. But the discussion I covered, "Whitewashing: Asian and Asian-American Representation in Film and TV," was anything but. This highly entertaining, insightful conversation provided an Asian take on the "Oscars So White" controversy. The panel was moderated by Taiwan-born comedienne Jenny Yang and included: Leonardo Nam (Westworld), Kelly Hu (The Scorpion King), Kelvin Yu (Master of None), Ally Maki (Geography Club), Phil Yu (Angry Asian Man blog), Bruce Thierry Cheung (Don't Come Back from the Moon) and Gloria Fan (VP of current programming, Fox).
Kelvin Yu lamented that Asians "are never quite sexualized" correctly by Hollywood, where the dominant majority culture of Caucasians run not only the studios, but dominate the number of ticket buyers.
Ally Maki, who has had recurring and featured roles in a number of TV series, including the current television iteration of Dear White People and Wrecked, described herself as a sort of girl-next-door, who grew up in Washington state. A fourth generation Japanese-American, when the 31-year-old first came to Hollywood, "the industry [gave me] a rude awakening" with "its casting by ethnicity." Maki found that by La La Land standards, she didn't "fit in either category," and wasn't considered to be American or Japanese enough. The Seattle-born-and-raised actress wanted to play "a girl who is just a girl—that's what resonated with me." Instead, Maki was typecast to play either "the nerd in the corner or the girl with the accent."
Born in Argentina to Korean immigrant parents and raised in Sydney, Australia, Leonardo Nam, who spoke with an Aussie accent, echoed the concern of fitting in to preconceived notions as to what an Asian is and how they should behave.
The glamorous, stiletto-heeled Hawaii-born mixed-race Kelly Hu, who said she was a bit late for the panel because she'd flown in from Kazakhstan to participate in it, reflected that when she started acting in 1987 on the sitcom Growing Pains, "With 30 years of experience [in show business], we took whatever we could get. It was not like we had a choice. We couldn't fight for diversity."
Yang, who kept the panel moving along, pithily summed up the dilemma minorities confronted in Hollywood vis-à-vis majority whites as: "I'm going to tell you who you are." She also added that when a Margaret Cho or FOB goes on the air [FOB stands for "Fresh Off the Boat"] Asians have "rep sweats" about how they'd be represented—or misrepresented.
On the other hand, the standup comic mused about "Our beautiful white liberal friends who get more offended by something on our behalf than we do." Yet Yang was happy to take credit for criticism of "whitewashed" movies such as the remake of the 1995 Japanese film Ghost in the Shell—remade in 2017 with the white Scarlett Johansson cast as the lead—when they bomb at the box office.
Kelvin Yu argued that in order to improve the quantity and quality of onscreen representations of Asians and Asian-Americans in the North America market, "The industry is a business—we need to vote with our dollars." With the increase in immigrants from Asia and U.S.-born people of Asian ancestry, plus the export of Hollywood products overseas to Asian theaters, the box office clout of viewers of Asian background is becoming an increasingly important factor for big and little screen productions.
There was a general consensus among panelists that things were improving. Yet, surprisingly, China was criticized for "not caring about Asian-Americans." The recent Chinese production of The Great Wall was blasted for putting Matt Damon in the lead. Ever the wag, Yang quipped she "wants to give diversity workshops to China's producers." It seems that even in the People's Republic love of the green dominates concern for the "yellow."
LAFF 2017 awards
The U.S. Fiction Award: Elizabeth Rohrbaugh and Daniel Powell for Becks.
The U.S. Fiction Cinematography Award: Christian Sorensen Hansen and Pete Ohs for Everything Beautiful is Far Away.
The World Fiction Award: Diego Ros for The Night Guard (El Vigilante).
The Documentary Award: Amanda Kopp and Aaron Kopp for Liyana.
The L.A. Muse Awards were given to two films, one fiction and one documentary. The LA Muse Documentary Award: Mark Hayes for Skid Row Marathon. The LA Muse Fiction Award: Savannah Bloch for And Then There Was Eve.
The Nightfall Award: Amanda Evans for Serpent.
The Award for Short Fiction: A Funeral for Lightning, directed by Emily Kai Bock.
The Award for Short Documentary: Black America Again, directed by Bradford Young.
The Audience Award for Documentary Feature Film: Skid Row Marathon, directed by Mark Hayes.
The Audience Award for Fiction Feature Film: The Keeping Hours, directed by Karen Moncrieff.
The Audience Award for Short Film: Swim, directed by Mari Walker.
The Audience Award for Web Series: High & Mighty, directed by Carlos Lopez Estrada.
For more info see the LAFF website here.