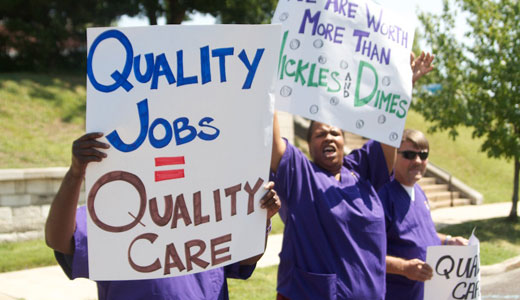 ST. LOUIS – "I love the job. I love the residents. They are like family to me," Avis Willson, a resident assistant at the Altenheim Senior Care Community, told the People's World as about 30 members of SEIU Healthcare rallied out-side of the facility here June 13.
Willson has gone two years without a raise. She currently makes $9.39 an-hour, while caring for senior citizens. As a resident assistant she is responsible for resident laundry, making doctor's appointments, bathing residents and other general assistance. She has worked at Altenheim for nine years.
The Service Employees International Union's Healthcare has been in contract negotiations since last June with Altenheim.
According to Laura Burbank, an organizer with SEIU, the senior care center "has offered us nickels and dimes."
Burbank said, the center has offered a $.15 an-hour raise for CNA's (certified nursing assistants) and $.10 an-hour raise for the dietary and laundry staff.
"Everybody deserves a decent raise," Willson added.
However, wages aren't the only thing she's concerned about. Willson is also concerned about the wellbeing of the center's residents.
According to her, "The work we do is important for our residents. But we can't provide for our families with the money we earn, and it leads to high turnover, which hurts our residents who need reliable, quality care."
"I love my job, but without wage increases that keep up with the cost of living I'm going to be facing a tough decision about whether or not I can continue working here."
According to Burbank, "The nursing home industry is wrought with high turnover and low staffing levels that negatively impact patient care."
"Altenheim needs to do the right thing here," Earline Jones, from the Alliance of Retired Americans told said. "They deserve a living wage. They deserve a decent contract."
"We hear horror stories all the time about senior's not getting the care they need and deserve. The workers here are trying to address issues of low-pay and high turn-over. They clearly care about these residents," Jones added.
According to Aaron Burnett, from St. Louis Jobs with Justice, "The workers here are just looking for a fair contract, one that addresses wages and benefits as well as patient care."
Photo: Steve Pan/SEIU