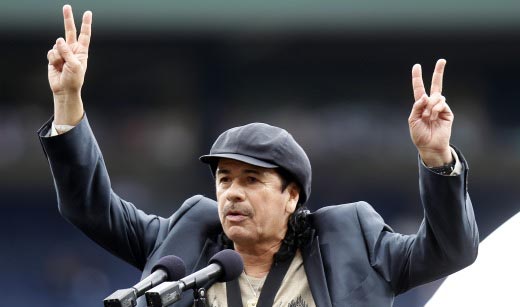 Immigrant rights activists say legendary guitarist Carlos Santana hit a home run during his speech at Major League Baseball's annual Civil Rights Game in Atlanta, Georgia, May 15.
Santana was being honored and presented the "Beacon of Change" award prior to the game where the Atlanta Braves hosted the Philadelphia Phillies at Turner Field.
Days before on May 13, Georgia's Republican Governor Nathan Deal signed a draconian anti-immigrant bill into law, which aims to increase enforcement powers and requires employers to check the immigration status of new applicants. The bill, HB 87, authorizes local police to check the immigration status of "suspects" in their custody and detain them if they are undocumented.
Georgia's immigration law is one of the toughest in the nation to date and is similar to Arizona's SB 1070, which was enacted last year. Georgia, like Arizona, is a Republican-dominated state.
Santana, a Grammy award winner, emigrated to the U.S. from Mexico in the 1960s. During his live speech before the game he said elected officials in Arizona and Georgia should be ashamed.
"This law is not correct," said Santana. "It's a cruel law, actually. This is about fear. Stop shucking and jiving. People are afraid we're going to steal your job. No we aren't. You're not going to change sheets and clean toilets. I would invite all Latin people to do nothing for about two weeks so you can see who really is running the economy. I am here to give a voice to the invisible. This is the United States. This is the land of the free. If people want the immigration laws to keep passing, then everybody should get out and leave the American Indians here."
The Georgia law is based on racism and economic anxiety, noted Santana after his speech to reporters with the Atlanta Journal Constitution.
"It's an anti-American law," said Santana. "If you all remember what it was like here with Martin Luther King and the dogs and hoses, it's the same thing, only its high tech. So let's change it."
The law goes into effect July 1, and imposes prison sentences of up to one year and fines of up to $1,000 for people who knowingly transport or harbor undocumented immigrants. It also asserts that workers convicted of using fake documents when applying for a job could be sentenced to 15 years behind bars and fined $250,000.
Opponents say the law is unconstitutional, targets the Latino community and could lead to racial profiling. Civil rights attorneys in Georgia are working with several national groups to pull together a lawsuit challenging the law.
Last year a federal judge blocked major provisions in the Arizona law after the U.S. Justice Department and the Obama administration sued. An appeals court upheld that decision last month.
Wade Henderson with the Leadership Conference on Civil and Human Rights denounced Georgia's anti-immigrant law in a statement calling it an "odious piece of legislation."
He told CNN, "Georgia's lawmakers have not learned from Arizona's mistakes. These laws presume everyone is guilty, contradicting the fundamental American presumption that those accused are innocent until proven otherwise."
The Mexican government also condemned the Georgia law in a statement to CNN. "The legislators and state executives ignored the many contributions of the immigrant community to the economy and society of Georgia," officials said.
Latino advocates in Georgia are calling for national boycotts against Georgia's convention centers and asking tourists not to vacation there. Town hall meetings are also being organized including a summer schedule of actions against the measure including a work stoppage set for the day the law goes into effect followed by a march and rally in Atlanta.
Meanwhile some argue Santana was out of place to criticize Georgia's anti-immigrant law before a major league game.
However Kim Conte wrote on "The Stir," that the "state in which the civil rights controversy is occurring was also the setting of the Civil Rights Game, which supposedly honors the history of civil rights in America."
Conte continues, "Consider that Santana – an immigrant and a Latino – was being honored for being a pioneer of civil rights. How could he have not spoken out against it?"
Conte notes, "Even if you're fiercely opposed to Santana's position on undocumented immigrants, you've got to respect a guy who actually talks about civil rights during a civil rights event. I'd have a lot less respect for him as an artist and cultural voice if he sat idly by and let such hypocrisy go unmentioned. Not to mention the fact it seems like speaking out and trying to change things is exactly what we'd expect from a 'Beacon of Change' recipient even if perhaps his opinions differed from ours. Maybe his content was inappropriate in some circles, but the choice of setting for his rant – that was dead-on."
Photo: Carlos Santana gestures after receiving the Major League Baseball Beacon of Change Award during a pre-game ceremony at the annual Civil Rights Game May 15, in Atlanta. (AP Photo/John Bazemore)