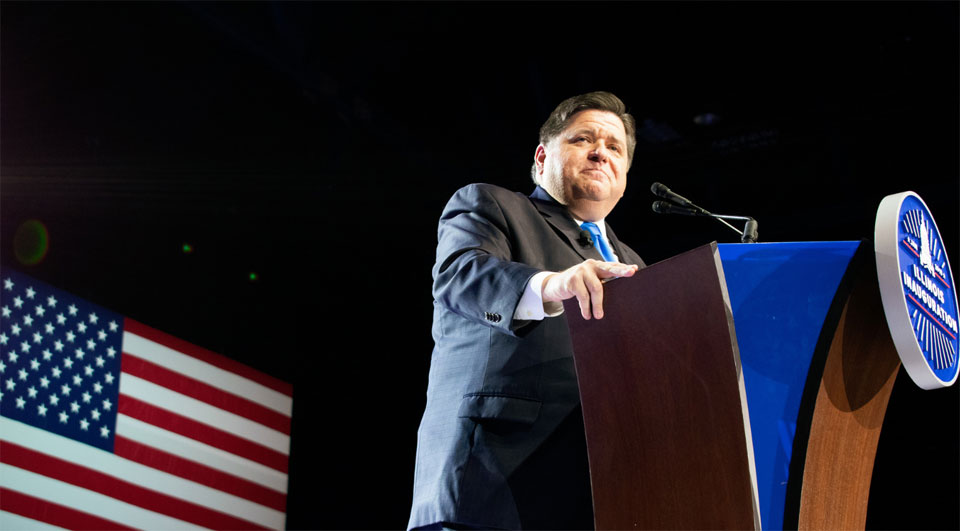 SPRINGFIELD, Ill.—The Carpenters' high-profile nationwide campaign against wage theft by unscrupulous non-union construction contractors has produced at least one big win: An anti-wage theft law awaiting Illinois Democratic Gov. J.B. Pritzker's signature. And that's not all.
Ramsey County, Minn. (St. Paul) District Attorney John Choi has hired an experienced special investigator of corporate finagling to probe wage theft on construction sites in the Twin Cities area. Hennepin County (Minneapolis) DA Mike Freeman is working with them, the St. Paul Union Advocate reported.
The struggle against wage theft in construction has moved up to the federal level, too. Rep. Bobby Scott., D-Va., and Sen. Patty Murray, D-Wash., who chair congressional committees dealing with workers' issues, introduced federal legislation on May 10 to crack down on wage theft nationwide. House Appropriations Committee Chair Rosa DeLauro, D-Conn., joined in. The three said wage theft costs construction workers an estimated $50 billion yearly.
"Every day, countless workers are punching in and working long hours for an honest day's pay only to have their employers cheat them out of their wages," said DeLauro, known for her ability to marshal votes to push legislation through. "That is inexcusable, and Congress has the responsibility to act to ensure hard-working people receive their hard-earned wages.
"The Wage Theft Prevention and Wage Recovery Act is comprehensive legislation that will strengthen current federal law and empower employees to recover their lost wages. Whether it is compensation for a day's work or overtime, employees should be paid what they earn. This legislation puts workers first."
The Carpenters thrust the issue into the spotlight with a full week of lobbying, rallies, and events to show the country how rampant corporate criminality of stealing wages from construction workers—often people of color, recent migrants, or both—really is.
Their campaign really hit home in Illinois
On party-line votes in the Democratic-run, and pro-labor, legislature, solons passed the main anti-wage theft bill, HB5412, in April and officially sent it to Pritzker on May 12. They also sent him a later, perfecting, bill. The main bill passed 38-18 in the State Senate on April 8, after a 62-36 House vote in March.
"We're going to cover workers and ensure their wages are going to be compensated," House Assistant Majority Leader Marcus Evans, D-Chicago, told his colleagues when HB5412 came up that month. "Somebody would have to bear the cost for that. In this legislation, that's the prime contractors."
HB5412 would hold prime construction contractors responsible for wage theft not just by their own firms, but by subcontractors. The prime contractor would have to pay up, but if the sub stole the wages, it would have to repay the prime contractor for wages, fines, and lawyers' fees. The perfecting bill cut the statute of limitations from 10 years to three. It also exempted projects worth less than $20,000, projects covered by union contracts, and projects built by state, federal and local governments.
"We have been leading the fight against worker exploitation in every state, and Illinois is showing that hardworking men and women are valued and protected here. When workers are getting ripped off and not paid what they are owed, that should outrage every single person on a job site," Carpenters Midwestern Regional Council Executive Secretary-Treasurer Gary Perinar said after the state legislature cleared the measure for Pritzker.
"Perpetrators of abuse and fraud use a variety of schemes," to steal wages from workers, the Carpenters said before kicking off their campaign. "Many employers deliberately misclassify workers as independent contractors or pay them off the books so they can avoid paying employment taxes.
"Other fraud schemes include using shell companies and shady banking practices, laundering money, refusing to pay overtime, and falsifying workers' compensation data to avoid paying premiums. Immigrant workers are especially vulnerable to abuse and often fear standing up for their rights.
"In 2020 an authoritative study found that as many as 2.41 million construction workers, up to 21% of the construction workforce (nationwide), are victimized through these methods. The resulting state and federal tax losses reach $8.4 billion a year." And the University of California at Berkeley recently reported that 39% of those victimized workers had to use federal aid—such as Medicaid and food stamps—to get by because the workers didn't get paid.
In Minnesota,  Choi and Freeman explained that when shady contractors get caught stiffing workers, they're usually hit with warnings, fines, or being barred from bidding on public projects.
Choi and Freeman want to go beyond that. Otherwise, Choi told a press conference, "In a way, it can all be just looked at as a cost of doing business.
"Both Mike Freeman and I have this really strong belief that some of this conduct should be looked at from a criminal prosecution perspective. Oftentimes, it's not until people are subject to potential jail or prison time–or that negative publicity of being prosecuted–that you get people's attention."
Minnesota already had a wage theft task force and had launched prior initiatives statewide against the practice, as a result of an exhaustive investigation by Workday Minnesota several years ago. But Choi and Freeman said fines and bans aren't enough to deter contractor law-breaking.
The task force reported that in Minnesota alone, 4,872 construction workers in the two counties are victims of payroll fraud, that employers steal over $3 million in wages each year and that wage theft diverts over $11 million from Social Security and Medicare funds.
For unions and labor advocacy groups like Minnesota's CTUL (Centro de Trabajadores Unidos en la Lucha), the report "validated the stories they have heard from people working in the non-union construction industry, where layers of subcontractors and labor brokers too often conceal illegal dealings," the St. Paul Union Advocate said.
Just days after the two prosecutors' press conference, more Minnesota construction workers went public with wage theft data, pointing at the same family that owns the NFL's Minnesota Vikings football team.
The Viking Lakes project in suburban Eagan says the Wilf family's firm, MV Ventures, ignored repeated warnings about wage theft by MV subcontractors. The warnings came from the North Central States Regional Council of Carpenters and from some 40 workers. Two of the workers reported the wage theft to the state Department of Labor and Industry, they told a May 5 press conference.
"MV Ventures develops the project, hires the subcontractors, and has control of the project from start to finish," Carpenters General Council Burt Johnson said. "They are responsible." The workers told the Carpenters they are not paid what they're owed.
"Wage theft cannot be tolerated in an industry so essential to our city's infrastructure," CTUL Co-Director Merle Payne said after the press conference with the two prosecutors. At the later press conference, CTUL co-director Javier Mendez Velasco also noted the Wilf family benefited from $500 million in public subsidies to build the Vikings' new football stadium.
"Not only does wage theft hurt workers and their families, it also puts a strain on taxpayers when developers off-load the cost of labor and insurance onto the public."
Michael Moore is the editor of the St. Paul, Minn. Union Advocate
The Will County (Ill.) Labor Record also contributed material for this story.