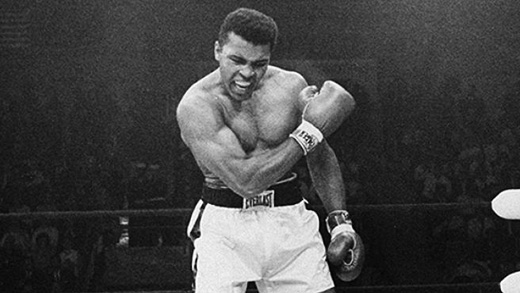 NEW HAVEN, Conn. — He stood as a symbol of racial pride, he gave me a strong sense of manhood and self-sufficiency. He taught me black pride and black independence. He used the world's stage to emerge as a symbol of peace and unity, a global humanitarian, a celebrated boxing legend, an activist / philanthropist, and the Greatest- not only to myself but to the entire world.
He stood firm in his beliefs, and even refused to serve in the military during the Vietnam War in 1966. Today we are experiencing the same similar activist wave globally. The Black Lives Matter Movement has become a powerful force of change, labor drives for $15 minimum wage for workers, and movements for the rights of the LGBT community and other oppressed communities, are gaining and winning victories.
Ali bridged major divides in our country during trying times in the 1960's. He spoke out on economics and fairness, civil rights and anti-war movements as well, while giving us hope, strength, and compassion at the same time. He was eventually suspended from boxing, only to speak to college students and other groups of all races about civil rights and Vietnam.
Muhammad Ali was a man of the people who gave us all inspiration to be anything you want to be. He gave us all the right to pursue our dreams and happiness. His spirit freed an entire generation and generations to come, allowing everyday workers, athletes, artists and professionals to express our true feelings and beliefs.
He gave us the same courage he used every time he entered the ring defeating endless opponents with his speed and wit, or his lifetime battle with Parkinson's disease which never stopped him from fighting for what he believed was right.
He taught us how to speak our minds and to empower ourselves. He was a true mentor to us all, a champion of the people, the greatest of all time.
As a young African American male who comes from New Haven's urban New Hallville neighborhood, I have a strong passion to see positive change and equality, less crime and more housing and employment opportunities, less impoverished residents, and more mentors and role models to give guidance and hope to our future generations that live in the same neighborhood and city as myself.
These attributes that I've obtained throughout my life I owe to residents, community leaders, athletes, artists and civil leaders who blazed a path for myself and other young inner-city kids to follow.
Such leaders include Martin Luther King Jr., who stood as a symbol of peace, equality, and justice, or Malcolm X, who gave me a sense of manhood and self esteem which I apply daily. I do this not only in my community but at my job as a food service worker and shop steward fighting for workers' rights, negotiating with management and representing employees in grievance proceedings.
Our leaders also include athletes such as Muhammad Ali and Kareem Abdul-Jabbar who taught me social activism and to stand firm for your purpose and beliefs. They fought for peace and unity while teaching me how to express my true feelings and to stay courageous and have pride in everything I do.
These leaders were icons of change that led to a new generation of leaders and activists such as myself and many others – and more to come.
Today's grassroots movements, mass mobilizations, non-violent protests and rebellions against injustice offer me inspiration and give me the resources, organizing techniques and guidance I need to continue what the leaders of the 1960's started.
I can hear the voice of my late uncle Patrick who always recited a famous Muhammad Ali quote: "service to others is the rent you pay for your room here on earth." It's these inspiring words that serve as a constant reminder of why I fight so passionately for the rights of the people and my community daily.
Photo: AP