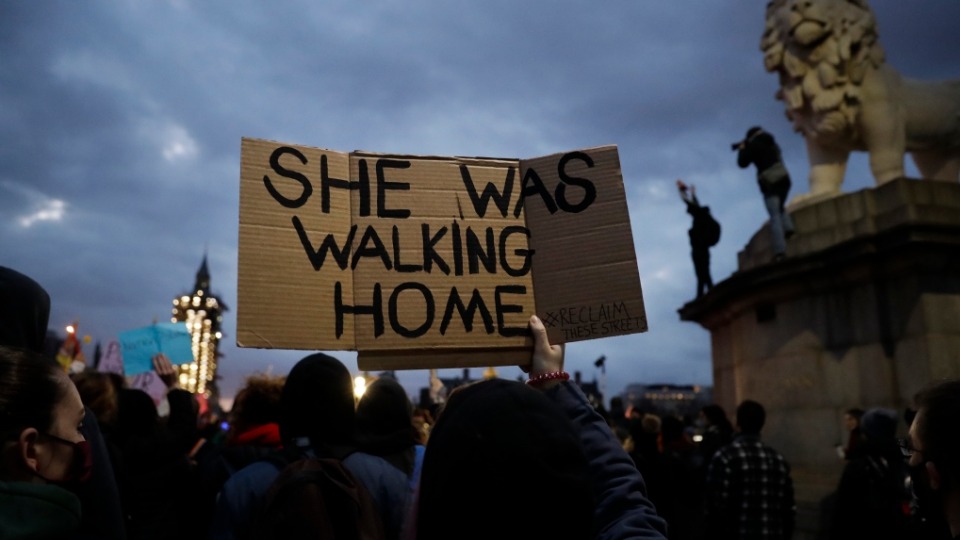 Walking home alone in the darkness of night is a regular experience for many—whether they live in the busiest cities or the quietest towns. It is such a norm that many people never stop to think about safety. But for women everywhere, this action is often fraught with fear and anxiety.
Sarah Everard, a 33-year-old marketing executive, vanished March 3, 2021, at 9:30 p.m. as she walked home from a friend's house down the main road in Clapham, south London. She never made it. Her partner reported her missing the next day. Her body, stuffed inside a large construction bag secreted in a woodland area in Ashford, Kent, was found Wednesday, March 10. She was identified through her dental records two days later.
Within that week, investigators saw footage taken from a doorbell camera showing Everard walking alone, received scores of calls from the public, visited over 750 homes, and ended up arresting an active-duty London Metropolitan Police Officer for her kidnapping and murder.
The officer, a 48-year-old married father of two, worked in the Parliamentary and Diplomatic Protection Command. His primary role was to patrol diplomatic areas, acting as security for politicians and visiting dignitaries.
"I speak on behalf of all my colleagues in the Met when I say we are utterly appalled at this dreadful news. Our job is to patrol the streets and to protect people," said Cressida Dick, the Metropolitan Police Commissioner.
"Sarah's disappearance in these awful and wicked circumstances is every family's worst nightmare."
Indeed, this kidnapping and murder is the stuff of nightmares, but we do not live in dreams or nightmares. There is no waking up from it, and we find two intersectional issues: violence against women (misogyny) and the corruption of law enforcement.
The Metropolitan Police also face an inquiry into the improper handling and investigation into a claim of indecent exposure against the same arrested officer that took place just days before the kidnapping and murder of Everard.
Former Chief Constable of the Nottinghamshire Police, Susannah Fish, said there is a "toxic culture of sexism" in significant parts of policing.
During an interview with BBC Radio 4's Woman's Hour, when asked about reporting a crime to the police as a woman, Fish said that while reporting a crime against property "was not an issue" reporting a crime against herself would "probably be a struggle for how I would be judged."
"I also know in terms of conviction rates and the challenges of going through the criminal justice system, as a woman, it's thankless," she said. Fish added that victim-blaming had become endemic and "trying to then explain yourself and justify yourself, just feels to me to be incredibly difficult."
In response to the crime, the U.K. government announced misogyny will now be recorded as a hate crime by police in England and Wales. Ministers have announced that starting in the fall law enforcement will be asked to record and identify crimes of violence, including stalking and sexual offenses, believed by the victim to have been motivated by "hostility based on their sex."
Allegra Stratton, Prime Minister Boris Johnson's press secretary, patted the PM on the back for the shift, saying, "Women across the country now want real action and will be pleased to hear their prime minister evidently understanding that what too many of them experience on our streets at night—and sometimes in the day as well—is something being taken seriously at the top of government."
Credit for the change rightly belongs to leaders like Stella Creasy, a Labour Party member of parliament, who led the campaign to criminalize acts of misogyny—not Johnson's Conservative government. She said this move was the first government policy that was "actually rooted in evidence of what helps to tackle violence against women."
Sir Keir Starmer, the Labour Party leader, said that Everard's death must be a turning point, just as Stephen Lawrence's murder had exposed institutional racism. "The awful events of the last week have lifted a veil on the epidemic of violence against women and girls," he said. "This must also be a watershed moment to change how we as a society treat women and girls."
One thing we should all note, however, is that while this crime captured global attention, there are thousands of crimes committed against women—Black, Asian, Latina, trans—that go underreported for lack of a sensationalized narrative.
What happened in the disappearance case of Blessing Olusegun, or with the murder of sisters Nicole Smallman and Bibaa Henry? All three of them occurred within the last year or so, but received almost zero media attention. Why? Because the cases of missing or murdered Black and brown women go underreported; they do not fit the news narrative that gets clicks, nor do they receive the same level of care or attention by law enforcement.
This phenomenon isn't new, and blame can be placed on police and mainstream news outlets for dehumanizing women of all ethnicities by using outdated tropes and stereotypes.
A recent survey from the United Nations Women's U.K. reports that among women aged 18-24, 97% say they had been sexually harassed, while 80% of women of all ages say they had experienced sexual harassment in public.
Further alarming is the rise of domestic violence during the pandemic, as reported in the U.N. Women's annual report 2019-2020.
The provisional trial date for the officer charged with Everard's kidnapping and murder is Oct. 25.