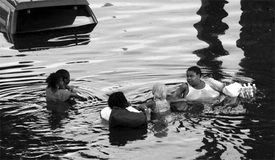 Mother Nature struck the Louisiana, Mississippi and Alabama Gulf Coast Aug. 29 with a fury that left the area's 1.3 million residents reeling. Hurricane Katrina, the fourth storm to hit the region since July — a record since hurricane tracking began in the 1850s — left hundreds or even thousands dead and turned New Orleans into a toxic bayou, with rescue efforts hindered by lack of resources and rising water.
Biloxi, Miss., east of New Orleans, was Katrina's bull's-eye. Thirty people were killed in one apartment complex. Surging water, in some areas 30 feet deep, collapsed bridges, downed power lines and debris-clogged highways and streets made fatality, injury and damage assessment difficult.
"This is our tsunami," said exhausted Biloxi mayor A.J. Holloway.
New Orleans Mayor Ray Nagin was stunned. "The city of New Orleans is in a state of devastation. We probably have 80 percent of our city under water. With some sections of our city, the water is as deep as 20 feet," he said after the storm hit. "I don't have any good news to share. We're going to have a significant amount of loss of life in the city. It's almost like a nightmare that I hope I wake up from."
Officials in all three states had ordered residents to evacuate as the storm approached. They estimate that about 80 percent of the people left. Many who stayed were disabled, elderly and low-income without cars or money to pay for a place to stay once they fled. Median income for New Orleans residents is $27,133 per year with 27.9 percent of the population living below the poverty level, according to Census figures.
Wilbert Young was born and raised in New Orleans' 7th Ward, near Lake Pontchartrain, and currently serves as mayor of Wilkinsburg, Pa. Like tens of thousands around the country, Young has not been able to reach his family in New Orleans.
"Just from the pictures on TV, it's gone," he said. "Our house is gone. My sister's house is gone. I know those streets. This was a hard-working African American community. One story, neat homes. Gone — all of it gone."
Young remembers Camille, a 1969 hurricane that took 256 lives in the region. "This is much worse. Our house was still intact when we starting cleaning up in 1969. There were alligators and snakes all around. But the house was still standing. That no longer exists."
Katrina hit the heart of the nation's oil and refinery production, shutting down 1 million barrels of refining capacity and offshore pumping.
Thousands of oil workers were evacuated from the offshore platforms in the Gulf of Mexico. The storm's power dislodged one platform and jammed it beneath the Cochran-Africatown USA Bridge on US 98 over the Mobile River.
The Louisiana Offshore Oil Port evacuated all workers. Twenty miles out in the Gulf from New Orleans, the port services tankers too large for inland offloading and processing. It is the country's largest oil import terminal, handling 11 percent of all U.S. oil imports.
Meanwhile, a barrel of crude oil skyrocketed to over $70 with prices at the pump expected to soar nationwide.
Local police, fire and even fish and wildlife officers, who are providing flat-bottomed boats to navigate city streets, are scrambling. So are some residents who own boats.
Union members throughout the country are heading south to help. Electricians and linemen who work for American Electric Power in several states are en route to relief staging areas, as are Kansas City, Mo., building trades workers. Pittsburgh IBEW members hit the road Aug. 31.
The Red Cross is organizing a relief effort that dwarfs all previous cases, including the 2004-2005 Florida hurricanes combined.
About 7,500 National Guard troops have been mobilized and the Pentagon said all reserve and active duty personnel in the U.S. were on alert to go to the area.
With the war in Iraq, though, much of the equipment is not in the U.S. When the Louisiana National Guard left for Iraq in October 2004, said Lt. Col. Pete Schneider, their high-water vehicles, Humvees, refuelers and generators went with them and are still in Iraq. "The National Guard needs that equipment back home to support the homeland security mission," he said. In early August, Schneider predicted a crisis if Louisiana and surrounding states were hit with a major disaster.
Philadelphia reporter Will Bunch notes that in 2004-2005 the New Orleans Times-Picayune ran numerous articles questioning the lack of storm preparedness and citing the cost of Iraq as a reason.
Bush administration budget cuts contributed to the devastation, charged The New York Times in an Aug. 30 editorial. Hurricanes are not new phenomena for the area. They have been tracked and studied since the 1850s. The Times demanded immediate restoration of $70 million to the Army Corps of Engineers budget to repair the system of levees and pumps that protects New Orleans, which is below sea level. Going further, the editorial called for a $14 billion, 40-year project for scientifically based, environmentally consistent infrastructure improvements to save the Delta region.
Reporting from The Associated Press, CNN, the Biloxi Star Herald, the Tallahassee Democrat and the Environmental News Network contributed to this story.