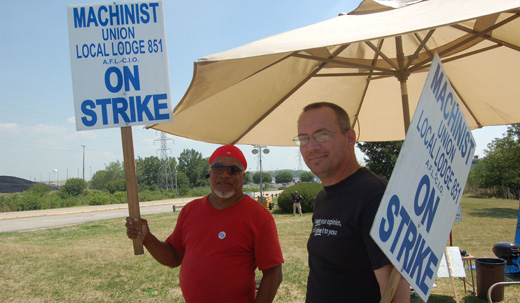 JOLIET, Ill. -Steve Heino has been on strike longer than he was working the grinder for Caterpillar. The 21 year old worked for two and a half months at his "first real job," when the company forced a strike with a draconian contract offer that would slash wages, increase health care costs and demolish pensions. Workers rejected the offer by a vote of 504-116.
"It's not fun. But I'd rather be out here than in there," he said during his Aug. 1 shift on the picket line outside the plant.
Some 780 members of International Association of Machinists Lodge 851 have been on strike since May 1. White, black, Latino, younger and older, men and women are holding the line for themselves and the wider community.
Heino's friends are surprised the strike has lasted so long. "Still?" they ask incredulously when he tells them.
Caterpillar is out to bust the union and drive down workers' standard of living because of corporate greed, strikers say. The workers say they are "fighting a giant" like David vs. Goliath, but David doesn't have his slingshot.
On the backs of its workers, Caterpillar raked in $4.9 billion in profits last year. CEO Doug Oberhelman took home nearly $17 million.
Caterpillar claims workers make too much and want a "market" based pay scale. Currently, the highest pay is $26 an hour. New hires, like Heino, start at $13.90.
At the casino down the street here, workers – mostly part time positions – make anywhere $4.95-$11.55, according to one job search website.
Nineteen-year veteran Tommie Stallings takes exception to market pay.
"There's no other company around here that makes this stuff and sells it at millions of dollars a piece. There's nothing around here to compare it to. John Deere is the only thing close but they don't make the big machines. And they're getting benefits, they're getting raises," he said.
"We didn't ask for anything. We just want to keep what we got," he said.
In addition to slashing wages, Caterpillar's current contract offer would more than triple family health insurance costs – from $150 per month to $500 per month. Co-pays and out of pockets would also go up, and workers could expect to pay a yearly three percent increase on premiums – another wage cut, they said.
Caterpillar is the largest employer in Illinois and recently received millions in tax breaks to stay in the state.
"They want to drive wages down and control it. They want to pay what mom and pop shops are paying," said Jim, a machinist at Caterpillar for 20 years in November. He didn't want to give his last name, worried about company retribution.
"If Caterpillar had its way everybody out here would be making minimum wage," he said.
The picket line was noisy with the honks from passing cars and strikers shouting through bullhorns at replacement workers -scabs -driving in and out of the plant.
Strikers said the company recruits replacements from Alabama, New Jersey, California and other states, puts them up in local hotels and buses them in. The rate of injury is high and every week an ambulance comes into the plant, strikers said.
Few union members have crossed the line, less than the 116 who voted for the concession contract.
Picket line leader Marion Modesitt has been working for 38 years as a machinist and being on strike is "really scary."
"They are forcing me to retire," Modesitt said. Caterpillar's strategy is to force out the most senior – and therefore highest paid workers – to achieve their "market" wage system, she said.
If she doesn't retire, Modesitt said, she would lose a one-time severance pay of $27,000 and be at the mercy of management who could tell her to work any shift, anywhere in the plant and refuse her overtime.
Modesitt joked that when she went out on strike she texted her adult children, "On strike. Need money."
They answered with "How much you need, Mom?" she said. "I told them I don't need it yet."
Strikers receive $150 a week from the union. Many of them are looking for part-time jobs to make ends meet, but employers are reluctant to hire the strikers.
"It's definitely hard. Especially when you need your two incomes for a family to run a household," said Rose Bain, who has two years at Caterpillar. Flanked by her teenage daughter, Barn said, "I've been out there looking for part-time jobs."
"We're a family out here," she said, "fighting for what you think is right."
The strikers have received support from other unions and the wider community. But still more is needed, they said, especially from elected officials.
"Unless we can get our government involved in this, I think we're in trouble," picket line leader Modesitt said. "We need them to put some pressure on Caterpillar. They give them these tax breaks to stay in Illinois. OK, it's time to put the pressure on. 'Hey, we did this for you – you make it worth our while,'" she said.
"Because $13 an hour isn't saving our communities."
Photo: (PW/John Bachtell)