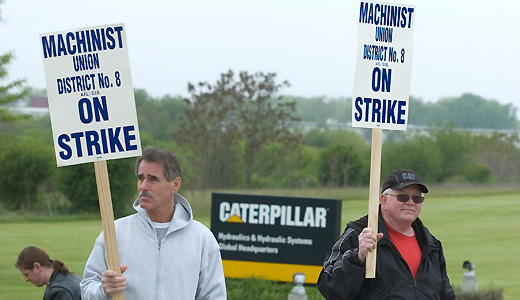 JOLIET, Ill. – Nearly 800 workers at a Caterpillar plant here have been on strike since May 1 after the company refused to back off a far reaching concessionary contract proposal.
The workers make hydraulic components and systems for Caterpillar tractors, wheel loaders and mining trucks and are members of International Association of Machinists Local 851.
"Normally in the past, they could buy some votes by making the contract better for younger workers or better for older workers. With this contract though, everything was takeaways," said Local 851 President Tim O'Brien.
Caterpillar responded to the strike by hiring scabs to continue uninterrupted production to meet growing demand for its products in North American. Strikers dispute the company's claim it can resume full production.
"I'm out here for my wife and children" said Ted Hobsen, a union steward. "They want to raise health care premiums and cut benefits, disregarding seniority, working us anytime and anywhere and any shift. We've got families."
"If you freeze my wages then double what I pay for my health care, then you cut my pay," said Joe Nuske, IAM chairman.
The company, which increased profits by 44 percent in 2011, reportedly $5 billion, made a record breaking $1.5 billion in the first quarter of 2012.
The take back proposal is part of an aggressive assault on the unions representing Caterpillar workers and the imposition of concessions in its operations worldwide.
Earlier this year Caterpillar broke the Canadian UAW local at its London, Ontario, operation when it locked out the 465 workers. The company then transferred the work to a non-union plant in Indiana, which recently became a "right to work for less" state.
Caterpillar is demanding the Joliet workers accept a six-year contract that freezes wages, doubles health care payments, eliminates health care coverage for retirees, eliminates key seniority provisions, forces workers to accept irregular shifts and does away with the current pension in favor of a 401k plan.
The company wants to reduce wages for some workers by as much as $8 per hour.
In addition, the company, which employs another 1,200 workers at the plant not under this contract, wants to reduce wages for new hires, who currently earn $13 per hour. Caterpillar would set up a new rate determined by a "market based" formula.
"I wouldn't be able to afford to take my kid to the doctor," Gareth Beeson told In These Times. "Basically this contract wouldn't make this job worth working anymore. I'd still pay union dues, but I wouldn't have a good union job anymore."
Solidarity is pouring in from the labor movement and community. Strikers say they will fight until they get a fair contract.
Photo: Striking members of the International Association of Machinists and Aerospace Workers union on the picket line outside Caterpillar's plant in Joliet, Ill., May 1. The contract expired for about 800 workers at the plant. Matthew Grotto/The Herald-News/AP