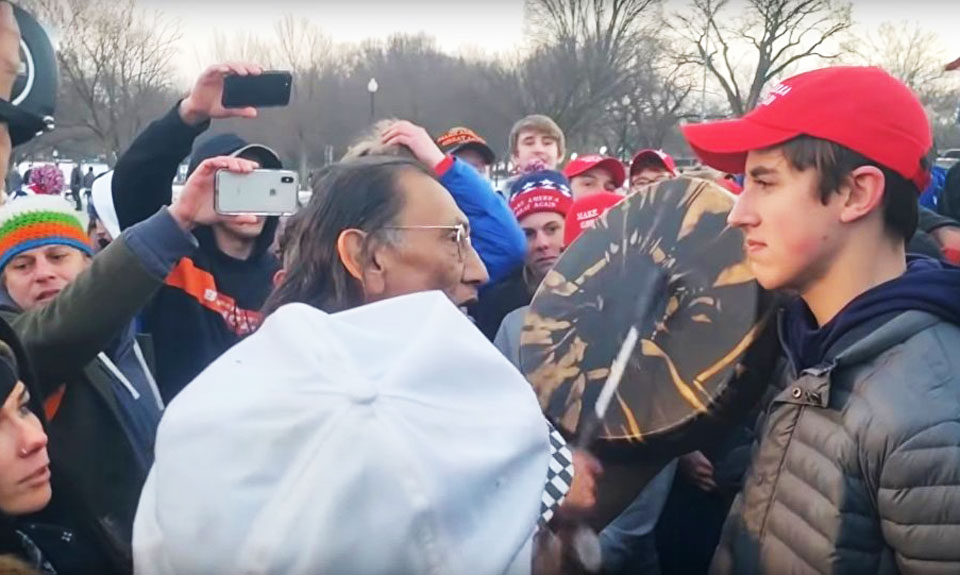 In the midst of controversy over videos showing young men from a Catholic high school in Kentucky harassing a Native American in Washington, D.C., the Catholic Bishop of Lexington, Kentucky, John Stowe, issued a remarkable op-ed in the Lexington Herald-Leader condemning President Trump's racist and anti-immigrant agenda as a violation of Catholic moral principles.
The controversy arose from a question as to which youth had in fact been harassing a Native American drummer following the March for Life in Washington, D.C., an annual anti-abortion event that the students from the high school had been attending.
One video seemed to show a young man wearing a MAGA (Make America Great Again) hat—the signature symbol of support for Trump—confronting and intimidating the drummer, while a video released later showed another group of students—also sporting MAGA hats—confronting the Native American, while the youth who appeared in the first video claimed he was trying to defuse the situation.
What is beyond dispute is that some youth from this Catholic high school did act in a thoroughly racist fashion toward a person of color—and that they were all wearing MAGA hats.
Bishop Stowe and other Catholic leaders apologized for the incident but in his op-ed Stowe went beyond that apology to question how someone wearing a MAGA hat and thus visibly supporting Trump's agenda could participate in an event promoting respect for human life. "It astonishes me," the bishop wrote, "that any students participating in a pro-life activity on behalf of their school and their Catholic faith could be wearing apparel sporting the slogans of a president who denigrates the lives of immigrants, refugees and people from countries that he describes with indecent words and haphazardly endangers with life-threatening policies."
Stowe insisted that "respect for the sanctity of human life included the promotion of all that is necessary for all humanity to flourish" and pointed out that "at one time, priests and nuns stood shoulder-to-shoulder with Dr. King and marched for civil rights" and that "bishops advocated for world peace and economic inclusion." He emphasized particularly the importance of fighting against racism as a "life" issue and called attention to a November letter on racism issued by the U.S. Catholic bishops that "speaks of the structural kind of racism that has worked itself into the fabric of our nation" and called on students to "grapple with this history and ask themselves how they are going to live differently."
He concluded by saying that "the association of our young people with racist acts and a politics of hate must…become unthinkable."
Bishop Stowe also spoke out against the use of the abortion issue, in isolation from other "life" issues, as a wedge issue to push a right-wing, racist agenda, complaining that opposition to abortion "has become a stand-alone issue for many and has become disconnected to other issues of human dignity." Although many progressives will disagree with the Catholic Church's stance on abortion, the Church does have a history of taking some progressive stands on issues, starting with the 1890 papal encyclical Rerum Novarum that strongly advocated for the right of workers to organize. That is the history that Bishop Stowe quite forcefully invoked.