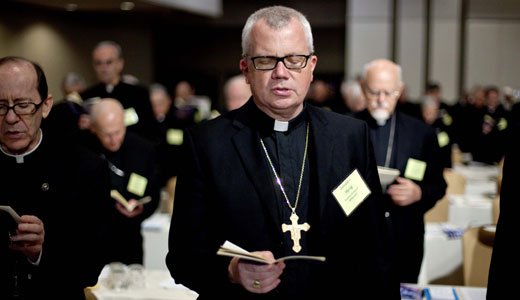 WASHINGTON – The nation's Catholic bishops have strongly denounced worker exploitation in the U.S. economy, and reaffirmed the positive role that unions play, in their annual Labor Day statement.
But while the U.S. Conference of Catholic Bishops reiterated their strong support for workers' rights, the open question is whether – or how many – of their most-powerful parishioners, especially in the business community and in politics, are paying attention.
Nevertheless, the bishops' statement is important for its moral backing of workers – it's explicit on that – and for its criticism of an economy that leaves too many behind.
"Exploitation of working people, whether subtle or obvious, injures their humanity and denies their inherent dignity. Exploited and mistreated workers require our care and solidarity. An economy that allows this exploitation and abuse demands our attention and action," the bishops said.
"Our nation needs an economic renewal that places workers and their families at the center of economic life and creates enough decent jobs for everyone who can work. Work is more than a paycheck; it helps raise our families, develop our potential, share in God's creation, and contribute to the common good," the bishops conference declared.
Unions have a large and essential role to that renewal, the bishops stated. And they called political candidates' silence on poverty, bad working conditions and workers' rights as "ominous and disheartening."
"Our church has long taught unions are 'an indispensable element of social life, especially in modern industrialized societies' and are examples of the traditional Catholic principles. At their best, unions demonstrate solidarity by bringing workers together to speak and act collectively to protect their rights and pursue the common good.
"Catholic social teaching supports the right of workers to choose whether to organize, join a union, and bargain collectively, and to exercise these rights without reprisal," the statement adds.
The bishops' statement wasn't wholly pro-union: It alluded to the differences between the church and some unions over reproductive rights, but without using those words or openly mentioning the issue.
"Some union actions can contribute to excessive polarization and intense partisanship, can pursue positions that conflict with the common good, or can focus on just narrow self-interests," the bishops said. But "when labor institutions fall short, it does not negate Catholic teaching in support of unions and the protection of working people, but calls out for a renewed focus and candid dialogue on how to best defend workers.
"Indeed, economic renewal that places working people and their families at the center of economic life cannot take place without effective unions. This renewal requires business, religious, labor, and civic organizations to work together to help working people defend their dignity, claim their rights, and have a voice in the workplace and broader economy."
The bishops also said that both politicians and parishioners should consider the moral imperatives of workers' rights and alleviating poverty when making their choices at the ballot box.
"Despite unacceptable levels of poverty, few candidates and elected officials speak about pervasive poverty or offer a path to overcome it. We need to hear from those who seek to lead this country about what specific steps they would take to lift people out of poverty," they declared.
Both U.S. vice presidential candidates, incumbent Democrat Joseph Biden and Rep. Paul Ryan, R-Wis., the GOP challenger, are Catholic, though the bishops did not explicitly name them. But their statement said parishioners have a political duty, too.
"In this election year, Catholics should review and act on" prior economic principles the church – and the U.S. bishops – laid down. The key one is that "economic decisions and institutions should be assessed according to whether they protect or undermine the dignity of the human person.
"Social and economic policies should foster the creation of jobs for all who can work with decent working conditions and just wages. Barriers to equal pay and employment for women and those facing unjust discrimination" – including immigrants, another section of the statement says – "must be overcome."
And while affirming – their word – "economic freedom, initiative, and the right to private property," the bishops' statement adds in its very next sentence that "workers, owners, employers, and unions should work together to create decent jobs, build a more just economy, and advance the common good."
Photo: Bishops join in prayer during the U.S. Conference of Catholic Bishops. David Goldman/AP