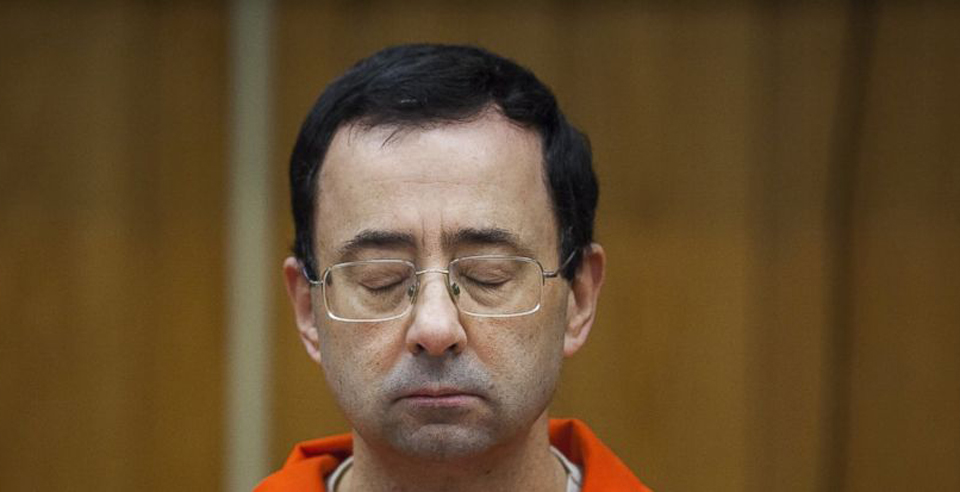 What do former USA Gymnastics national team doctor Larry Nassar and the Catholic Church have in common? Both are well-known sexual predators. 
After a chilling reveal of the widespread criminal sex acts committed against children by depraved Catholic priests, thanks to the investigative reporting of the Boston Globe's Spotlight Team in 2002, you would think that such a guilty institution would shy away from involving itself in a separate sex abuse scandal. Apparently not.
Recently, a Michigan legislative bill introduced after the Larry Nassar scandal, which would retroactively extend the amount of time child victims of abuse have to sue their abusers, has drawn the concerns of the Catholic Church.
Michigan Catholic Conference of Bishops spokesperson David Maluchnik confirmed to the Associated Press Feb. 28 that extending the statute of limitations is "of concern" to the church's lobbying efforts, but would not comment further until a full review of the bill takes place. He added that the conference supports other aspects of the 10-bill package, including an amendment that would add more people to the list of those who must report suspected child abuse to authorities.
As of February 2017, the Catholic Church has paid over $276 million to settle sexual abuse claims by thousands of victims dating back to 1980.
Under current Michigan law, childhood victims of sexual abuse generally have until their 19th birthday to file a lawsuit. Under the revised legislation, child victims abused in 1993 or later would be able to sue until the age of 48, while victims assaulted as adults would have 30 years to file a claim.
"The harsh reality is that in most cases, survivors of sexual assault are too deeply traumatized to be able to speak out and pursue justice until decades later," Rachael Denhollander, a Nassar victim, told members of the state Senate Judiciary Committee.
"This means that by the time a survivor is able to speak and to seek help, by the time justice could be done against their abuser, the avenues of justice both criminally and civilly have completely cut off—and not because the evidence isn't there but because of a legal technicality."
At the height of the church's sexual abuse scandal in the mid-2000s, Michigan courts held that men who had been previously molested by priests decades earlier had taken too long to sue.
Victims and victim organizations turned to the Republican-controlled legislature for help, but none was received.
While the Catholic church scandal did not push Michigan legislators to act, the Nassar case could lead to change—and bipartisan support.
Such a shame that politicians rarely support victims of abuse and do so only when it hits home.
In this case, their beloved Michigan State University.
The bill "has broad bipartisan support," said David Mittleman, an attorney representing 90 Nassar accusers who have sued MSU and USA gymnastics. "I don't know how anyone can look in the mirror after saying they opposed a bill that would provide more protection for victims of sexual assault."
Personally, I don't know anyone who would or could oppose a bill offering more protection for sexual assault victims. But, then again, I'm not the Catholic Church.