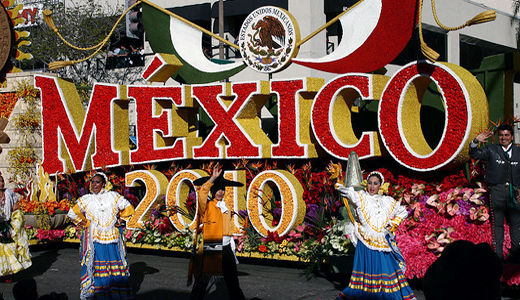 On Sept. 16, Mexico will celebrate its bicentennial and honor the heroes that first declared the nation's independence from Spain in 1810. At the same time, Mexicans around the world will also commemorate those who rose up to defend Mexico's ideals of democracy, liberty and justice during the country's November 1910 revolution.
Despite the importance of celebrating 200 years of independence and its many accomplishments (plus what's expected to be a very expensive party) many say it's also time to take a hard look at Mexico today with the deadly violence, corruption and extreme disparities facing most Mexicans.
This author, who is Mexican American, decided to ask his Mexican American friends on Facebook what it means to celebrate Mexico's bicentennial and 1910 revolution.
Armando Ramirez, from California said, "1810 helped to end Spanish colonialism in all Latin America, but it didn't do much for the peasants and workers." He added, "1910 was about correcting those shortcomings, but again, it didn't go far enough as today's Mexico testifies."
Bicentennial celebrations that should inspire hope come at a time of deep crisis in Mexico.
The country is undergoing a four-year drug war that has taken more than 28,000 lives. The bloodiest town, Ciudad Juarez, just across the border from El Paso, Texas, has seen more than 4,000 people die to drug violence since 2009, making it one of the deadliest cities in the world. Just last month drug cartel gunmen were responsible for massacring 72 mainly Central American migrants in northern Mexico.
Under Mexico's current President Felipe Calderon's conservative and right-wing National Action Party, the gap between the wealthy few and the majority poor are extreme. Half of the country's 107 million people live in poverty. Mexico is home to both the world's richest man, Carlos Slim, whose fortune is estimated at about $53.5 billion, and about 20 million Mexicans who live on less than $3 per day.
"I think the revolutionaries of 1910 would be sickened and heartbroken to see that the corruption they fought and died for has risen to the level it has today," said one friend on Facebook.
Critics note Mexico's antiquated labor laws make it nearly impossible for millions of workers to organize unions. Chinese auto workers, who once earned wages their Mexican counterparts wouldn't stoop to take, now earn more, they add.
Mexico's rich oil lands are disappearing and neoliberal policies under the North American Free Trade Agreement with the U.S., signed in 1993, have failed. The NAFTA, once believed to be the country's roadmap to prosperity, has been a disaster for millions of Mexican farmers leading to rampant unemployment, low wages and mass migration to the north.
A recent Pew Research Center poll shows that 79 percent of Mexicans are dissatisfied with the country's direction. Roughly 10 percent of the population has migrated abroad and another 33 percent would like to do so.
At least two dozen towns, including Ciudad Juarez, have canceled bicentennial celebrations due to the worsening situation with drug cartels.
The show will go on, nevertheless. President Calderon is expected to deliver the traditional grito, shout of independence, to a crowd of tens of thousands just before midnight Thursday at the Zocalo, the center of Mexico City.
The extravaganza is expected to be the largest the country has ever seen, costing tens of millions of dollars.
Critics say it's a useless expense especially now when so many Mexicans are in mourning. That money could go toward schools, health care and other pressing social needs, they say.
Another friend said she has very mixed feelings about Mexico's celebrations and is saddened by the increasing violence and mayhem. "It's said that Mexico erupts every 100 years in social upheaval," she wrote. "As Mexico marks its bicentennial, I will be thinking of my extended family and hoping that the coming years bring peace and progress… Que viva Mexico."
All over Mexico, streets, buildings, monuments and cities are named after national heroes, nearly all of whom, including the father of independence, Miguel Hidalgo, and the leader of the 1910 revolution, Emiliano Zapata, died tragic deaths.
This author's fiancé, whose family migrated to the U.S. from Uriangato, Guanajuato, said celebrating Mexico's bicentennial is about "all the men and women who gave up their lives fighting against injustices." She added, "It gives me pride to know that I come from a strong willed people who stand up and fight for a better tomorrow."
Most agree celebrating Mexico's accomplishments today are bittersweet and there's still a long road ahead. Others note Mexico needs a new revolution with champions that will fight for land, liberty, justice and the rights of working people, as revolutionaries did in 1910.
Photo: (Bicentennial Mexico 2010)