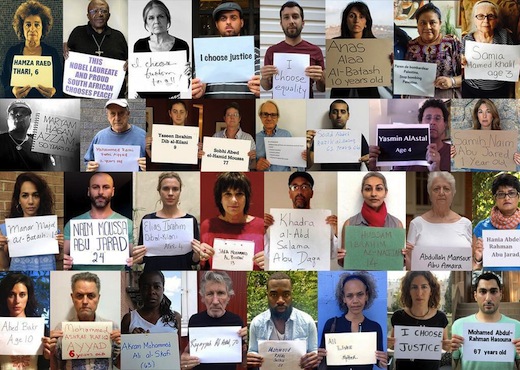 Jewish Voice For Peace along with the Institute of Middle East Understanding launched the #GazaNames Project, featuring prominent artists and activists holding signs with the names and ages of Palestinian civilians killed in the recent Israeli military attacks on Gaza. Well-known Jewish and Palestinian Americans are among the celebrities. Some hold signs saying, "I chose peace" and "I chose freedom for all."
The Institute of Middle East Understanding said the video "is a first of its kind expression of support for Palestinian freedom, equality and justice."
Artists such as Chuck D, Jonathan Demme, Mira Nair, Wallace Shawn, Tony Kushner, Roger Waters, Brian Eno join with activists Angela Davis, Gloria Steinem and Nobel laureates Rigoberta Menchu and Desmond Tutu in showing their solidarity with the people of Gaza and expressing their humanity for the war victims. The video focuses on Palestinian civilians.
In a recent email, Jewish Voice For Peace Deputy Director Cecilie Surasky wrote, "In short, the people in this video represent the human family, standing on the side of freedom- for Palestinians and Israelis alike. And we say No to this unspeakable carnage wrought by one of the world's most powerful militaries dropping explosives on an imprisoned and defenseless population."
As of Aug. 1, the death toll has climbed to 1,418 Palestinians and 66 Israelis, according to the UK's Guardian. Israeli strikes on Gaza total 3,196 and rockets fired into Israel from Gaza total 2,968. According to United Nations reports, some 200 Palestinian civilian deaths were children.
After two hours into a 72-hour humanitarian cease-fire, agreed to by Hamas and Israel, Israeli military resumed its operations and Hamas launched rockets towards Israel, reports the Guardian.
Photo: via TwitPic