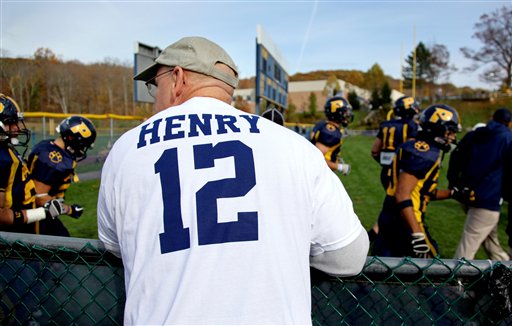 NEW YORK – While the details surrounding the Oct. 17 fatal police shooting of Pace University football player Danroy "D.J." Henry, 21, are murky, things became all the more suspicious when an anonymous official leaked information that Henry had been driving drunk immediately prior to the incident.
The victim's father, Danroy Henry, Sr., of Easton, Mass., told police officers he suspected that the leak was an attempt to sway the public into believing the police version of the shooting, which took place outside a bar in suburban Thornwood, N.Y.
Civil rights attorney Michael Sussman, hired by Henry's family, said the leak "demonstrates that those conducting this investigation are intentionally seeking to align with those who killed D.J. or are not in control of the information being generated as part of this investigation."
Further, Sussman pointed out, the results of the alcohol test were very likely unreliable, and, in any case, they were a "red herring as there is no claim he was stopped for a DWI or any officer believed he was intoxicated or inebriated."
The leak has fueled charges of a coverup.
Henry's family has called for an independent investigation into what has been seen as a racially motivated police shooting. Many have supported the call, including even Massachusetts Republican Sen. Scott Brown, as well as that state's Gov. Deval Patrick, a Democrat.
Police contend that Henry, an African American born in Easton, tried to run officers down, and thus deadly force was necessary. However, family and friends – some of whom were on the scene – say Henry presented no danger to the police.
The charge of bias was bolstered when it was revealed that some officers, who received minor injuries, were attended to by an ambulance, even though Henry, who had been shot, was lying on the ground in handcuffs.
A search of Henry's car turned up soda, Gatorade and a toothbrush.
The situation began when Pleasantville police responded to a call about a disturbance at Finnegan's Grill in Thornwood. When police arrived, Henry was in the driver's seat of a car outside the bar with two other people. Sussman noted that Henry was a designated driver who was waiting to pick up his teammates who were at the bar – a fact that seems to contradict claims that Henry was intoxicated.
Witnesses say that before the shooting, Henry was inside the bar dancing – but also refusing drinks.
The police charge that Henry drove forward, pinning officer Aaron Hess with his car. Hess and another officer then opened fire, the police say. According to friends, Henry did move his car, but only because he was in a fire lane, and he thought police wanted him to get out of the way. At that point, they say, Hess jumped onto the car and started firing his weapon.
Sussman has been carrying out a separate investigation from the one conducted by the police. While the officers say that Hess shot first – after he was supposedly pinned on the car – Sussman's investigation determined that the other officer actually fired first.
More than 2,000 people gathered Oct. 29 in Boston to remember Henry. Meanwhile, Sussman and others, including 100 members of Blacks in Law Enforcement Who Care, are continuing to push for the U.S. Department of Justice to carry out an investigation.
Photo: Pete Finnegan, of Hazlet, N.J., father of Pace University football player Patrick Finnegan, wears a shirt honoring player Danroy "D.J." Henry as Pace takes the field during the second half against New Haven in their NCAA college football game, Oct. 30 in Pleasantville, N.Y. (AP/Craig Ruttle)