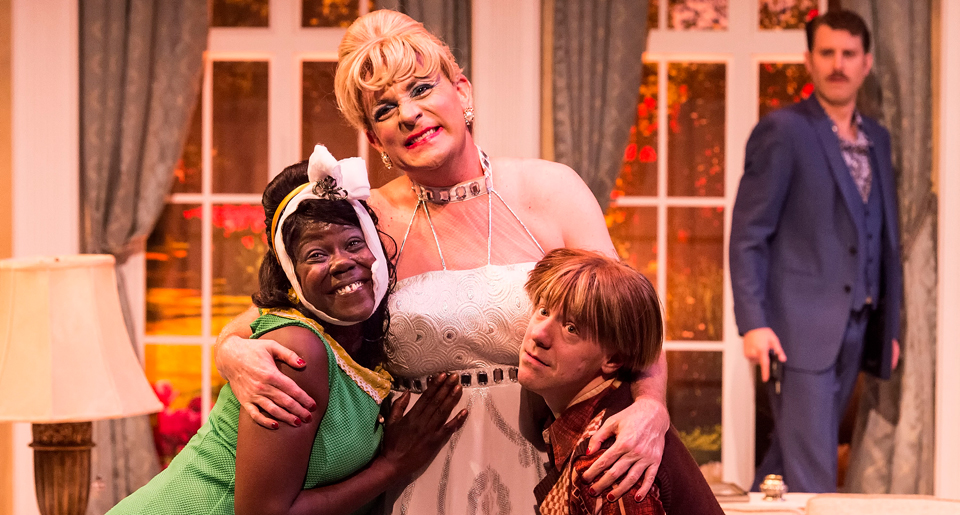 CULVER CITY, Calif.—Run, run, run (but please don't trip on your gown) to the Kirk Douglas Theatre in downtown Culver City and check out this latest incarnation of the hilarious Die, Mommie, Die! by over-the-top playwright Charles Busch. You will laugh your tootsies off (whatever they are).
The production is enjoying a very brief run, only through May 20, as part of the Center Theatre Group's Block Party, three restagings of distinguished small-theatre productions in L.A. that merited another chance for an audience, with a larger budget, bigger stage, and more extensive publicity. We previously reviewed Ameryka very favorably in this series.
Die, Mommie, Die! was a production by the Celebration Theatre, founded in 1982 as a safe space for LGBTQIA theatre folk, giving them a stage for queer culture. It's the longest-running such company in the country.
Charles Busch is a legendary figure in queer culture, a worthy successor to the late Charles Ludlam's Ridiculous Theatre Company. Busch is well known for The Tale of the Allergist's Wife, which ran for nearly two years on Broadway. He wrote and starred in the film version of his plays Psycho Beach Party and Die, Mommie, Die!, in the latter of which he won Best Performance Award at the Sundance Film Festival. In 2003 he received a special Drama Desk Award for career achievement as both performer and playwright.
The entire action of the play takes place in an elegant Beverly Hills living room in 1967, at the home of sleazy, indebted film producer Sol Sussman (Pat Towne) and his wife, the washed-up actress-singer Angela Arden (Drew Droege). Their family is rounded out by daughter Edith (Julanne Chidi Hill), who adores her father to unseemly proportions and despises her mother, and son Lance (Tom DeTrinis), a flamboyantly gay college student (well, he's just been kicked out for inappropriate behavior despite the fact that his father endowed the new gymnasium there) who hates his dad and worships his mom. The two others tightly enmeshed into this household from hell include Angela's sometime actor, tennis coach and well endowed gigolo boyfriend Tony Parker (Andrew Carter), and Bootsie (Gina Torrecilla), the Bible-quoting, Richard Nixon (he's the one!)-loving housekeeper.
Busch takes these iconic roles popularized in hundreds of bad Hollywood scripts that can now only be viewed ironically and stretches out the absurdities of their clichéd genres to lengths almost beyond human imagination. In the end, one could say, it's a valentine to the overly dramatic acting styles of the 1940s through the 1960s, with their dark noir innuendos that all was not well in the prosperous, middle-class America we thought we lived in.
Although, to be honest, some of those roles ago back much farther, shall we say to such characters as Electra and Oedipus?
It's a well known esthetic principle that the best way to understand a society is not through the eyes of its comfortably satisfied members, but rather from the gaze of those who have not enjoyed access to success. A woman's point of view, or the person of color who seems like a minor character observing from the sidelines how official culture is supposed to work, the lowly functionary on the totem pole, or the queer folk asking impertinent questions about status and pretense—these are the voices that can bring into relief the three-dimensional depths missing from celluloid and fan-magazine images of surface perfection.
Every trick in the writer's toolkit is thrown into this hot mess of a family—in no particular order: intrigues, mysterious deaths, poison, false identities, Mob connections, politics, sex, role reversals, the war in Vietnam, drinking, drugs and LSD, a secret language and a secret recording, celebrities, communism, the causes of homosexuality, wigs (excuse me, falls), private investigators, a gun, suppositories and a whole lot more.
It's all done with exaggerated voices and gestures, satirizing the the roles writers create for us—and maybe even suggesting that some of us might be leading farcical, outsized lives ourselves.
Direction is by Ryan Bergmann, who has these characters working the stage as you have rarely seen before. The scenic design by Pete Hickok works faultlessly. Outré costumes by Allison Dillard are a major part of the show's fun. Lighting design by Matthew Brian Denman and sound design by Rebecca Kessin are particularly important, especially in the storm, flashback and drug-induced scenes.
If you can appreciate that life is indeed often absurd, and if you just might be starting to think that some of the characters and plots that come out of Hollywood are also kind of absurd, a ticket to Die, Mommie, Die! is just your ticket.
To view a promotional video for please click here.
Tickets for are available by calling (213) 628-2772, online at www.CenterTheatreGroup.org, at the Center Theatre Group Box Office at the Ahmanson Theatre, or at the Kirk Douglas Theatre Box Office two hours prior to performance. The Kirk Douglas Theatre is located at 9820 Washington Blvd. in Culver City 90232. Free three-hour covered parking at City Hall with validation (available in the Kirk Douglas Theatre lobby).