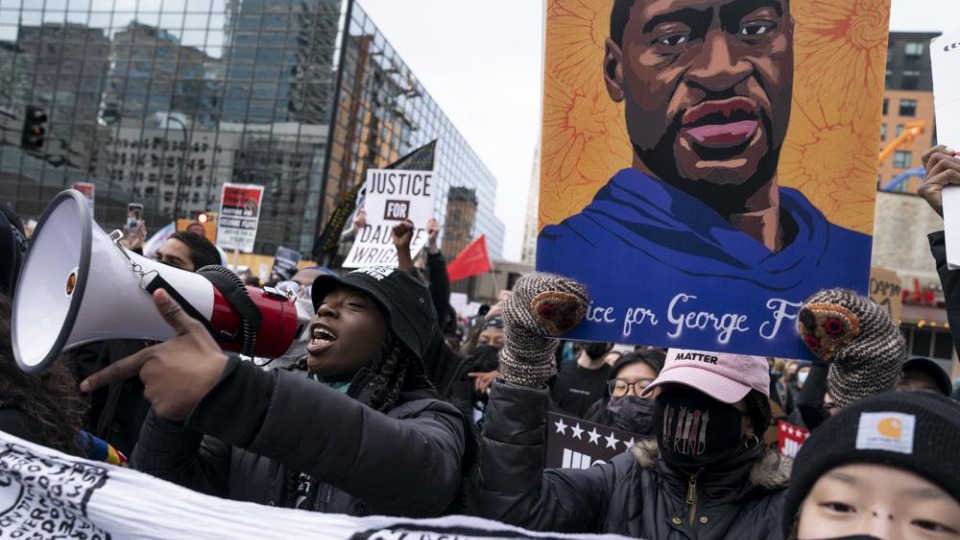 MINNEAPOLIS—With the first white cop in Minnesota going to prison for killing a Black man, there is joy and relief in the city of Minneapolis. Nowhere is this moment felt more deeply than in the Black community. A diverse jury of Hennepin County residents returned a guilty verdict on all three counts against Derek Chauvin early Tuesday evening for the murder of George Floyd. Finally, justice was extracted from a legal system that rarely indicts officers for murder or brutality.
At a press conference after the verdict that was live streamed on WCCO television, George's brother, Philonise Floyd, said, "It's been a long journey. And it's been less than a year. And the person that comes to my mind is in 1955. And to me, he was the first George Floyd. And that was Emmett Till." The difference, he said, is that "today, you have the cameras all around the world to see and show what happened to my brother … The world saw his life being extinguished."
"I feel relieved we got a guilty verdict because I feel and I know in my heart that's what was deserved. This is the beginning but it's not the end," Toshria Garraway, the founder of Families Supporting Families Against Police Violence in Minnesota, told People's World. Garraway's fiancé, Justin Teigen, and the father of her son, was found beaten to death by St. Paul police in 2009, and his body was thrown into a dumpster.
"There's been over 470 murders at the hands of law enforcement here in Minnesota. They really need to hold all the rest of these officers accountable. There's many more people out here suffering. There's too much pain that they've already caused. They need to reopen these cases."
"We are grateful that we got justice in this situation. Now we got hundreds more to go," Garraway said.
"I feel like this was a really important victory that, that people needed to see that guy walk away in handcuffs," said Michelle Gross of Communities United Against Police Brutality (CUAPB). "Yet," she said, echoing other local leaders here, "there's a lot of work ahead. Sending one cop to prison, when there's like hundreds more that needed to go to prison, is not enough."
A press release by the local Racial Justice Network (RJN) late Tuesday night stated: "The guilty verdict in this case is a cause for celebration for the Black community and all people looking to live in a better world.… We can finally exhale and release the tension we have been holding for almost a year, hoping this moment would come."
While savoring the victory, Network member Kimberly Milliard cautioned against perceiving cops like Chauvin as just bad apples that betray their oath to serve and protect. "There are those in civic leadership who would have us believe that Derek Chauvin is an aberration from how policing in Minnesota works rather than emblematic of it, but we know that by itself the conviction of one individual former police officer does nothing to change the system which allowed for George Floyd to be murdered in the first place."
Steps to make the system accountable, she said, start with passing the nine police reform bills currently in the Minnesota Legislature that the Network and CUAPB have been pressing for as members of the Minnesota Justice Coalition.
Another demand of the Coalition is that state officials reopen the cases of all killings by police officers in Minnesota. They also intend to continue pressing for the conviction of former Minneapolis police officers Alexander Kueng, Thomas Lane, and Tou Thao for aiding and abetting Chauvin in the murder of George Floyd on May 25, 2020.
Statements praising the jury's decision also poured in from lawmakers and national progressive organizations. But without exception, all noted the result was just the beginning of the change that's needed.
Minnesota Attorney General Keith Ellison heralded the verdict but offered measured comments. "I would not call today's verdict justice, however, because justice implies true restoration," he said. "But it is accountability, which is the first step towards justice," Ellison said, speaking to an assembled crowd, "and now the cause of justice is in your hands."
Rep. Ilhan Omar, member of Congress for Minnesota's 5th District, which includes Minneapolis, called the Chauvin guilty verdict "a minuscule step on the path to justice." Issuing a statement via Twitter, Omar said the next steps should include the creation of an independent agency to investigate police misuse of force, the demilitarization of police departments, the disbanding of failed police departments, and more.
Richard Trumka, head of the AFL-CIO labor union federation, called the verdict "welcome news," but said, "the work of dismantling systemic racism and white supremacy is just beginning."
Speaking for PFLAG, the Parents and Friends of Lesbians and Gays, executive director Brian Bond said, "This verdict is validation of the deep-rooted problem of systemic racism, but far from justice served."
The epidemic of police violence rages on nationwide. At least 64 people died around the country at the hands of police in the course of the trial. In Minnesota, recent police killings include that of Dolal Idd, 23, who was killed by Minneapolis police officers on Dec. 31, 2020, and just over a week ago, Daunte Wright was killed by a Brooklyn Center officer.
A 2016 study by the Minneapolis Star Tribune found the 148 people had been killed by police since 2000, and none were charged. In the 130 cases turned over to a county attorney or grand jury, none found probable cause for charges.
As Toshria Garraway noted, "We got hundreds more to go."