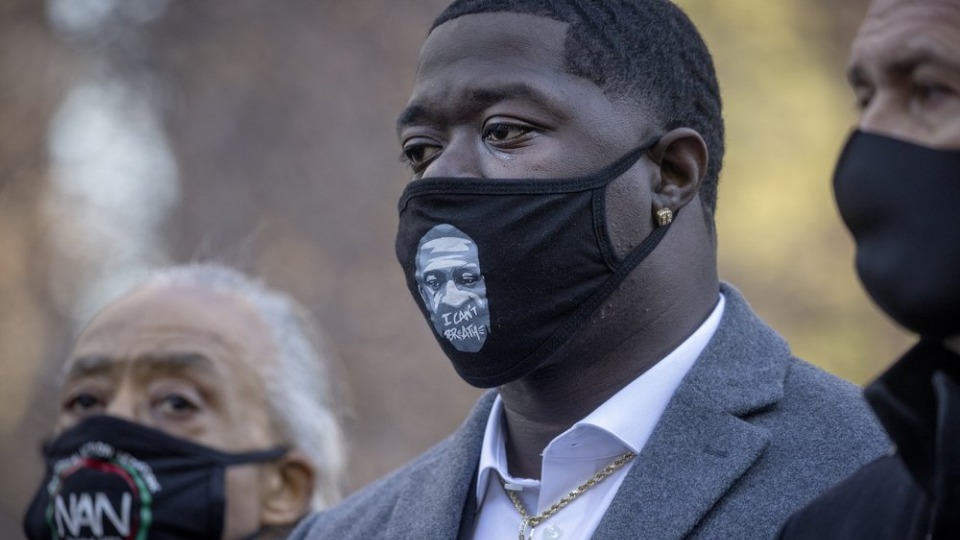 MINNEAPOLIS—At the opening of the Derek Chauvin murder trial here, state prosecutor Jerry Blackwell's statement to the jury began by contrasting the oath taken by Minneapolis Police Department officers and the behavior of Chauvin as he pinned George Floyd on the pavement beneath his knee last May.
Blackwell showed a photo of new MPD recruits taking the oath, which in part reads "I will enforce the law courteously and…never employ unnecessary force or violence." It goes on, "I recognize the badge of my office as a symbol of public faith and accept it as a public trust…."
Hesitating momentarily, Blackwell told the jurors, "You will learn that on May 25, 2020, Mr. Derek Chauvin betrayed this badge when he used excessive and unreasonable force upon the body of Mr. George Floyd."
Blackwell proceeded to walk jurors through the sequence of events that led to Floyd's life ending at 38th and Chicago Avenue in South Minneapolis while in the custody of the MPD.
He told the jurors, "You are going to hear every word that George Floyd uttered, including that at one point he said, 'I'll probably die this way. I am through, I am through, they're going to kill me.'"
The prosecution, he said, would show that Chauvin pinned down Floyd and "put his knees upon his neck and his back. Grinding and crushing him until the very breath—no, ladies and gentlemen—until the very life was squeezed out of him."
Blackwell told the jurors they would hear bystanders at the scene say in their own words that they thought officers were going to kill Floyd. He showed jurors a still photo of those gathered at the scene representing what he called "a bouquet of humanity." Young and old, different genders, and all the colors of people one finds in that neighborhood. "What they all had in common was they saw something disturbing to them," Blackwell said, as they looked on at the officers' treatment of Floyd.
Some of the bystanders attempted to intervene on behalf of Floyd, imploring the officers to let him breathe. Two of them called 911 to report the misconduct of the cops they saw terrorizing Floyd.
Among them, Blackwell said, was Minneapolis firefighter Genevieve Hanson, who demanded over and over again that the officers check Floyd's pulse. As she took a few steps toward them, Chauvin pulled out a can of mace and pointed at her. Officer Tou Thao who was keeping the growing crowd away from the squad car, moved in her direction to warn her to stay away.
You will see that "Floyd was in handcuffs. He was completely in control of the police," Blackwell impressed upon the jurors. Yet, even as another officer told Chauvin he could not find a pulse on Floyd, Chauvin continued to press his knee into Floyd's neck. Even as the EMTs arrived and came to check Floyd's pulse at a point on his neck, Chauvin kept his knee in place. It wasn't until EMTs came with a stretcher to transport a lifeless Floyd into the ambulance that Chauvin released his knee.
After setting the scene in detail, Blackwell showed the jurors a video of the entire nine minutes and 29 seconds that Chauvin and two other officers, J. Alexander Kueng and Thomas K. Lane, restrained Floyd on the street outside Cup Foods.
"929 are the most important numbers you will hear in this trial," Blackwell told the jurors. The video ran without interruption or comment from Blackwell. When it finished, he turned to the jury, saying, "You can believe your eyes, that it's a homicide, that it's murder."
Toward the end of his nearly hour-long statement, Blackwell told jurors they will also learn more about George Floyd the person. "You will learn he was a father, a brother, a cousin, and a friend to many." And finally, Blackwell said, "He was somebody to a lot of other somebodies in this world."
Reached for comment on Blackwell's opening statement, Michelle Gross of Communities United Against Police Brutality told People's World the state had laid out a good case, better than she had expected. Especially, she said, Blackwell's systematic rebuttal of the defense's strategy to blame the death of Floyd on his own health-related problems.
Eric Nelson, Chauvin's attorney repeatedly stressed Floyd's health problems and drug use, in his opening statement to cast doubt in jurors' minds on the cause of death. He cited numerous complex medical terms, telling jurors they will learn more about them during the trial. Nelson aims to leave the impression with jurors that Floyd's cardiovascular health was so poor that he could have had a heart attack or some other life-threatening event at any time.
Gross disputed such details as irrelevant. The health problems of Floyd were no more unusual than thousands of other people with underlying heart disease, she said. "They weren't going to kill him at that moment," she said. Until Floyd was in police custody, he "was a walking, talking, and breathing human being." Gross said that in the evidence presented about the cause of death, jurors will hear what will be "dueling claims of forensic experts."
The defense repeated allegations that Floyd had ingested drugs to avoid being caught with them. Nelson also told jurors that investigators found drug residue in the back seat of the squad car in which Floyd was placed that matched Floyd's DNA.
However, Gross said that a thorough examination of the squad car was not conducted for several months after the incident. "Claiming to find things in the car months after the fact doesn't pass the smell test." In any event, she said the "chain of custody of the evidence is broken." Given this time frame, she questioned why any of this was admissible.
At another point, Nelson painted a picture of the officers working in a chaotic and busy intersection, claiming that "as the crowd grew, so did their anger" toward officers. "There is a growing crowd and what officers perceived to be a threat…causing the officers to divert attention from the care of Mr. Floyd to the threat that was growing in front of them," he told the jury. Gross called this "nonsensical" and said it was a "low shot to blame the crowd" for the officers' lack of attention to Floyd's wellbeing.
In summing up, she noted what Ben Crump, the Floyd family's lawyer, said early in an early morning interview with CBS. Crump was standing alongside George's brother, Philonise Floyd, outside the Hennepin County Government Center. Crump said that what caused Floyd's death "was an overdose of excessive force."