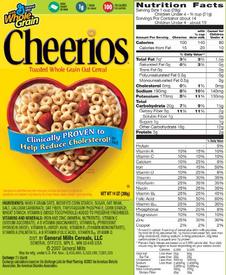 If you are eating Cheerios because you believe that it will dramatically lower your cholesterol, then forget about it.
According to the Food and Drug administration, the famous yellow box that claims 'you can Lower Your Cholesterol 4% in 6 weeks' is just hype.
In a warning letter sent to General Mills May 5 the FDA said the company was violating federal regulations by making such a claim. To be that effective, the FDA says, Cheerios would have to be a drug.
Read FDA warning letter to General Mills here .
The FDA letter warned General Mills that it was 'your responsibility to ensure that all of your products are in compliance with the Act and its implementing regulations.' And if the company failed to 'promptly correct the violations' then the government may have to take 'enforcement action without further notice.'
General Mills claimed the dispute is over 'language, not science.'
Bloomberg reports 'the warning letter represented the FDA's first action against a "mainstream food product" in more than nine years and showed the agency is exerting its authority under President Barack Obama, according to Bruce Silverglade, director of legal affairs for the Center for Science in the Public Interest, in Washington.'
"Consumers are influenced by food claims on labels," Silverglade said in a telephone interview with Bloomberg. "To the extent that they're misleading, it's as bad as a doctor giving out poor medical advice."
Bloomberg also reports that 'General Mills' cereal sales rose 13 percent in the third quarter ended in February, helped by the marketing of Cheerios health benefits, Chief Executive Officer Ken Powell said during a March 18 conference call.'