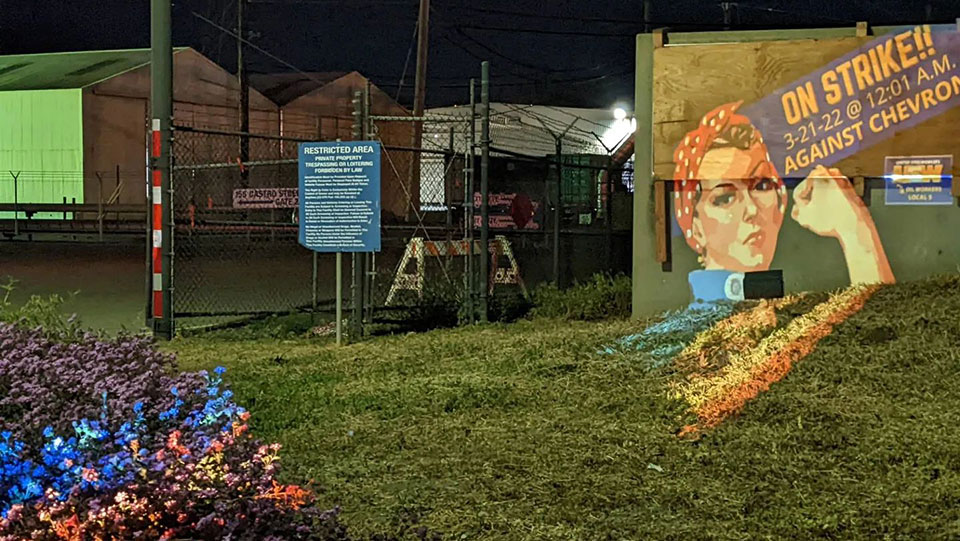 RICHMOND, Calif.—Faced with corporate intransigence on key issues like pay, capped by a bosses' walkout, Steelworkers Local 5 members at Chevron's East Bay refinery in Richmond, Calif., were forced to strike on March 21.
The strike is drawing wide notice, and not just in the San Francisco area. Tweets are positive. So are truckers driving by the refinery's main gate, blaring their horns in a chorus of support. Local and some international media ring spokesman B.K. White's phone constantly and interview him on morning news. The publicity may push Chevron back to talking.
But there's also one constant that links the workers at Local 5 with their lower-paid brothers and sisters in Fight For 15, the Starbucks organizing drive and campaigns to unionize Amazon, among other causes: They're pissed off, and are using leverage.
"There's no one item" that led the Steelworkers out, White elaborated in a March 24 telephone interview with People's World. "It's just years of frustration at how Big Oil treats everyone—the workers, the government, the media, the regulators. But the workers felt it the most."
Local 5 represents 500 workers at the refinery, and 400 are voting members. Chevon's contract offer after months of talks where "movement was minuscule," was so bad that 70% voted "no" in a 75% turnout, White said.
Then Chevron came back with what it called its "last, best, and final offer." It too was so bad three-quarters of those voting, in an even larger turnout, rejected it. Chevron bosses then left the bargaining table and refused to return. The workers had to walk at a minute after midnight. It seemed then "the company does not want a contract," White commented.
White provided one specific of what Local 5 seeks, a "Bay Bump" of 5% over pay scales at other refineries nationwide, due to the high cost of living in the San Francisco area. He politely declined to discuss others. That bump doesn't even match inflation, currently running at 7.5%-8%.
The "Bay Bump" would be on top of national provisions the Steelworkers' Oil Bargaining Program settled on earlier this year in the pattern contract USW reached with Marathon, the chosen firm its negotiators talked with among the so-called Seven Sisters of the oil industry.
Once there's a pattern pact with one company, the other firms adopt its text. The pattern pact goes out for discussion and a vote among the 30,000 refinery worker-members USW represents in 200 locals nationwide.
But the pattern also lets individual local leaders, such as those at Local 5, then bargain over location-specific add-ons and provisions, such as the "Bay Bump."
The Bay Bump is justified. San Francisco and its surrounding area is one of the most expensive in the U.S. Its median home prices lead the country: $1.16 million in San Jose and $930,000 in San Francisco. The median is where half the houses cost more and half cost less.
That's not all, White said.
The Richmond refinery manager "got a 75% bonus" while other bosses who worked from home during the coronavirus pandemic received 40% bonuses. And when Chevron moved another top boss from high-cost Los Angeles up the California coast to the even higher-cost Bay Area, it gave him a cost-of-living "Bay Bump."
But not the workers, who had to toil outside and risk exposure to the modern-day plague. That contrast didn't move Chevron at the bargaining table, despite its $15.6 billion in profits last year, and despite the fact that Chevron paid CEO Michael Wirth $29 million in 2020, the last figures that are available.
Of that sum, $1.64 million was in straight pay, with the rest split between stock ($11.25 million), stock options ($3.88 million), and a pension value increase ($11.42 million), the AFL-CIO Executive Paywatch reported. Wirth's compensation was 184 times that of the median Chevron worker, again under that half-make-more, half-make-less standard.
"Yet the most greedy industry in the country has a way of making its employees look greedy,'" White noted.
By late March, the employees had had it, with many making less than the median income in the Bay Area. Despite the lack of progress, Local 5 bargainers and refinery bosses kept extending their expired contract, which ended on February 1, for 24 hours at a time.
Then came Chevron's contract offers, the two overwhelming rejections, and then Chevron took a hike.
"It's disappointing Chevron would walk away from the table instead of bargaining in good faith with its dedicated workforce," Mike Smith, chair of the USW's National Oil Bargaining Program said in a statement. "USW members continued to report for work throughout the pandemic so our nation could meet its energy needs. They deserve a fair contract that reflects their sacrifice."
The publicity has an impact on Chevron. "Last night, our bargaining committee reported they said they want to meet next week. We hope they do," White reported.
Tweeter Chris Niewiarowski summed it all up in his post to the San Francisco Chronicle.
"Chevron makes record profits and the workers' demands are reasonable. Give the workers what they want," he wrote.