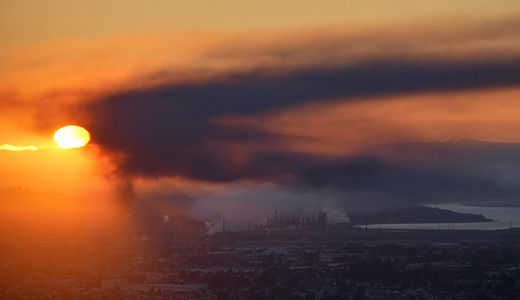 Richmond, Calif.'s nearly 102,000 residents live amidst five refineries, three chemical plants and eight superfund sites, in a county that produces the most hazardous materials per square mile of any California county.
They and tens of thousands of others in neighboring communities across the bay from San Francisco were jolted out of their normal activities on the evening of Aug. 6, as a toxic fire swept through Chevron refinery's No. 4 crude unit, sending what some observers called a "mushroom cloud" of smoke, filled with lung-damaging particulates, surging over the area.
The Level 3 incident – the county's most dangerous category – started with a late afternoon vapor leak, which escalated by 6:30 p.m. to the point where workers were evacuated. The fire ignited soon after, and area residents were warned by sirens and phone calls to shelter in place – an order lifted shortly after 11 p.m.
The following evening, hundreds gathered to vent their anger at Chevron, at a community meeting the oil giant called at Richmond's convention center.
"You talk about shelter in place, but how long can I hold my breath?" asked the Rev. Kenneth Davis of North Richmond Missionary Baptist Church.
Doria Robinson, executive director of Urban Tilth, which organizes a summer urban agriculture program for teens, told the meeting the toxic smoke "didn't just blow away, it's saved in our bodies and our lungs. It ruins our gardens. Chevron must be held responsible. We're not OK."
Urban Tilth participants protested outside the convention center, dumping wilted vegetables they had raised, which they said were now too polluted to be consumed.
The Bay Area Air Quality Management District said the emissions of hazardous chemicals did not exceed federal guidelines. But nearly 1,000 people sought treatment in emergency rooms in the hours after the fire, though none had to be hospitalized.
Many residents also complained that they did not get a phone call warning of the disaster until hours after it occurred, or only learned of it from family and friends.
Speaking Aug. 8 on Democracy Now! Richmond's Mayor Gayle McLaughlin, a Green Party member, called it "totally unacceptable that every few years we have these disastrous situations with fires and impact on the health of our community."
In a statement, Roger Kim and Jakadi Imani, heads respectively of the Asian Pacific Environmental Network and the Ella Baker Center for Human Rights, pointed out that Richmond "is a city where more than a quarter of the residents live below the federal poverty line, and more than 85 percent of the residents are listed as 'minorities' by the U.S. Census.
"We have watched for years as Chevron has put its profits ahead of the well-being and safety of people," the two continued. [We] know too well about the well-documented health disparities for people of color and poor people."
The Chevron refinery started operating in 1901, shortly before the city of Richmond was incorporated. It takes up nearly one-seventh of Richmond's land, and produces about one-sixth of the gasoline used on the West Coast. The California Air Resources Board says it emits more greenhouse gases than any other California facility.
In recent years the plant has been fined for violations numerous times. In 2007 a Level 3 fire broke out in the same unit that ignited this week.
Environmental activism also has a very long history in the area. Over decades, environmental organizations have won victories including cutting toxic air emissions and discharges into San Francisco Bay, setting up an accident warning system for residents, and pushing through an industrial safety ordinance requiring plants to have accident-prevention plans.
At week's end, investigations including one by the U.S. Chemical Safety Board looking into injuries to workers, were proceeding.
Photo: Smoke from the fire rises over Richmond, Calif. Daniel Parks // CC 2.0