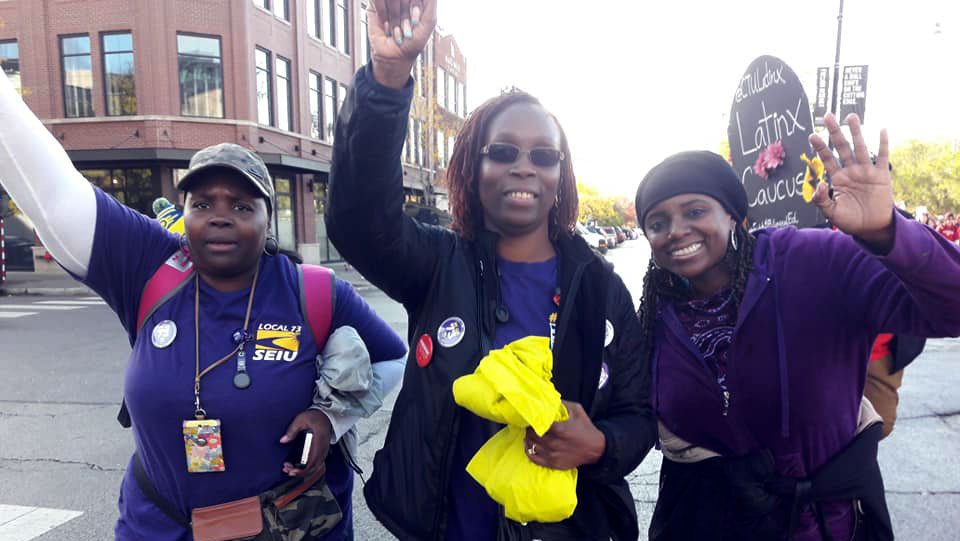 This article won a third place Saul Miller Award in the Collective Bargaining category at the 2020 Labor Media Awards, presented by the International Labor Communications Association.
CHICAGO – Althea McCaskill gets up at 4 a.m. By 5:30 a.m., she's on her bus as an aide for Chicago Public Schools (CPS), a job she has held for 10 years. She makes sure kids with special needs — also known as diverse learners — get to school and home safely each day.
McCaskill's morning shift ends at 9 a.m. Then she is idle without pay for four hours until she has to be back on the bus at 1:15 p.m. She finally gets off work at 5:30 p.m. By the time she gets home, it's after 6 p.m.
McCaskill's workday stretches over 12 hours. But she's only paid for seven or eight hours. And she can't take another job during the four hours between shifts because there's not enough time. She is paid $19.40 an hour or about $15,759 a year, in addition to medical, dental, and eye care benefits.
McCaskill is one of 7,500 bus aides, special education classroom assistants, custodians, and security guards represented by SEIU Local 73 on strike with 35,000 Chicago Teachers Union members for a fair contract. The strike began on October 17.
McCaskill was marching with thousands of strikers across the West Loop when we caught up with her. The unions marched to McDonald's world headquarters to dramatize the siphoning off of millions of dollars in property taxes meant for schools and parks to mega developments, enriching wealthy developers.
For years, the Chicago Board of Education, dominated by large corporate interests, disinvested in the school system, while privatizing as much as they could. Today, more than half the school support staff, many who are women of color, make less than $35,360 a year or what the union calls poverty wages. Many work two and three jobs just to make ends meet. The workers say this has to end, and they shouldn't be forced to live in poverty.
CPS is offering a 16% wage increase, but that will still be a poverty wage.
McCaskill takes great pride in her work, but she and her co-workers feel disrespected by CPS. Negotiations abruptly broke off on October 21 after CPS negotiators spent all of 12 minutes negotiating on the contract with SEIU Local 73.
"I've had it, and so have all my co-workers," said McCaskill. "This is just the start. The wages for the work we do is unacceptable. We want to be paid more than poverty wages, paid for the actual hours we work, we want stable routes from year to year, we don't want to be on a bus for five hours without going to the bathroom."
CPS contracts with private companies to provide the buses. McCaskill said many of the buses break down regularly, cutting off in the middle of traffic and stranding the passengers. Many have leaks from the rain and lack heat.
"CPS spends all this money on the bus companies, but they're not suitable for riding conditions for these kids. And CPS wants them safe. We can only do what we can with what we've got," she said.
SEIU Local 73 was disappointed by CPS's approach to the negotiations because teachers made progress on several issues on October 21. Tentative agreements were reached on staffing to support homeless students, and pre-kindergarten classrooms, and letting counselors work with children instead of random assignments like substitute teaching.
CTU also won an extension of the charter moratorium and support for programs to address the teacher shortage, especially among teachers of color.
Some of McCaskill's co-workers work a straight 8-hour shift because they start at noon. But the long shifts don't permit bathroom breaks.
"I used to work six hours, but I dropped back to four hours. I was on the bus for five hours without using the bathroom," said McCaskill.
SEIU Local 73 members were supposed to get a raise in each of the last two years, but CPS refused to make good on the raises. SEIU members have been working the last year without a contract.
According to McCaskill, many of the support staff work paycheck to paycheck. Some of her co-workers experience homelessness and food insecurity, lack of medical care for themselves and their families, and a host of other problems faced by low-income workers. One of her co-workers fainted on the job because she hadn't eaten.
"And they say we're not worth it. But we're on the bus every day getting these kids back and forth to school safely."
Meanwhile, SEIU and CTU are determined to win a fair contract. They continue marching and holding picket lines across the city, at busy intersections, and along major streets. On Monday, one picket line stretched for eight and a half miles across the Southwest side.
"The action these brave workers are taking is about more than just Chicago," said Dian Palmer, SEIU Local 73 president. "In a state as rich as ours, no matter where we live or the color of our skin, people should be able to make a decent living and save for the future, give our kids a great start in life and live in a good neighborhood."