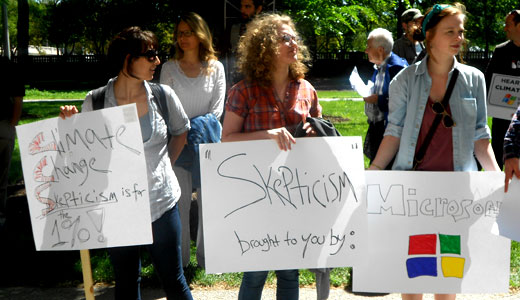 CHICAGO – Over a dozen environmental activists gathered across the street from the Hilton hotel on May 22 to protest the Heartland Institute, which put up ads comparing environmentalists to the Unabomber, and in today's conference, continued their corporate-backed campaign of climate change denial. Activists fought back, telling the pseudo-science outfit to "stop the lies."
Some of the group's corporate backers include AT&T, Microsoft, Pfizer, and Comcast. But, more worryingly, oil companies like Exxon Mobil are really the ones pulling the strings here. Exxon Mobil has reportedly given $531,000 to Heartland, and enjoys a heavy influence on the group's portrayal of environmentalists as wrong and dangerous individuals, as well as their profit-based choice to ignore the global threat of climate change.
But the national outcry against Heartland has led 11 companies to sever their ties with the group – including State Farm and General Motors.
"I studied climate change science at MIT," said Brad Johnson, campaign manager of Forecast the Facts. "And I learned the magnitude of the problem we're facing. But this has been known by real scientists for decades." However, "Heartland is defending corporate denial of these harsh realities, and also taking money from the tobacco industry to do it. Meanwhile, they deny the threat of cigarette smoke" as well.
"We asked companies like General Motors to back out and stop funding Heartland, and we were amazed by the response we got. [Some] major companies are realizing that climate science is incompatible with [outfits] like Heartland."
As Johnson spoke, the police presence and attendance of some right-wing-leaning reporters (with condescending smiles) at the demonstration was noticeable. As such, Johnson concluded, "I'd like to thank all of the corporate-funded people here right now [who are] putting a face to climate change denial."
Caroline Wooten, with the Chicago Youth Climate Coalition (a citywide youth network "devoted to moving beyond fossil fuels") spoke up: "We're doing a lot over on the southeast side [of the city], fighting the coal industry. And we're working to get the state of Illinois to stop funding it. Our group, we talk about public health, clean air, and clean water. And don't get me wrong – those are all very important things! But I'm also pissed that I can't talk about climate change [as much].
"Heartland uses corporate interests to obscure the truth. But they can't obscure our minds and our hearts.
"Climate change is the epitome of corporate greed. Big banks are trying to take peoples' homes," she remarked, "and climate change is going to take our real home!"
"We're supposed to draw conclusions from the hypotheses we make," commented an activist named Zack. But Heartland, he said, "asks itself, 'how can we keep making people believe what we want them to believe?' But events like this one show them that we're not going to take the bullsh*t."
As well-dressed business executives paused in passing for the space of a sarcastic laugh, and right-wing reporters and their cameramen infringed on the activists' personal space, a speaker remarked, "We'd like to welcome all the representitives of the corporate one percent. I don't know if these guys are hired actors or what, but I'd like to thank them for their mockery and utter lack of respect."
The intrusion didn't stop the cheers or the spirit of the small crowd, however. A member of Greenpeace declared, "Ninety-seven percent of scientists know what's really going on. In the end, we're going to win and the public is going to understand the truth."
Photo: Three environmental activists illustrate Microsoft's backing of Heartland, a group that promotes skepticism and denial of climate change. Blake Deppe/PW