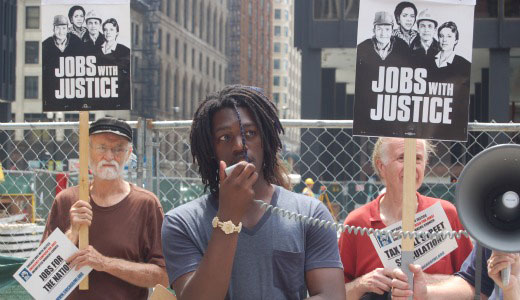 CHICAGO – Dozens of unemployed activists and supporters rallied here at Federal Plaza August 5 urging Congress to enact a massive federal jobs program and not to cut badly needed social entitlement programs.
The rally, organized on the first Friday of every month by Chicago Jobs with Justice, was in response to the latest figures on job growth released by the Labor Department. A net growth of 117,000 jobs was reported in July.
However critics argue at least 115,000 new job seekers enter the market each month. The new estimated jobs growth is not nearly enough to address the 25 million people who remain unemployed nationwide, they charge.
"The private sector is not creating jobs at a rate that will ever address the enormity of the jobs debt, and the only solution is a serious federal jobs program," said Sharon Post, an economist with the Chicago Political Economy Group.
Post said the rate of unemployment among youth is an embarrassing crisis.
The Labor Department's report shows unemployment among youth ages 16-19 is 25 percent and those ages 20-24 is 14.6 percent. And for African-American and Latino youth the unemployment rate is shocking at nearly 40 percent.
"Everyone I know is looking for work, but no one is finding it," said 20-year-old Ryan Wyatt from the south side of Chicago. "It's especially tough on the job market for African-American youth like me," he said.
Wyatt said he's been unemployed for months and although he's grateful for collecting unemployment, the money is not enough to survive. He has been told over and over by employers the reason they're not hiring is due to the recession. Yet Wyatt also suspects the reason also has to do with job discrimination.
"Young people of color need real jobs not just part-time jobs at McDonalds and Foot Locker," he said. "We need equal opportunities to help support our families and our communities."
Wynne Turkington, also a Chicago native, just graduated from college with a bachelor's degree in sociology.
"Why am I unemployed?" she asked.
Turkington said she is $45,000 in debt due to student loans. She said the unemployment number for recent college graduates is at the highest it's ever been.
"It's really hard and I'm struggling to survive," she said. "Young people like me are supposed to be the future of this country. We need Congress to act and invest in us," said Turkington.
The unemployment crisis is especially hard for people with disabilities, said organizer Michelle Robbins with Disabled Americans Want Work Now. People with disabilities make sub-minimum wages and are the first ones to be cut, she said. And with talk about cutting Social Security, Medicaid and Medicare, people with disabilities will be forced to seek jobs, said Robbins.
"We want living wage jobs and we're here to call on local, state and federal agencies to increase employment opportunities for people with disabilities. We want good paying jobs like everyone else," said Robbins.
Tim Yeager, a deacon with the Episcopal Church, said the fact that unemployment is devastating our communities is more than just about economics. "It's a question of morality," he said. "A major jobs program is needed to help improve our neighborhood schools, streets, parks and housing," said Yeager. "We need to put people back to work and we could start by improving our communities," he said.
Speakers at the rally said creating more jobs will increase revenue, and the government should tax the country's most wealthiest corporations and individuals on Wall Street. They need to pay their fair share, they said.
"We're starving for jobs," said Roberta Wood, spokesperson for the South Halsted Unemployed Action Center. "There are more than 25 million people in America seeking full-time jobs," she notes. "But the debt ceiling package pushed through by corporate interests will only cut more jobs. It's like putting a starving person on a diet."
Wood said she's not ashamed to say it's the government that needs to create jobs. "The problem is not big government, its big corporate control of government," she said. "The debt-ceiling deal was not signed by the American people and we don't accept it."
At the rally's end a delegation delivered hundreds of petitions to the offices of U.S. Sens. Mark Kirk, a Republican and Richard Durbin, a Democrat, both from Illinois, demanding to hold Wall Street accountable urging them to help create a federal jobs program.
Photo: Ryan Wyatt speaks about the issue of unemployment among young African Americans in Chicago on August 5. John Bachtell/PW.