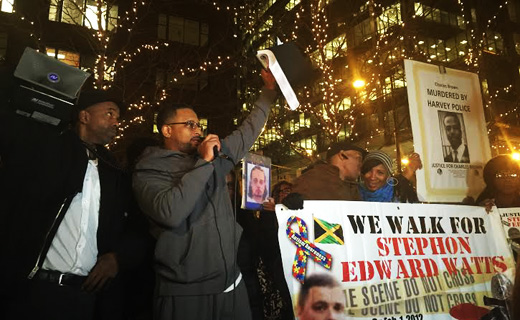 CHICAGO – Thursday night, activists from the Chicago Alliance Against Racism and Political Repression submitted the over 50 unresolved complaints of police brutality, torture, murder, and misconduct to Federal officials.
Following the release of a dashcam video depicting Laquan McDonald's death at the hands of Chicago police and news of a possible cover up reaching the highest echelons of power, organizers for civilian control of the police are seizing an opportunity to move against Mayor Rahm Emmanuel and Attorney General Anita Alverez and to push for their homegrown solution to what they see as systemic problems.
Frank Chapman, field organizer for the Chicago Police Accountability Council, opened the rally by demanding the resignation and prosecution of not only Rahm Emmanuel and Anita Alverez, but of the 47 Alderpersons who voted to pay the family of Lacquan McDonald $5 million in what he called "hush money."
On hand at the press conference and subsequent rally were victims of police abuse and their families including Howard Morgan, a former African-American CPD officer, who was shot 28 times by white officers and framed for attempted murder after he survived. Former Illinois Gov. Pat Quinn commuted his 40-year sentence in 2010.
"Vote for CPAC, give yourself a choice. A choice in who to elect to administer justice and enforce laws," said Morgan. "You pay tax dollars. You don't pay tax dollars to be shot, to be tortured, to be brutalized, you pay tax dollars to secure your lives. Vote for CPAC so you can elect, just like you elect your alderman, you choose. You don't need a mayor who is already corrupt to choose for you".
Danelene Powell-Watts, the mother of slain 15-year old autistic Stephon Edward Watts, broke down demanding justice on what would have been his 19th birthday. Her son was shot and killed by police after she followed the advice of social workers that said she should call the police when Stephon becomes unruly.
"Anita Alverez, you need to go. You need to resign. Anita, look at me today, I am the mother of a 15-year old autistic son," she said, voice quaking and raising in volume. "Your officers, they belong to you, they listen to your command, they murdered my son, shot him in his back while he was on all fours."
The speak-out lasted more than an hour as over a dozen people who have had run-ins with the CPD spoke. An organizer of the event took to the stage and announced that seven passers-by, strangers to the movement for police accountability, stopped and told them their stories of abusive run-ins with the police in that time.
From Federal Plaza, the crowd marched toward City Hall, Anita Alverez's office, and a building where it was reported that Rahm Emmanuel and his staff were holding a Christmas party. Protestors staged a "die-in" at each of those locations. Protestors took both sides of the street and faced a massive police presence.
Among their chants was "16 shots and a cover up" referring to the amount of times officers shot at Lacquan McDonald and their suspicions that the mayor and attorney general are complicit in covering it up for electoral reasons.
The march was peaceful even when faced with spontaneous counter-protestors as it passed the Christkindlmarket on Washington Street. There, less than a dozen mostly white individuals, shouted "police lives matter."
The number of marchers and demonstrators has grown steadily since the release of the video of Laquan McDonald's murder. Organizers are hoping they will soon reach a critical mass.
Photo: Patrick J. Foote/PW