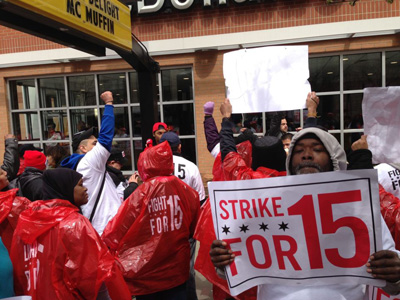 CHICAGO – Hundreds of fast food and retail workers are walking off the job here today demanding higher wages.
They've dubbed their push The Fight for $15 campaign after their aim of winning $15 an hour for workers.
Walkouts took place at over 100 locations at McDonald's, Burger King, Subway, and Dunkin Donuts as early as 5:30 a.m. and later in the morning and afternoon at Macy's, Sears, Victoria's Secret and Nordstrom's Rack stores in the Loop and on the Magnificent Mile, the area of "hi-end" shops as well as hotels and museums.
A large group of high school students, who were boycotting standardized tests, joined the picket line at Victoria's Secret to the wild cheers of the workers.
A clerk at the Dunkin Donuts in the South Side neighborhood of Bridgeport said she was in support of today's strikes downtown even though she, herself, wasn't walking off the job. "With this job there is no way I can feed my kids. I need food stamps in order to be able to do that and then there isn't enough to pay the rent."
A man who identified himself as the store manager but would not give his name said the company sets wages from its "central office" and that there is "nothing that can be done on the store level."
Representatives of Dunkin Donuts, on the other hand, said the hourly wages are not set by them but by the franchises operating individual restaurants.
Chicago unions and community groups are supporting today's walkouts. A spokesperson for one of the unions backing the actions said, "There is a need to increase the income of the hundreds of thousands who work in Chicago fast food and retail establishments because so many of them are unable to even afford to buy what they make or sell."
The activities in Chicago today come just weeks after hundreds of fast food workers walked off their jobs in New York.
In addition to seeking higher wages, there appears to be wide support among workers for forming a union.
"We, Chicago fast food and retail workers, are striking to demand $15 an hour and the right to form a union without retaliation," said Fight for $15 in a statement today. "Our employers are raking in profits, while workers, mostly adults with families, don't get paid enough to cover basic needs like food, rent, health care and transportation."
It is estimated that each year retail and fast food workers bring over $4 billion into the stores and restaurants of downtown Chicago alone. "But almost all of these profits make rich executives and investors even richer while we struggle to survive," said Fight for $15. "We believe that people who work hard for a living should make enough to support themselves, their families and their neighborhoods – and that workers should be treated with dignity and respect."
Photo: Fight for 15 – Lucha por 15 WOCC Facebook page